Fresh Tortilla Blender Soup in under 10 minutes
This Tortilla Blender Soup is one of our most popular recipes. It was featured in a Buzzfeed review of the Vitamix Blender. This post includes affiliate links, which means if you purchase after following the link, we may receive a small commission. If you are looking for your own Vitamix Blender, we recommend the Vitamix Pro 750. (<-Affiliate Link)
You can truly make soup in a blender!
I know, right? Who would have thought you could make fresh tortilla blender soup in under ten minutes without even turning on your stovetop? I wouldn't mislead you and vouch that this is my go-to soup this winter (but it is also very appropriate to enjoy this year-round). I like it because it is quick and easily adapted based on the ingredients at hand.
You can top your soup with so many different and wonderful things like cheese, sour cream, fresh cilantro, tortilla chips, etc. It can also be made purely vegan by using vegetable broth and substituting the cheese and sour cream for vegan options.
To make the base soup, add your fresh Roma tomato, carrots, celery, broth, garlic, and my secret ingredient: chipotle puree with your spices of choice and set the blender on the soup/hot setting. While it is cooking, get the peppers, black beans, and corn ready to go. You can also add chicken or turkey, but you won't miss the meat as this is a very filling soup. The work effort is minimal, yet everyone who tries this will think that you slaved over the stove.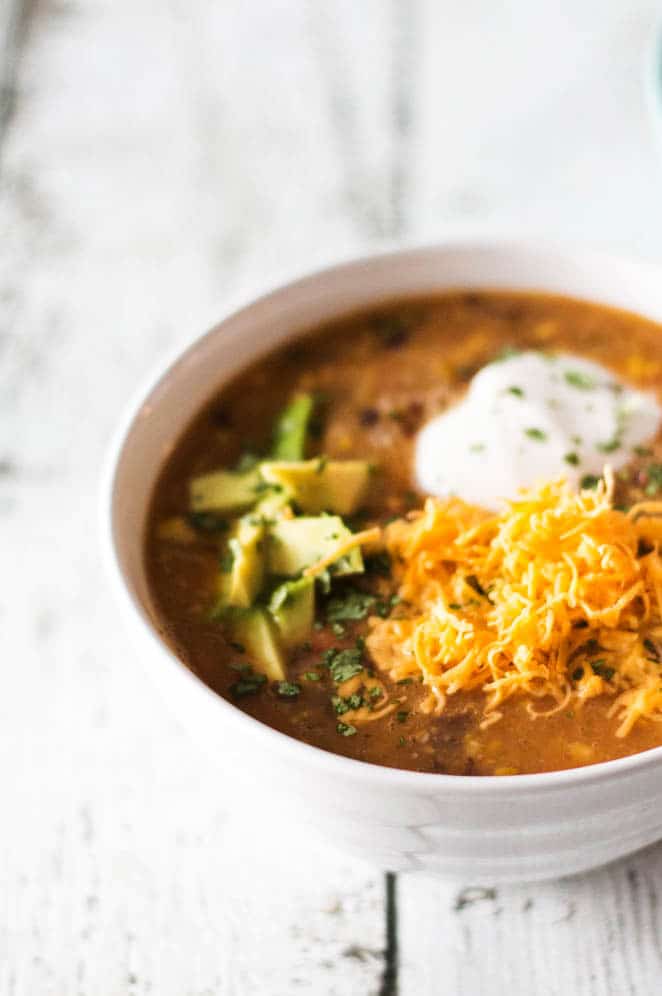 This recipe was inspired by a recipe that Vitamix demonstrators often use. In fact, I know personally a couple of people that purchased their Vitamix after seeing this recipe made. Being able to enjoy fresh soup to your own specific tastes is a huge selling feature. This recipe, like all of our blender recipes, is made in our Vitamix Pro 750. (<-Affiliate link)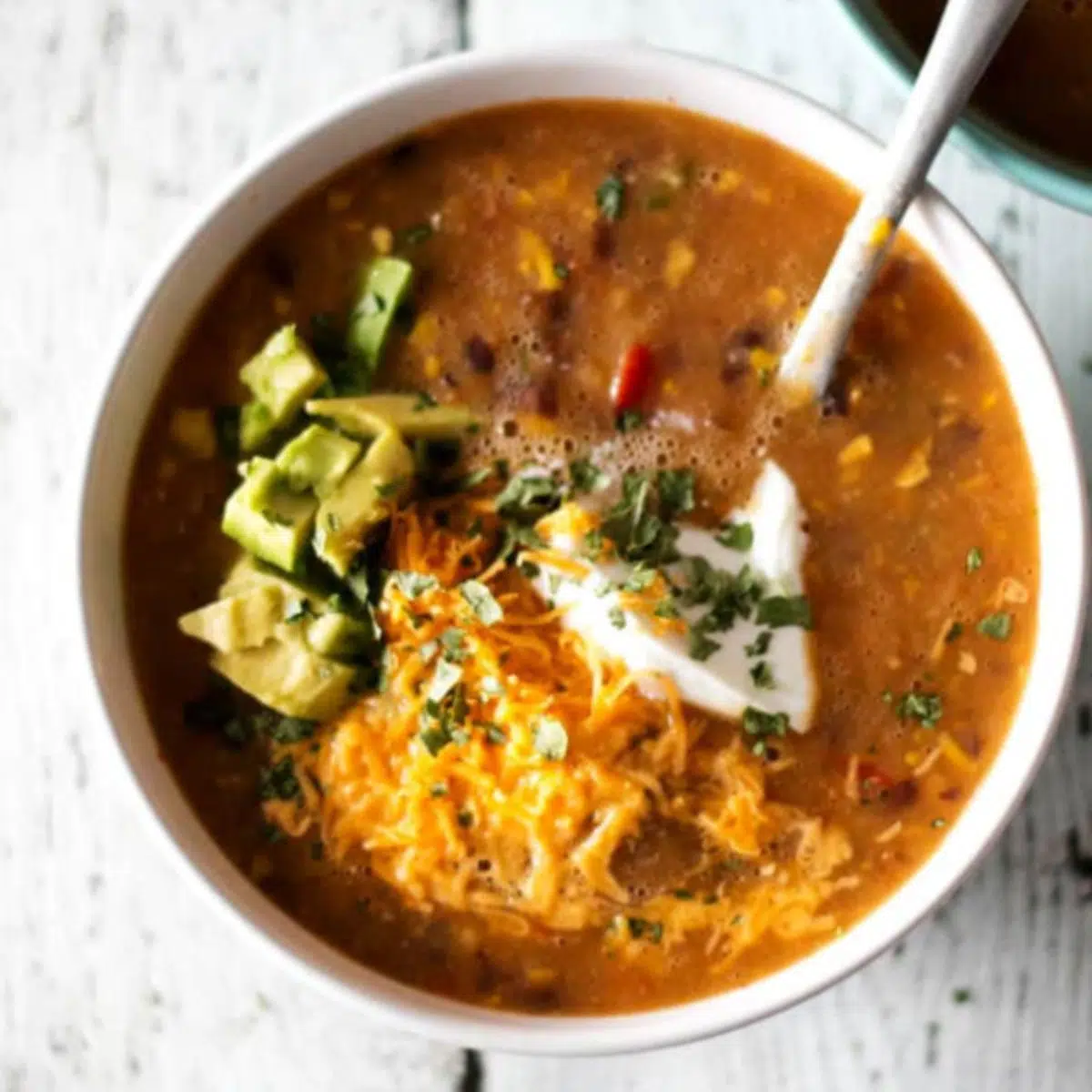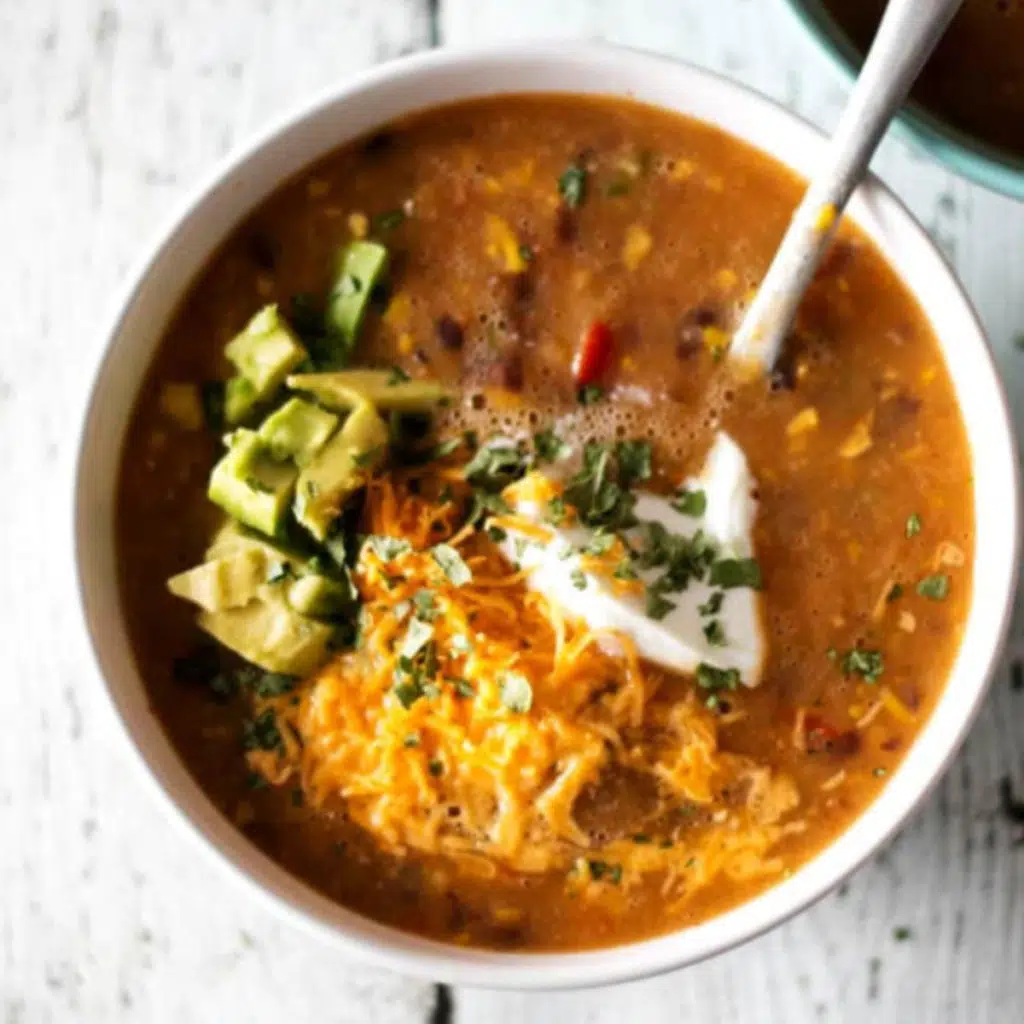 How can I add more heat to this Tortilla Soup?
There are a plethora of options. We like to up the chipotle puree, add a bit of our favorite Adobo sauce or add Chipotle Tobasco sauce. You could also try Jalapenos.

What other vegetables could I add to this Soup?
You could easily add onions to this tortilla soup. I can't add those when I'm sharing a batch with my husband but if making for myself, I add them just like I add red and green peppers. Another great option is to add a bit of fresh spinach in the last step.

Can this recipe be Vegan?
Yes, it can. The base recipe is both vegan and vegetarian-friendly. To keep it vegan, you will need to look at the optional toppings and swap out the sour cream and cheese for something vegan-friendly. Avocado is always a good topping.

What other toppings can I add to the Tortilla Soup?
In addition to cheese, sour cream, avocado, and tortilla chips, you could also try avocado crema, green onions, fresh cilantro.

How does the Vitamix blender heat the soup as it blends?
The heat is caused by the friction of the blades. Hear more from Vitamix and get more recipes.
I'm getting hungry for some more blender tortilla soup just thinking about it. Would it be wrong to have it for both lunch and dinner on the same day?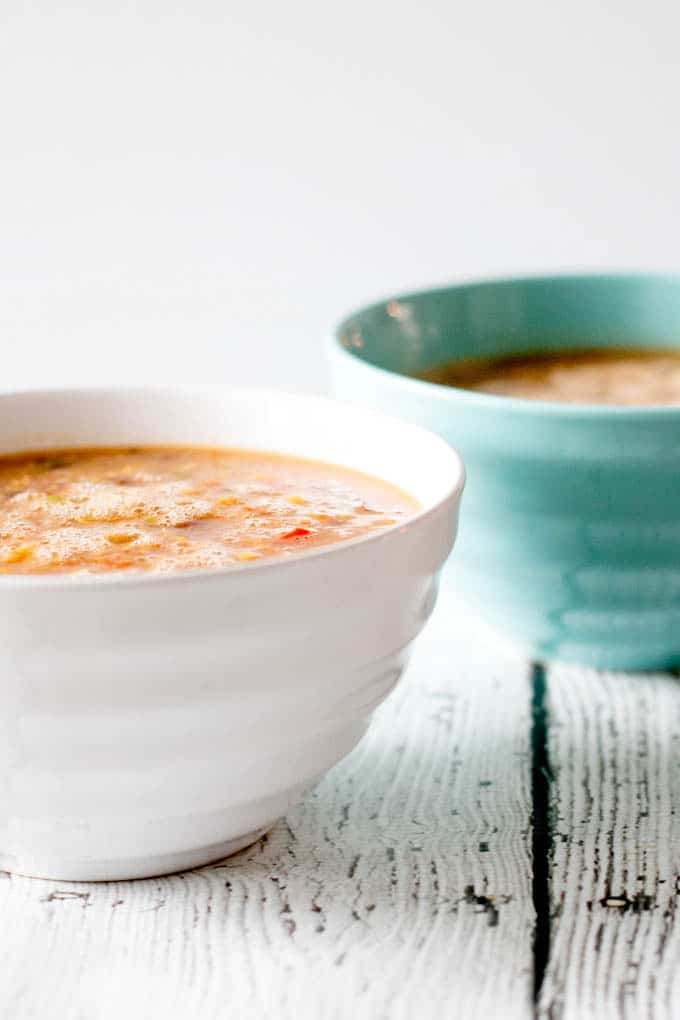 Get the most out of your blender
Whether you are just getting started with blending or you are looking to get more out of your blender, then check out these resources: