The Brava Oven: Revolutionizing Home Cooking
The Brava Oven is an innovative appliance designed to revolutionize how we cook at home. Combining smart technology with multi-zone cooking abilities, the Brava Oven aims to deliver perfectly cooked meals with minimal effort. With its sleek design, extensive preset recipes, and an integrated mobile app, the Brava Oven is becoming a great choice for modern home cooks seeking efficiency and convenience in their kitchens.
The latest iteration of the Brava product lineup, the Brava Glass Smart Oven, now features a glass door with a 97% tint, allowing users to watch their food cook while maintaining optimal heat retention. This seemingly simple addition to the design significantly enhances the user experience and addresses one of the main drawbacks of its predecessor, where monitoring the cooking progress was not possible.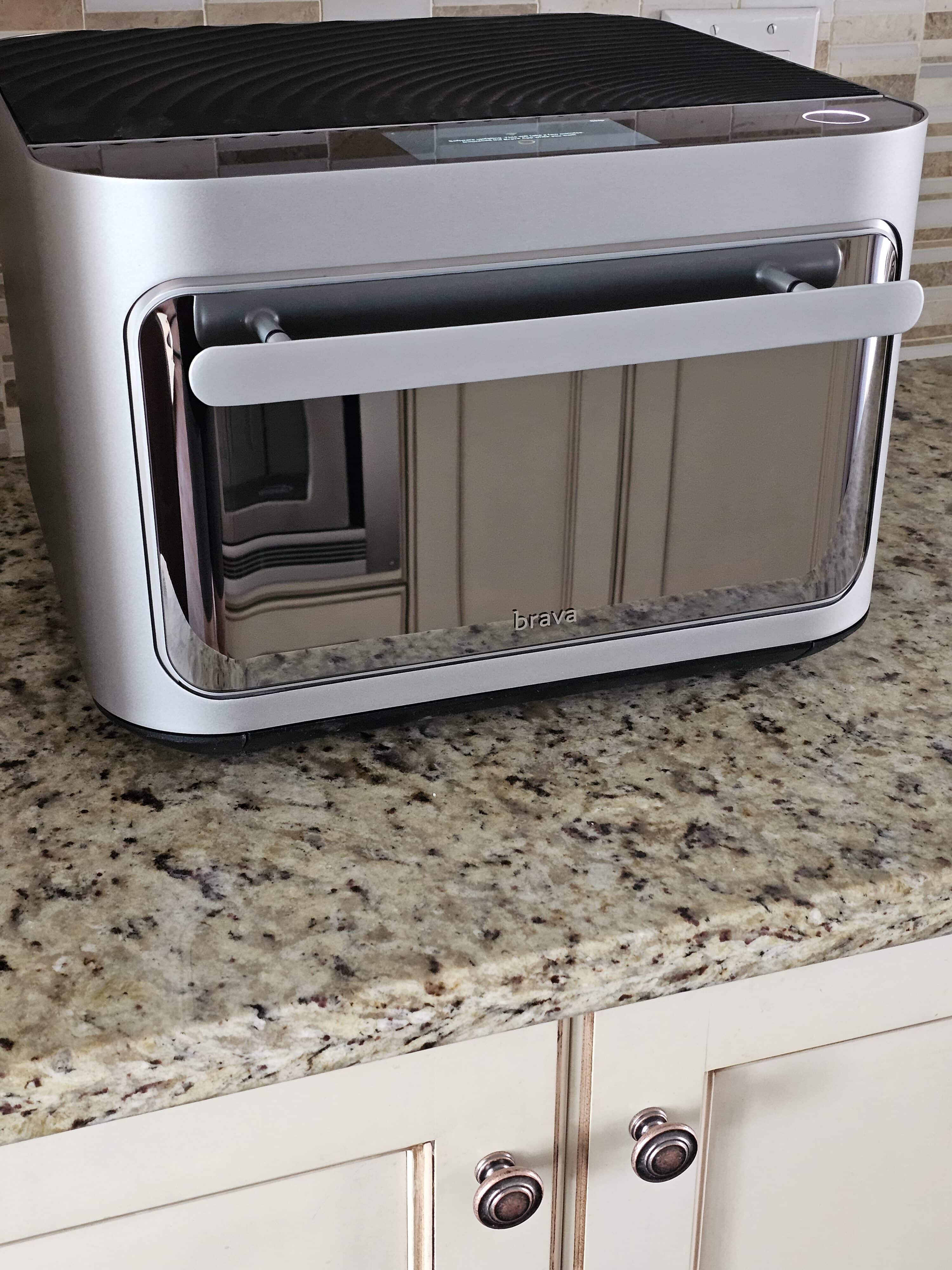 The Brava Glass Oven's performance and versatility have garnered considerable praise from reviewers, with its ability to sear steaks at high temperatures without overcooking and its multi-zone functionality for cooking dishes with varying heat requirements.
Key Takeaways
The Brava Oven incorporates smart technology for efficient and convenient cooking.
The latest model now features a glass door for improved monitoring of the cooking process.
Praised for its performance and versatility, the Brava Glass Oven offers multi-zone cooking and high-temperature searing capabilities.
Overview of Brava Oven
The Brava Oven is a state-of-the-art smart oven designed for modern kitchens, offering a variety of cooking functions and features that simplify the cooking process. As a countertop oven, it fits seamlessly into any kitchen setup, adding convenience and style to your cooking experience. We purchased the Brave Glass Oven after months of research. This isn't a purchase that most people will make on a whim, given the price tag. We have, however, over the years bought many appliances on a whim that we used once or twice and then found them a home on the shelf in the garage; this includes an Instapot and an AirFryer. While we loved the output of the AIrFryer, we didn't love the limitations of the basket size, and we immediately began looking at alternatives. While searching, we came across the original Brava Oven on YouTube.
Let's dive into the key features of this innovative kitchen appliance.
Key Features
Speed: One of the most notable aspects of the Brava Oven is its ability to cook food faster than traditional ovens, thanks to its unique cooking technology. This feature is particularly useful for busy individuals who value their time in the kitchen.
Versatility: The Brava Oven boasts a range of cooking functions, including air-frying, roasting, baking, broiling, toasting, reheating, and slow cooking. This versatility allows you to prepare various dishes with ease and precision.
Smart Cooking: The oven offers an extensive library of recipes and customizable cooking settings that take the guesswork out of meal preparation. Moreover, it includes internal cameras that let you monitor your food while it cooks, ensuring perfect results every time.
Wireless TempSensor: The Brava Glass Oven has a wireless temperature sensor that provides accurate temperature readings, allowing for more precise cooking and eliminating manual temperature checks.
Glass Door: A notable feature in the new Brava Glass Oven is the tinted glass door, which lets you see the food inside while keeping the heat trapped for efficient cooking. This design innovation adds aesthetic appeal and improves the overall user experience.
Incorporating these innovative features and more, the Brava Oven or the Brava Glass Oven enhances the cooking experience for novice and experienced cooks. Its sleek design, time-saving technology, and intuitive interface make it an essential addition to any smart kitchen.
Design and Build
Material and Structure
We appreciate the Brava Glass Oven for its practical and well-thought-out design. The oven is made up of a combination of high-quality glass and metal elements that contribute to its efficient performance and durability. The exterior is made of aircraft-grade aluminum and the interior is stainless steel. The glass front of the Brava Oven features a 97% tint, which helps retain the heat inside while allowing you to monitor your food's progress.
For us personally, we appreciated the design as this was going to be in a prime spot on our countertop. It is a beauty.
This oven comes with both glass trays and metal trays, providing flexibility in cooking various dishes. The original Brava Oven skips the glass door with the door made of the same material as the Oven.
One of the primary benefits of the Brava Glass Oven's construction is the even distribution of heat through the oven chamber. The careful combination of glass and metal materials ensures optimal cooking results every time. In addition, the oven is designed to have the necessary space between its walls and the countertop, ensuring proper heat ventilation and preventing any hazards.
Unique Attributes
The Brava Oven stands out for its innovative features that enhance user experience and make cooking a breeze. For instance, the oven has a built-in camera that lets us keep track of our meals without opening the door and releasing heat. We really appreciated that we could also track the cooking progress on the app; the Brava Home App allows us to pause cooking. Now, we can start our dinner and go walk the dog around the block while continuing to monitor the progress.
Another distinct feature of the Brava Oven is its ability to perform various cooking techniques like air-frying, roasting, baking, broiling, toasting, reheating, and slow cooking. Its wide options enhance its versatility, making it a valuable addition to any kitchen. It also doesn't require pre-heating, which enables meals, snacks, and desserts to be cooked much more quickly.
In conclusion, the Brava Oven's design and build demonstrate a combination of premium materials and cutting-edge technology that ensure optimum cooking results and user satisfaction.
We took the plunge on buying the Brava Glass Oven, in part because of the risk-free trial. Based on our research, we were sure we'd love it, but there was still some hesitancy based on the price – especially given we live in Canada and have to deal with duties and exchange rates. We carefully unpacked it just in case we needed to rebox it for return.
We were immediately impressed by how well packaged it was and the quality feel of the Oven and the accessories. The red Chef's pan is a solid, heavy dish that feels as high quality as my Le Creuset Bakeware. It is made of cast iron and coated with enamel.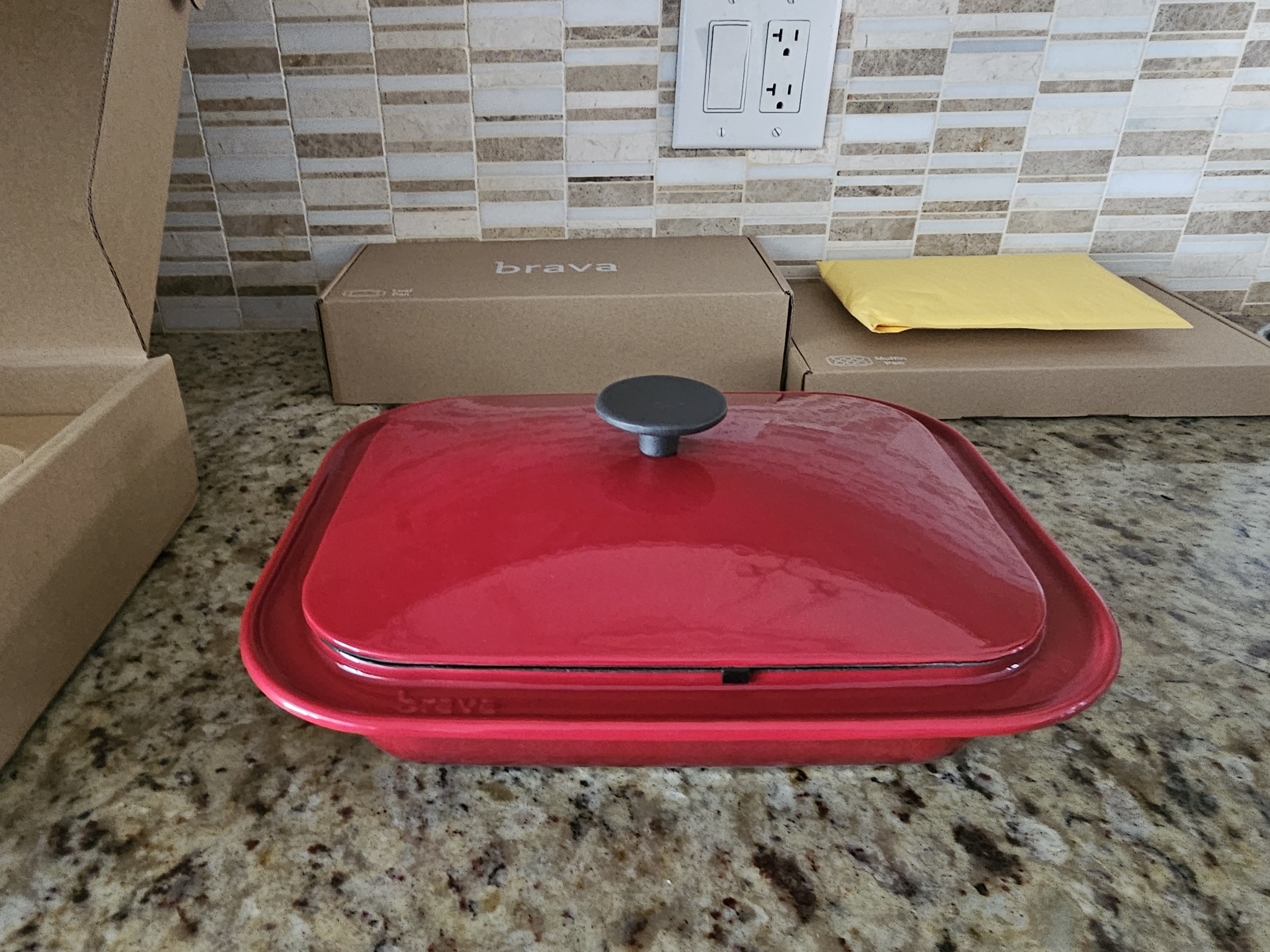 Core Functionalities
Cooking Modes
The Brava Oven offers a variety of cooking modes to cater to different culinary needs. Some of the cooking options include air-fry, roast, bake, broil, toast, reheat, and slow cook. These modes ensure that users can efficiently cook their desired recipes, ranging from roasted meats to baked pastry, with ease and convenience.
Air-frying has become an increasingly popular choice as it allows for healthier cooking, using less or no oil than conventional deep frying. The Brava Oven's air-fry mode ensures crispy and delicious results.
The roast and bake modes provide even heat distribution and precise temperature control for perfectly cooked meals. Whether roasting a whole chicken or baking a cake, the Brava Oven ensures consistent, delicious results.
The slow cooking mode is ideal for tenderizing meat and developing rich, complex flavors over a longer period, while the reheat function lets you warm up leftovers without compromising taste and texture. Thanks to the dedicated toast and broil settings, toasted treats and broiled dishes can also be effortlessly prepared.
Unique Features
One of the standout aspects of the Brava Oven is its multi-zone cooking functionality. This feature lets users cook multiple items simultaneously at varying temperatures and cooking times, offering outstanding kitchen versatility and efficiency.
Our first test was making over-easy eggs and toast. The onscreen instructions were easy to follow, and we enjoyed our breakfast in just 8 minutes with less than 30 seconds of prep. The eggs were perfectly cooked, and the toast was ready for dipping. The Brava Oven does a fantastic job of ensuring that multiple items finish at exactly the same time – no more worry about trying to time your main and side dishes when making dinner. Bonus: Cleanup was a breeze due to the coating on the egg tray and metal trays.
Another notable addition to Brava Oven is the built-in camera, which allows users to remotely monitor the cooking progress via a smartphone or tablet, ensuring that your meal is cooked to perfection without constant supervision.
The oven also boasts an extensive library of customizable recipes and preset cooking options, taking the guesswork out of preparing a wide range of dishes. Coupled with its user-friendly touchscreen interface, the Brava Oven ensures a seamless and enjoyable cooking experience for all skill levels. We were so impressed after making just a few meals that we broke down the boxes for recycling.
In conclusion, the Brava Oven's core functionalities are designed to offer users maximum convenience, flexibility, and precision in their cooking endeavours, making it a valuable addition to any modern kitchen. For us, there were further added benefits: First, the Brava makes it easy to cook even if making food for one person; Second, it has increased our confidence in trying new things.
Inbuilt Technology
Camera
One of the standout features of the Brava Oven is its integrated camera. This allows us to monitor the cooking process in real time, ensuring that our meals are perfectly cooked. Additionally, the camera feature allows sharing and storing images of our culinary creations, providing a unique opportunity to showcase our cooking skills. We love being able to monitor the progress live in the kitchen on the Brava display or while doing other things in and around home on the the app.
Temperature Sensors
The Brava Glass Oven is equipped with advanced temperature sensors that provide accurate and reliable temperature readings needed for carefully controlled cooking. One of these technologies includes temperature probes that can be inserted directly into the food, measuring the internal temperature and ensuring that our meals are cooked evenly and to the desired level of doneness.
Another remarkable component is the oven's array of built-in temperature sensors, designed to work in tandem with the cooking technology. These sensors monitor the ambient temperature within the cooking chamber and communicate with the oven's software, allowing it to make real-time adjustments, thus maintaining the optimal cooking environment for each specific food type. This advanced system allows us to rely on the oven's intelligence, resulting in consistently delicious meals that require minimal intervention from us.
In summary, the Brava Glass Oven combines innovative camera and temperature-sensing technology to provide a unique, user-friendly cooking experience. These advanced features make the Brava Glass Oven an excellent addition to any modern kitchen, offering convenience, precision, and consistently impressive results.
Cookware and Accessories
General Utility
The Brava Oven comes with a variety of cookware and accessory options that cater to different culinary needs. They offer a range of high-quality products that are designed to enhance your cooking experience, including essentials like the Brava Cookware Bundle and Brava Glass Tray Core Accessories.
These general-purpose items are versatile and can be used in various cooking scenarios, making them valuable additions to your kitchen. For instance, the chef's pan is perfect for various cooking techniques such as frying, sautéing, and simmering, while the glass tray offers even heat distribution for optimal cooking performance.
Specific Utility
Brava also provides specialized cookware and accessories for specific culinary tasks, such as:
Muffin Tin: Ideal for baking muffins, cupcakes, and other small pastries.
Egg Tray: An excellent tool for perfectly cooking poached or soft-boiled eggs.
Square Pan: Designed for baking brownies, cakes, and other similar dishes.
Loaf Pan: Suitable for preparing delicious loaves of bread, meatloaf, and even terrines.
These tailored products enhance specific cooking techniques, allowing you to create a wide range of dishes with ease and precision in the Brava Oven. All the Brava accessories are thoughtfully designed to ensure seamless compatibility with our oven, giving you the best possible experience.
With the full selection of cookware and accessories, you can unleash your creativity and explore the full range of culinary possibilities the Brava Oven offers. Happy cooking!
Performance and Versatility
General Cooking
The Brava Oven has proven to be efficient in general cooking tasks. With its combination of visible and infrared light, this oven cooks faster and eliminates the need for preheating. Here are some noteworthy observations in terms of general cooking:
Toast: Unlike traditional ovens, the Brava Oven ensures evenly browned and crispy toast.
Fried eggs: Cooking fried eggs is a breeze in this oven, resulting in perfectly cooked eggs each time.
Green beans: The oven's versatile cooking functions make preparing well-cooked, tender green beans easy.
We were pleasantly surprised by how well the Brava oven worked. We were worried that we were paying nearly $2000 for a grown up easy-bake oven but the Brava has replaced our double wall-oven on a daily basis.
Custom Cook Feature
With the Brava, you can create your own custom cook recipes. You can add steps or customizations to existing recipes or completely create your own recipes from scratch. This is a great feature to have as you start to learn how to use the Brava and bring your own recipes to this oven.
Create a Custom Cook from Scratch
Create a Custom Cook by Modifying an Existing Recipe
Package and Pricing
Pricing Breakdown
The Brava Glass Oven offers different packages to cater to various customer needs. The original Brava smart oven is available for around $1,295 as part of a Starter Set, including pans and temperature sensors. However, the Brava Glass comes with the Chef's Choice set, which is priced at $2,000. This set provides a more comprehensive collection of accessories, such as:
One glass trays
Three metal trays
Egg tray
Loaf pan
Square pan
A muffin tin
Chef's pan
A wireless temp sensor
The egg tray is our favourite accessory, making it so simple to make the perfect fried egg.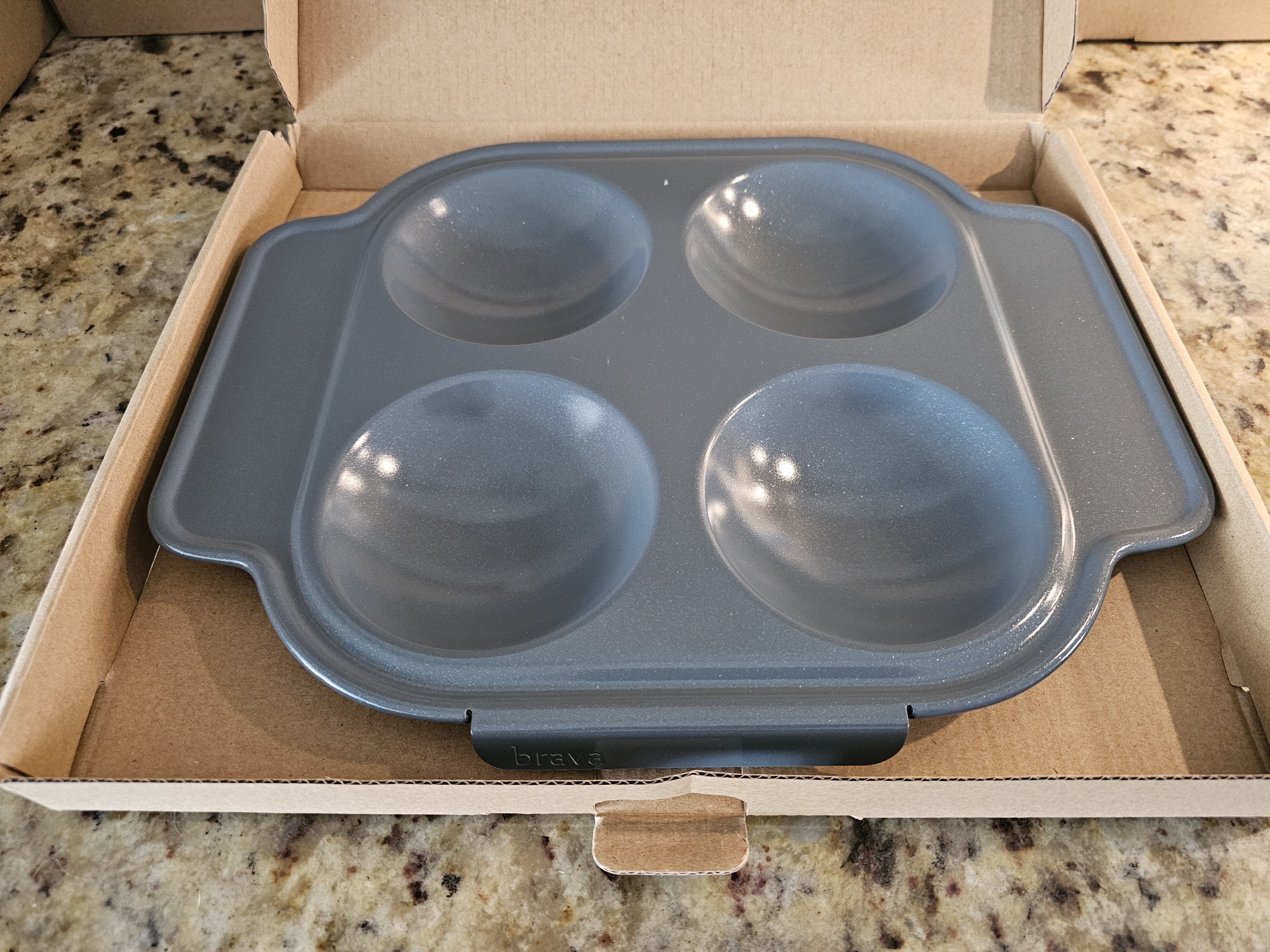 Considering the Brava Oven's functionality, it can replace several appliances, like a convection oven, air fryer, toaster, Dutch oven, and slow cooker, making the price more justifiable.
Shipping and Coverage
When you purchase a Brava Oven, it's also essential to factor in the shipping costs. Shipping charges may vary depending on your location, so you should check the specific fees applicable to your area before deciding.
Regarding its coverage, Brava ovens are intended to be connected to a 110V-120V 60Hz power supply and require a dedicated outlet supported by a 20 amp breaker. Please ensure your home has the appropriate electrical infrastructure to safely accommodate the Brava Glass Oven.
By choosing the appropriate package and considering the shipping and coverage requirements, you can make an informed decision to invest in the Brava or Bravo Glass Oven, which can add convenience and efficiency to your cooking experience.
Frequently Asked Questions
How much does the Brava Oven cost?
The Brava Oven is currently priced at $1,295 USD, including the oven, two essential pans, and the Brava TempSensor. There are a number of bundles that include other Brava accessories.
What are the specs of the Brava Oven?
The dimensions of the Brava Oven are :
Height: 11.3 inches (28.8 cm)
Width: 16.4 inches (41.6 cm)
Length: 17.3 inches (44.0 cm)
Weight: 34.4 pounds (15.6 kg)
The Brava requires a dedicated electrical outlet and a 20 amp circuit breaker. Please ensure that the Brava is not placed in a cabinet, as it requires airflow around the back for ventilation.
Can the Brava Oven replace a microwave?
While the Brava Oven offers a variety of cooking functions, it doesn't operate exactly like a microwave. The oven uses light to cook food and offers baking, air frying, and other cooking options. However, it may not replace a microwave in terms of quick reheating or defrosting capabilities.
What are some common problems with the Brava Oven?
As with any kitchen appliance, users may experience occasional issues with the Brava Oven. In order to get specific information about common problems and solutions, we suggest reaching out to Brava's customer support team or checking their user forums for shared experiences and troubleshooting tips. The recipe reviews on the Brava App can also provide insightful information to help you avoid any issues.