Is it Friday yet?
Sometimes I wake up in the morning and think that it is a totally different day than it is - works out ok when I wake up thinking it is Wednesday but it is really Friday but not so good when it is Tuesday and I think it should be Friday...if you know what I mean. (Update: During 2020/2021 I've had no concept of what day it is given every day is roughly the same with this shift to work from home. Not complaining as we have been safe and healthy and benefitting from quality family time.)
I feel like I'm relying a little too much on caffeine to get me through the day and I'm really trying to swap out my coffee for matcha to see if it helps get me through the hump. I'm a huge fan of Mocha Lattes so now I'm graduating to the Chocolate Matcha Latte. If you like super sweet drinks, this isn't the one for you but if you like matcha you should totally give this a shot. While my easy recipe doesn't call for added sugar or sweeteners you can easily add a bit if you prefer.
So what is Matcha?
Basically, it is finely ground green tea leaves and matcha is supposed to deliver all kinds of health benefits like helping to prevent cancer, diabetes, and heart disease but I'm not a doctor or an expert so I just like it for the taste and the colorful punch it brings.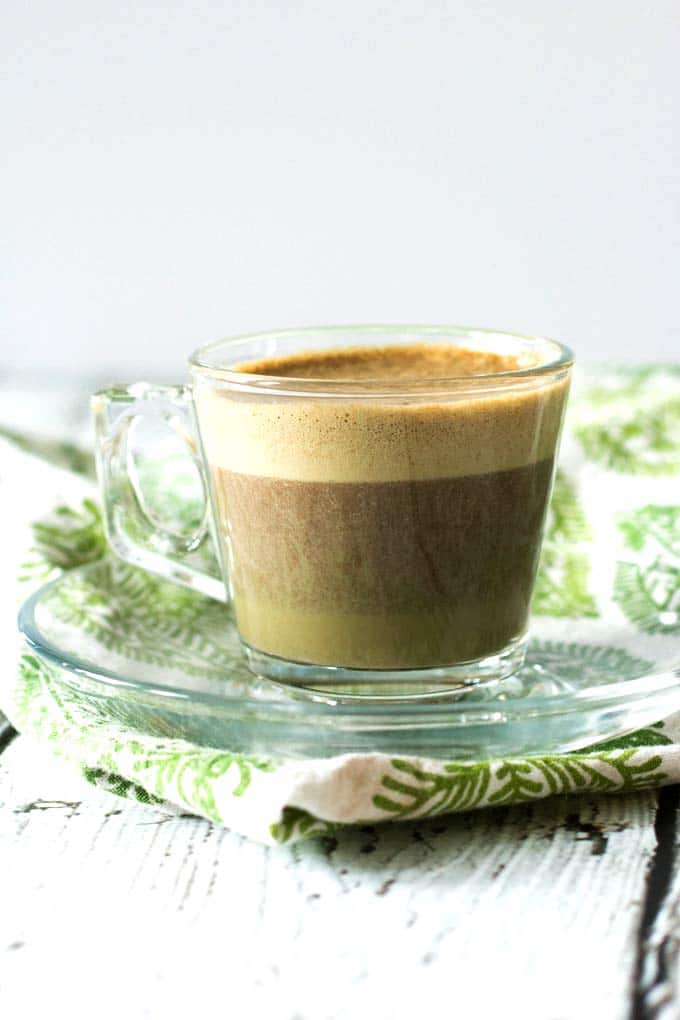 Making a chocolate matcha latte in the blender is so easy.  
Just toss the ingredients in and blend away using the soup function if you have it. If not, you can try variable speed.  Once done, pour into a mug and watch the layers form. The first layer is matcha, followed by a cocoa layer topped with a frothy milk layer. No fancy pouring required - it is like magic.
Do Matcha and chocolate pair well?
The earthiness (is that a word?) of the matcha is nicely coupled with the slightly chocolatey / slightly bitter taste that comes from the cocoa and the frothy milk is what brings it all together.
If you want something even sweeter you could try swapping the cocoa for milk chocolate or even dark chocolate. The heat generated during the blender cycle will melt the chocolate and bring it all together similar to when we make our peppermint hot chocolate.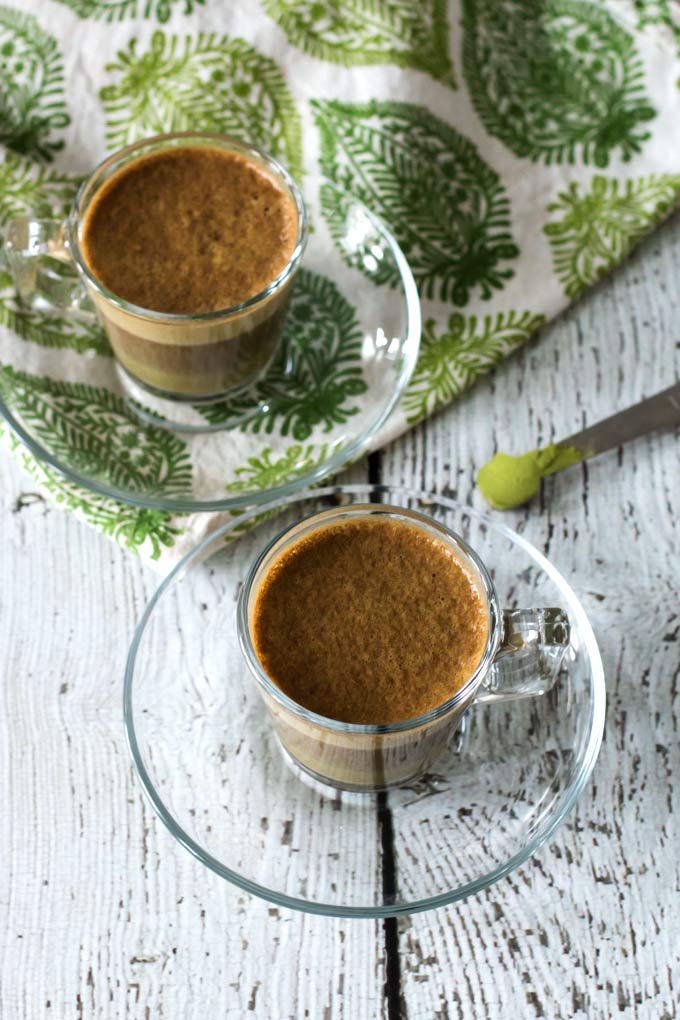 Never thought I'd give up my morning coffee and I'm certainly not giving it up forever but it sure is nice to have a viable alternative to get me moving in the morning. Variety is the spice of life (and all that!).
If you prefer cold drinks, why not try an
Iced Matcha Latte
?
Looking for other ways to use Matcha?
Matcha is a great addition to smoothies like this Simple Matcha Green Smoothie. Matcha is also great in cold drinks and this is one of my favourites - Iced Matcha Latte.