Pumpkin Seed Brittle in under 10 minutes
Pumpkin Seed Brittle is a tasty and simple recipe that is ready to enjoy in minutes.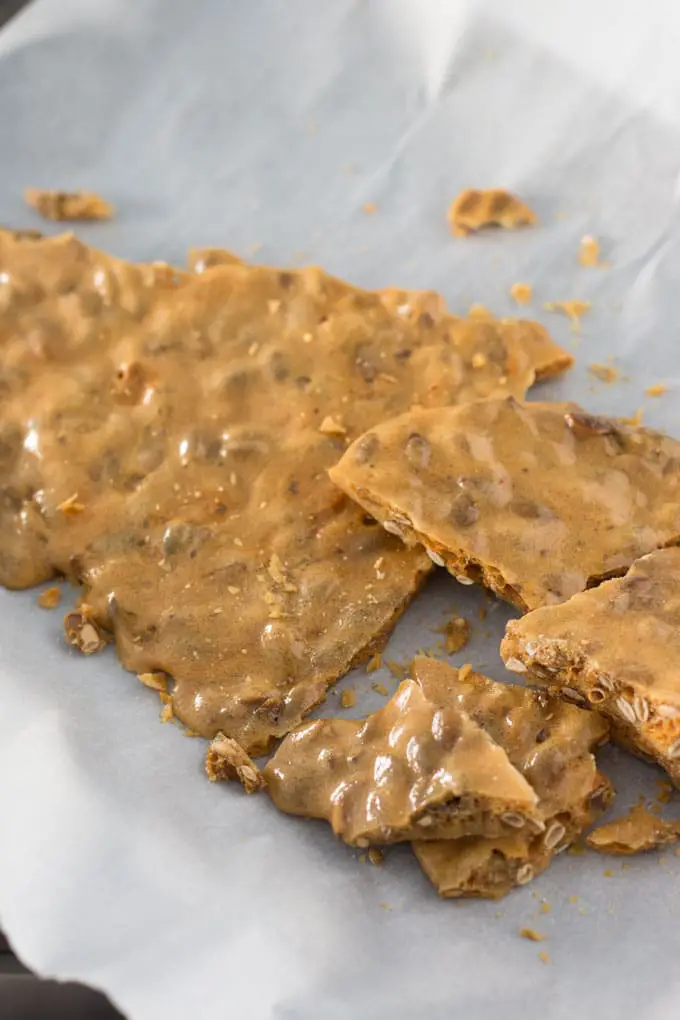 I love Peanut Brittle (and now Pumpkin Seed Brittle) and have been making it for so long that I have the recipe memorized and no longer need the handwritten recipe card that I painstakingly copied from the recipe book that came with my mom's first microwave. For anyone keeping track, that was one of the many appliances my dad bought for my mom for Christmas over the years. 
I always make the Peanut Brittle at the holidays and thought it would be great to switch it up and use pumpkin seeds instead of peanuts given some of my closest friends have peanut allergies. I tried messing with the recipe and adding pumpkin puree to the mix but after numerous tries, tasty but never set quite right, I've gone back to the oldie but goodie recipe.
You really can't get too much easier than this one.  Step 1: One cup white sugar and 1/2 cup corn syrup heated in the microwave. Step 2: Then add the pepitas/pumpkin seeds and heat again.  Stir in butter and vanilla and heat for the last time.  Step 3: Add baking soda and stir.
I always love how quickly the mixture turns frothy – this means it is ready to poured onto a parchment lined baking sheet. Be very careful when pouring as the mixture is extremely hot and will burn you if it touches your skin.  Don't stir – but do gently shift the baking sheet from side to side to spread the mixture. 
It will start to harden immediately. In just 5 to 10 minutes it should fully set and be ready to enjoy.  Your bowl will also likely be crusted in this hard candy but don't worry, just soak in warm water and it will wash away quite easily.  Peanut brittle or pumpkin seed brittle can make a great gift – for friends, family, teachers, colleagues for any holiday or reason.