This has been the best Saturday in ages. After a long week travelling for work we all had a great night's sleep and spent the morning lounging. Then because it is FINALLY warm AND the sun was shining, we decided to go for a walk to get lunch and ice cream. There is just something about being out and about with the ones you love, while not freezing your butt off, that puts you in a good mood. Seriously needed it! On our way back we stopped in every park we passed for some good old swing time. There is nothing my little one loves more than the swing.
Finally, hours later, we made our way back home. As we unlocked the front door, Mike looked at me and said the only thing that would have made the day better would have been a 7-11 Slurpee. Well, rather than having a totally sugary and super sweet slurpee from the corner store, we made our own with berries, lime and carbonated water. An easy way to also get some extra fruit into the little one's diet.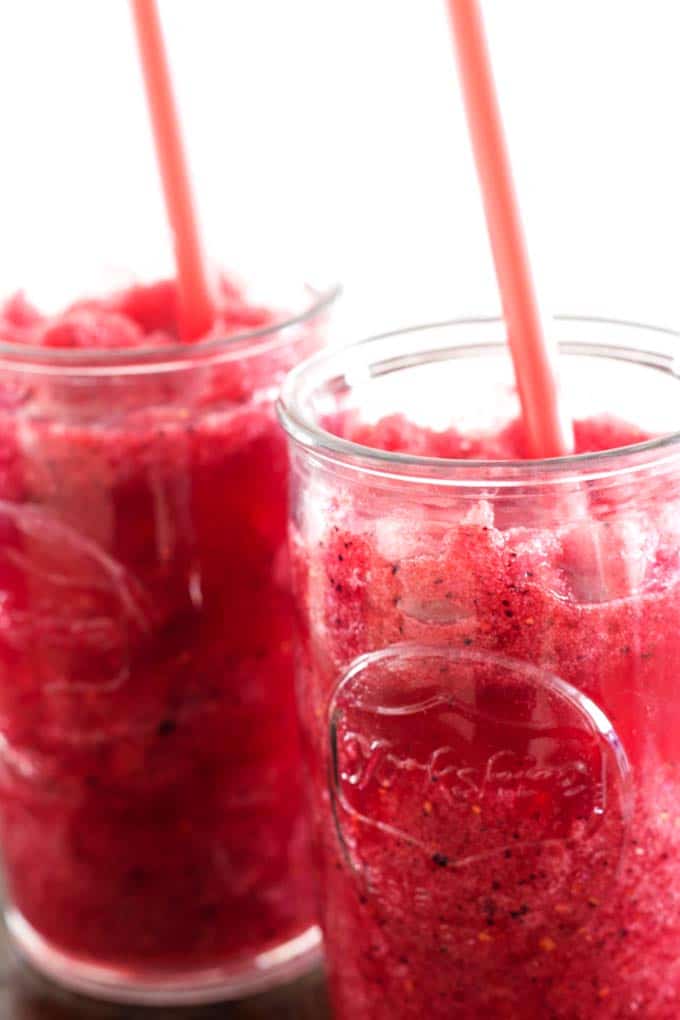 Don't get me wrong…I love a Slurpee but I don't love how guilty they make me feel. All that sugar and caffeine…The homemade slurpee doesn't require any additional sugar (but I won't judge you if you add a little simple syrup). You can also choose between using carbonated water, seltzer or Sprite Zero. Try lemon/lime flavoured seltzer or water. I've shared my lazy soda slush in this past and this version is the Berry Lime Slushie. I love adding a lime to the homemade slushie because it gives it an extra flavour boost. If you are looking for an adult version, try swapping some of the liquid with tequila or vodka.
So many options…so little time. I'm so glad that we are just starting the slushie season.