Lazy soda slush, aka Strawberry Fizzy, for a lazy day. Why does it always seem like summer weekends have the worst weather? I know last summer it felt like it rained every Saturday and Sunday while the sun was out in full force during the oh-so-long 5 day workweek. Ugh! In fact, I'd extend that bad weather trend to any vacation we take in North America. Last summer, we spent a week in Virginia Beach and we had literally one hour of sunshine. I wish I was exaggerating but it rained every day and we just had to make the best of it.
Today, its been raining since around 10am and the temperature has dropped as well. My daughter wanted to go for a car ride and she insisted on wearing her winter jacket…she could feel the change even though it was maybe 5 degrees cooler than yesterday and by no means required a winter jacket.
It felt like such a long work week and I was so hoping for a nice sunny Saturday afternoon to spend on our deck with a nice icy cocktail. Instead, I've spent most of the afternoon lounging on the couch surfing the net in-between loads of laundry. Not an inspired day.
All that being said, I am sipping on the easiest drink I've ever made in my Vitamix.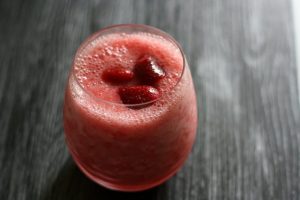 After spending what felt like minutes staring into the fridge, I settled on a Sprite Zero but that by itself seemed pretty boring. I've been really trying to cut soda/pop out of my diet but haven't quite cut the cord. I wondered what would happen if I added some frozen strawberries and popped in the Vitamix for a minute. Wow…truthfully, I had low expectations. But, I'm now on my second because it was so unexpectedly good and while not necessarily good for you it is low calorie and pretty much guilt-free. I'm sure many of you reading this are silently lecturing me for drinking anything with aspartame in it but it is just too good.
Give this Lazy Soda Slush a shot – simple and you can decide how thick you want it to be by adding/more or less strawberries to the blender. I used approx 1 cup of frozen strawberries to one can of Sprite Zero. I flipped the smoothie setting and let it go.