I use to make ice cream all the time as a kid. For my 9th birthday I received one of those small plastic ice cream makers that was shaped like an ice cream cone that you had to freeze overnight before you could make ice cream. Then, after painstakingly measuring all of the ingredients and following a little recipe that was on a yellow index card, I would have to twist the lid every 20-30 minutes over a 4 hour period. The waiting was sooo hard. 20 minutes, let alone 4+ hours, as a 9 year old feels like eternity.
As I've mentioned a few times, I've only recently started to like cucumbers and now I can't help but wonder what else can I do with them? I don't like them plain or even really in salad but I could drink them all day in aguas frescas or in a smoothie. Last week, I decided I'd try to make Cucumber Mint ice cream since I also happen to have a garden full of mint and a girl can only drink so many mojitos. I never thought I'd admit to that. I seriously haven't made ice cream since I was kid…well other than that awesome hack of throwing frozen bananas in a blender. I don't have an ice cream maker so pretty much expected that this would be a flop..wow, I was pleasantly surprised.
I decided to go with a custard based ice cream. Essentially, I made this recipe in three parts:
Chopped and removed the seeds of a cucumber and added fresh lime juice and pureed in the blender and set aside (cleaned the blender and moved to step 2)
Added eggs, sugar and honey and blended until mixture was light and airy.
Added the puree plus mint, milk, and cream to the egg mixture and blended. I did pour through a fine-mesh sieve to catch any mint or cucumber remnants and then poured into a loaf pan. It was that easy but of course, there was a bit of waiting before I could taste test.
A few hand swats later (about 3-4 hours) I pulled out the loaf pan and voila! Cucumber Mint Ice Cream with only one or two-finger indentations where I wasn't quite quick enough to stop my daughter from an impromptu taste. Even at this stage, I had pretty low expectations. The ice cream was sort of a cream colour with a slight green tint to it and had a smooth texture which I believe is from the honey. I had read that using some honey as a substitute for part of the sugar would help improve the silkiness of the texture and it sure seemed to work. I will definitely try that swap in future ice cream recipes. Now that I know how easy it is I'm pretty sure home-made ice cream is going to be a staple around here. I wonder if I could add protein powder without ruining the taste/texture.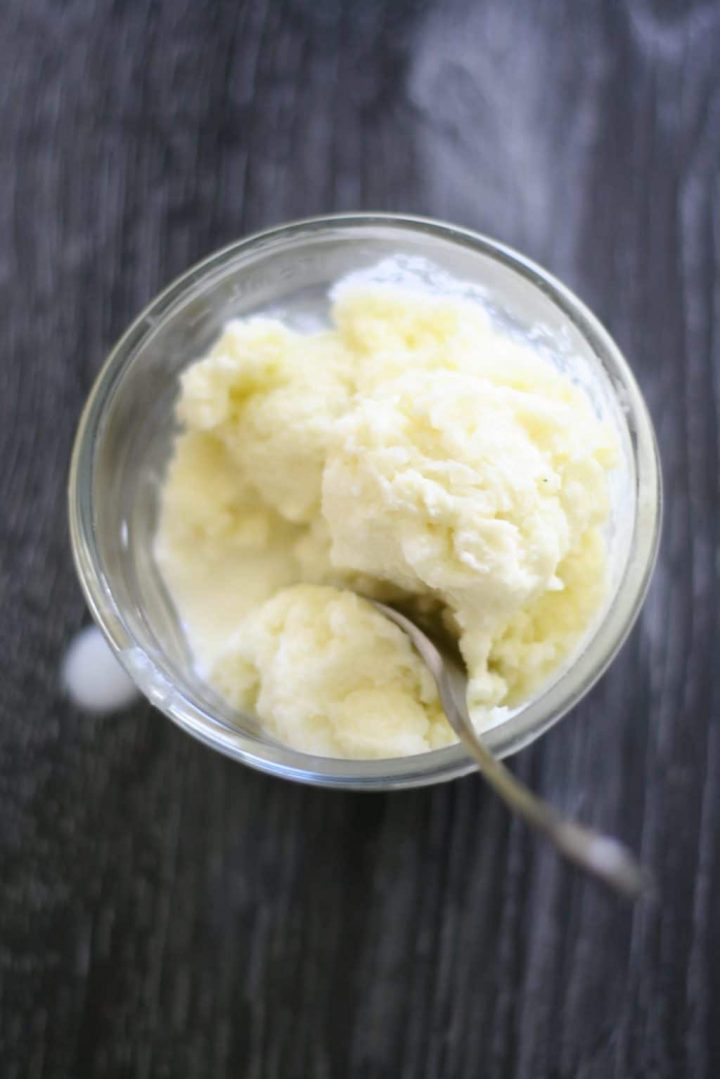 My biggest challenge? Scooping the ice cream into nice round scoops as I realized I don't even own a real ice cream scoop. So, apologies in advance for the photos. This ice cream is definitely a bit more savory but truly a pleasant surprise and I'll use any vehicle to get vegetables and eggs into my daughter…she is a picky eater but will try anything that looks like ice cream. Given the success of this trial, I'm considering trying to make a beet ice cream… I would love to be able to get really red ice cream for Canada Day.