Strawberry Mint Ice Cream – Yummy
I scream, you scream…
I'm loving ice cream way too much right now. Could be because it is warm out or it could be because I've figured out how easy it is to make in my Vitamix. The only limit is my imagination.
Last week, I made Cucumber Mint Ice Cream and was pleasantly surprised. This week, I made a creamy Strawberry Mint Ice Cream. I've never been that crazy about Strawberry ice cream. What can I say? It isn't that I don't like it…more that there is always another kind that I want more. Kind of like salmon. I like salmon, a lot, but I always pick something else on the restaurant menu. In this case, I couldn't help myself – I love mint and I have so much of it in my garden right now that I'm using it in just about everything I make and it still seems to out pace me. No need to ration this stuff and it is the best $1.99 I've ever spent.
The Secret Ingredient
I've decided that for me, honey really is the secret ingredient. It adds a creaminess to the ice cream that I don't completely understand and yet I can 100% appreciate. This recipe was super easy to make and didn't even require any eggs. Can be made in minutes and then placed in the freezer if you prefer traditional ice cream consistency.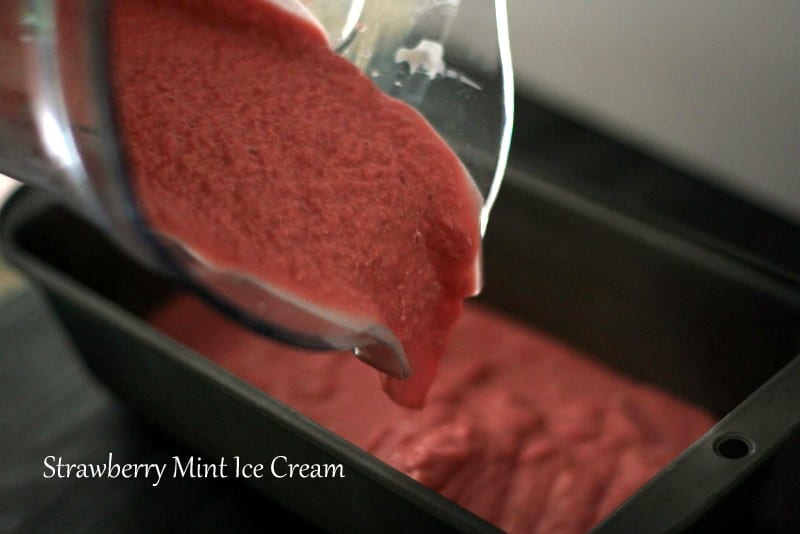 I'm pretty sure this strawberry mint ice cream will be a staple all summer long. My daughter enjoyed it and that is the absolute most important thing – I'm thinking about sneaking in some protein powder next time but at the same time I'm afraid of ruining a good thing.
Happy with yet another successful ice cream experiment, I have some beet ice cream in the freezer that I made in honour of Canada Day. Stay tuned for the results…