Berry Pineapple Peach Green Protein Smoothie
I'm so happy today despite the rain and miserable weather – nothing is going to get me down as I'm on a mini-vacay from work and not going back until Monday. My job is pretty demanding and I don't often take time off but just felt it was needed to get back into the groove.
Plus, this Berry Pineapple Peach Green Protein Smoothie is making me smile. So tasty.


I didn't realize just how much I've been missing my morning smoothie ritual and haven't had one on a "workday" in weeks as I've been taking the amazing Pumpkin Cranberry Walnut Muffins for my breakfast. I highly recommend trying if you haven't already. Quick and easy to make and I dare you not to just eat the batter straight from the blender. Sorry, getting a bit off-topic.
I'm trying to make some room in my teeny tiny freezer and I have to admit it is overflowing with frozen fruit and spinach. Spinach is my go-to smoothie green as it is so easy to blend and never overpowers the other ingredients.
Have you tried Vega Smoothie Protein Powder? If you like to use protein powder and you don't like a chalky taste (haha, does anyone?) then I highly recommend using Vega. I'm a big fan of Vega Protein Smoothie, Bodacious Berry flavour as it works so well with berry smoothies. Even better, its completely plant-based and packs 15g of plant-based protein in every scoop. It was recommended to me a few years ago when we were having a really hard time getting our little one to eat anything let alone protein. It is readily available in Canada which is a bonus as so often, we are left with little or no selection on these types of items. If you can't find locally you can also find on Amazon here.
I know many people don't consider a smoothie to be a meal but how can you say that if you pack enough punch with the ingredients? The secret to feeling full is ensuring you have protein with every meal. I could never be one of those salad eaters that doesn't include protein – I'd be hungry in 10 minutes.
Throw your frozen fruit, spinach (fresh or frozen), water, and protein powder and blend this smoothie up. I used my most prized possession to put the smooth in this smoothie – my Vitamix Pro 750.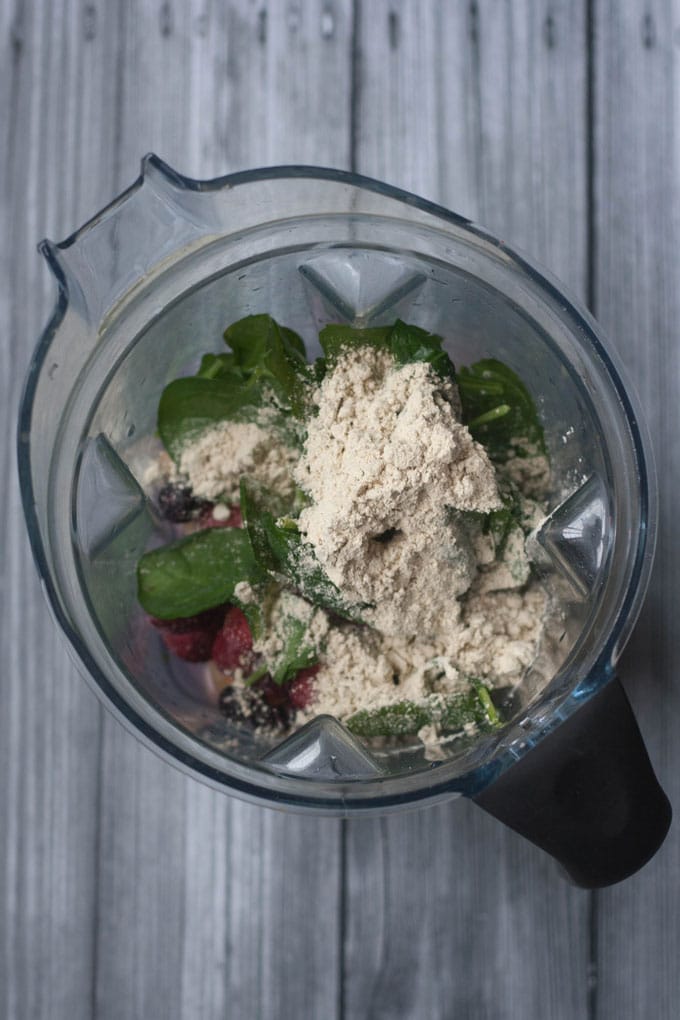 Once poured in my glass I topped off with some remaining frozen berries (mostly because then I wouldn't have to put a near-empty bag back in the freezer) but would probably do this again and again. This smoothie is pretty thick so if you like it thinner you can add more water to the blender…if not, make sure you have milkshake straws or try using a spoon!