Blender Pumpkin Cranberry Walnut Muffins
Feeling a bit blah about eating the same old breakfast, day in and day out? I definitely get in food ruts pretty easily especially during my weekly work routine. It needs to be simple, easy and require zero thinking in the morning – this because I leave myself no flex time in the morning. My alarm goes off at 5:55 and I'm out the door at 6:30 no matter what and usually with wet hair. I have my priorities and that is to get at least 6-7 hours of sleep though I dream about 8.
These blender pumpkin cranberry walnut muffins hit the bill and they make you feel like you are truly embracing the season. Seriously, what screams Late Fall more than pumpkins and cranberries? Eating one of these muffins makes me want to pull on a warm, cozy sweater and sit in front of the fireplace with a glass of milk or mug of hot cocoa. Maybe both!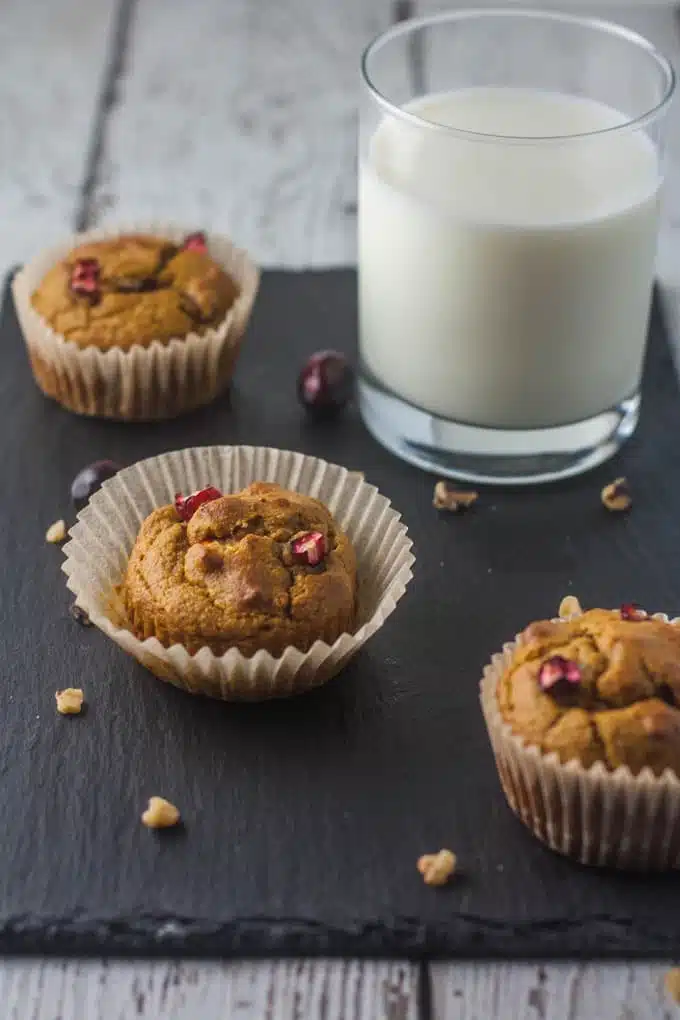 Bake up a batch of these on a Sunday and you'll have breakfast (or snacks) all week long. I'm even making a double batch so I can freeze them and pull one out on my way to work since I don't like to eat until around 8am and taking one of these will hopefully prevent me from splurging on a pumpkin scone from Starbucks. Save $ and calories – win/win!
The stars of the show are really the pumpkin puree (I used canned because I still don't know how to pick a pumpkin), fresh cranberries and chopped walnuts. Delicious. I think my daughter was hoping for some chocolate chips but that's a whole other story.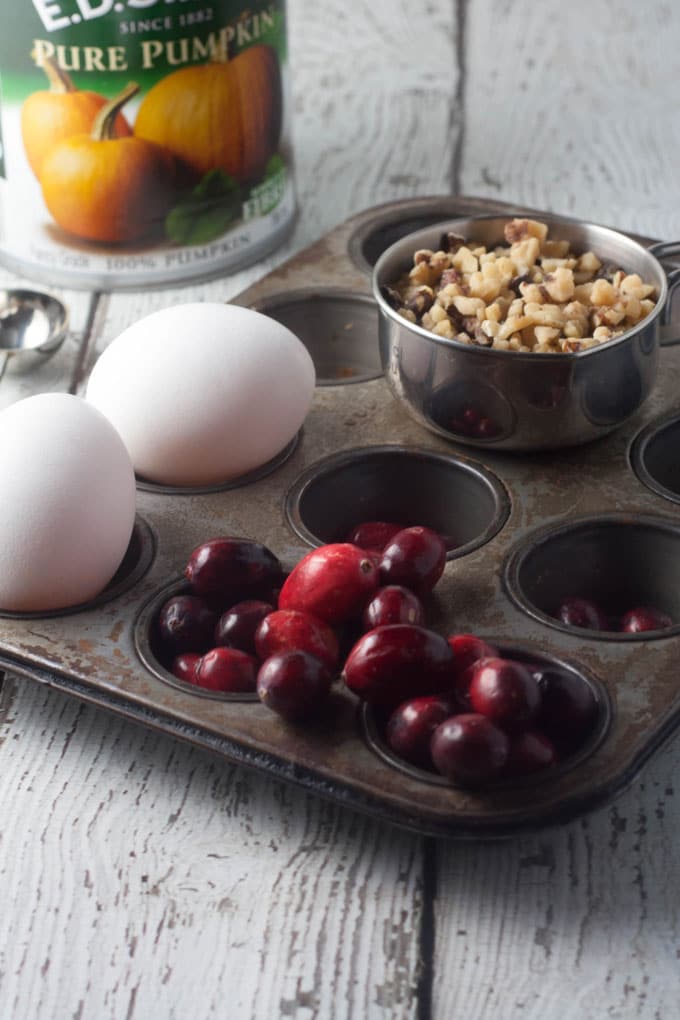 I really like blending my own flour using oats so that was what I chose to do for this recipe. Pour the oats in the blender and then blend until you have a flour like consistency. I then added all my other dry ingredients and pulsed a few times to mix. Then added the eggs, milk, oil and pumpkin and then blended for ~10 seconds starting on variable speed 5 and increasing to speed 10. Once the batter had formed I gently folded in the diced cranberries and chopped walnuts. Do NOT blend. Pour into lightly greased or lined muffin tins. I used both mini-muffin tins and regular – I was raised in a mini-muffin loving household and some habits are too hard to break.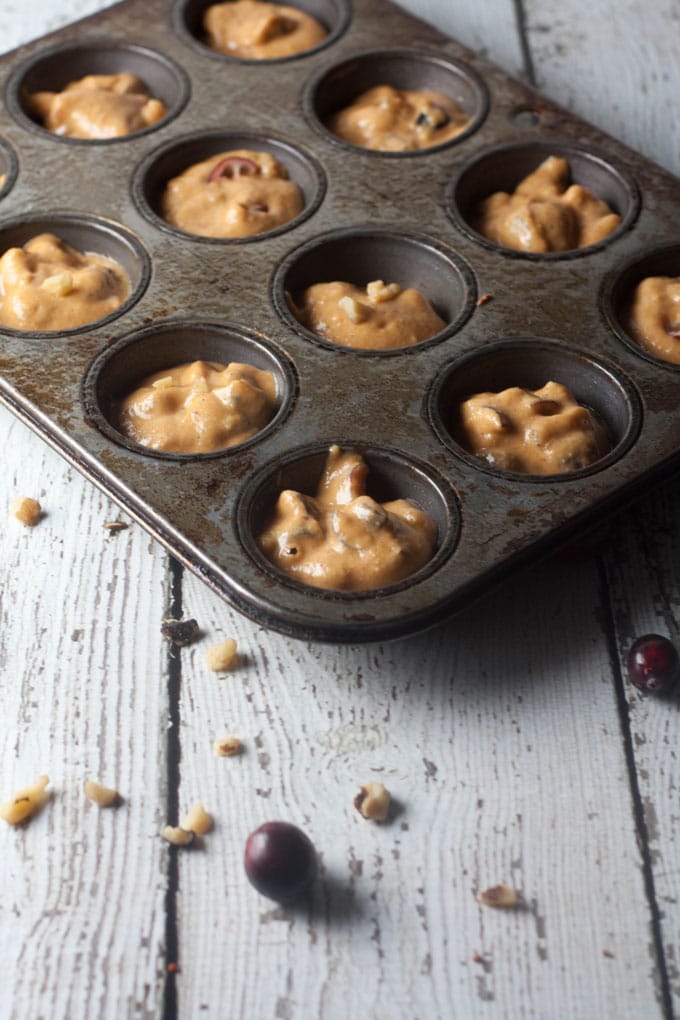 Look how wonderfully golden, with just a pop of colour, these muffins turned out. Love that they are bite sized and just waiting to be eaten by me.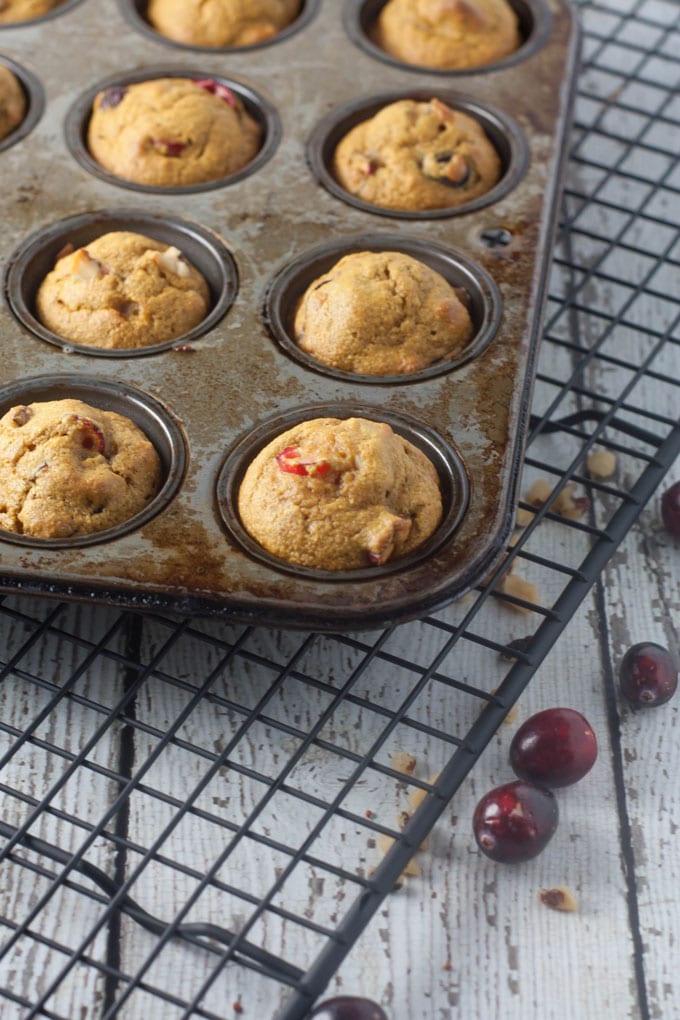 I know some people are afraid to use their blender for baking but as long as you don't over blend there really is nothing to fear. I love using my Vitamix Pro 750 for blending batter especially since it is so incredibly easy to clean. Seriously, just fill with a bit of water, a drop of soap and blend it clean and rinse. The only thing that would make this better and easier would be if the blender could bake the muffins – that would be awesome especially because I have a love/hate relationship with my ovens. I guess we can't have it all – but we can sure have some awesome and tasty blender pumpkin cranberry walnut muffins.