Strawberry Lime Iced Tea: A Cool Summer Beverage
Strawberry lime iced tea, anyone?
I can't help but feel happy with this amazing weather. The many, many hours of sunshine is a welcome surprise even if I am waking up at 5am as the light starts to stream in and the birds are chirping. I'll take it over cold, dreary snowy weather any day.  I don't know about you but I've cut back on my coffee trips over the last few weeks. Hot drinks, while a favourite, are not at the top of my list right now. Instead, I'm regularly enjoying lemonade, iced coffee and this strawberry lime iced tea.
There is just something simple about sitting back and enjoying iced tea.  I always picture sitting on a comfy chair on a covered porch passing time hanging with friends and family away from the everyday hustle and bustle.

I love iced tea but get sick of the traditional flavours that you usually find at the corner store.  Instead, I prefer to make my own using flavoured tea and seasonal fruit. The possibilities are truly endless. Just brew up your favourite tea, let it cool and add to the blender with fresh fruit.  Can it get any easier than that?  Recipes where the hardest part is waiting, in this case for the tea to brew and cool, are my absolute favourites. Plus, it is pretty much impossible to mess up iced ta.  For someone like me that is what we call a winner.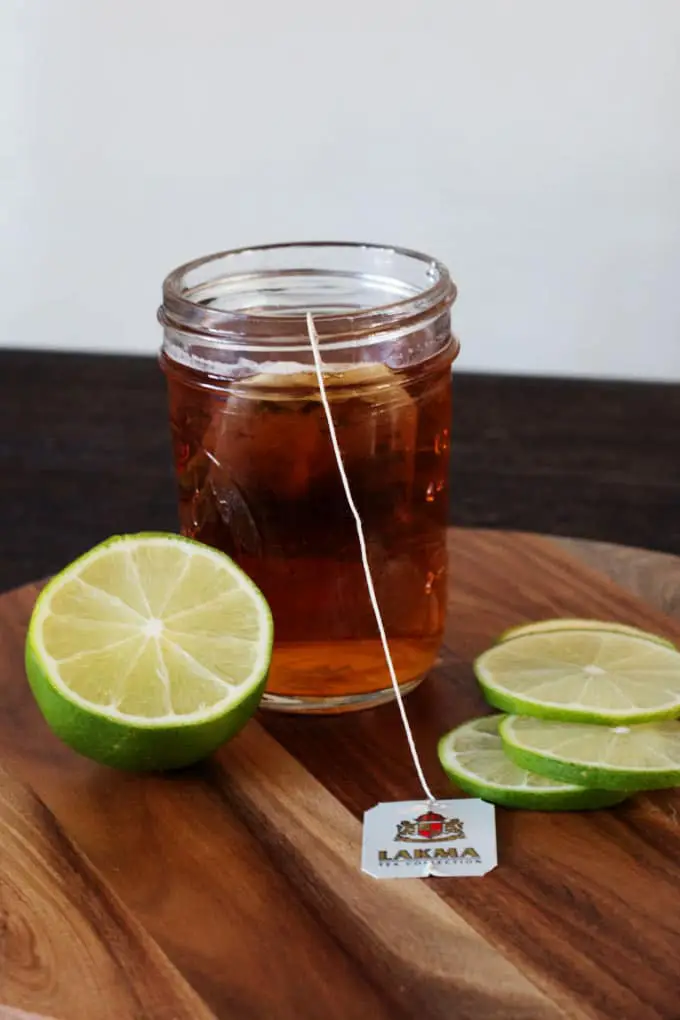 I usually make small batches but you could just as easily make a big batch and store. One of my favourite drinks last summer was this Mixed Berry Iced Tea. It is almost like drinking slush whereas this strawberry lime iced tea is best served chilled or over ice. It has just the right mix of sweet and sour with no added sugar.
Now, off to brew some more tea.  Cheers!