Wow – let me tell you, I wasn't even really sure what I was setting out to do when I stumbled across what I'm now referring to as Mixed Berry Iced Tea. Really, my only goal was to make a nice cold drink that I could sip on that wasn't high in wasted calories…plus, as I've mentioned in the past – I hate plain water. Whenever the weather gets warm I have to think of different ways to stay hydrated or cooled down without drinking glass after glass of H20.
A couple of days ago we were wandering through a local Polish Grocery Store as my husband was looking for some different non-alcoholic beer brands and this store has a really good selection. My daughter quickly fixated on the enormous European candy selection and its extensive line of Kinder chocolate. Just across from this aisle was the tea aisle and while I wouldn't normally stop I started to think about all the different types of cold tea I could make. I had only seconds to pick but decided on mint and strawberry and the best part (which I didn't discover until checkout) was that they were only $.99 a pack. Great deal!
I immediately made a big batch of Strawberry tea. I used approximately 5 cups of water and 5 tea bags.
TIP ALERT: I'm lazy and hate to dig around for tea bags in the hot water and I've also found that the string doesn't always stay on the outside of your cup/container so I like to tie the string around a wooden spoon as you see in the picture below.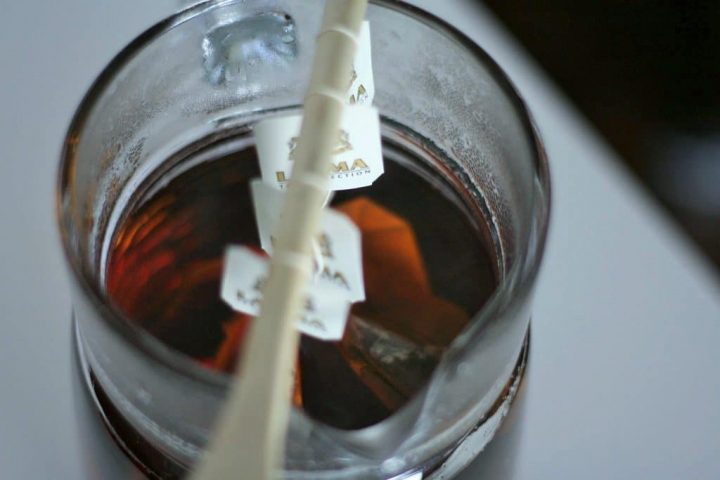 I made this after dinner, let it cool and then refrigerated overnight. When I got home from work the next day I stared at the cold tea for a few mins in the fridge before having a bit of an aha moment. If I was a cartoon, there'd have been a light bulb turning on over my head.
One of the biggest challenges to most of the ideas that come to me is that I rarely have the items I need on hand. That being said, I almost always have frozen fruit in my freezer and decided that I'd puree it and add it to the cold tea. Really it was that simple. And that delicious. Look at the colour – I swear it was just as tasty as it looks plus it was low effort. I'm going to try some other flavour combinations but I do think using the flavoured tea made it extra delicious. Given my new found love of cucumbers, I'm thinking of mixing cucumbers and mint tea. Its either going to be the absolute best idea I've ever had or it will immediately be poured down the drain – I give it 50/50 odds at this point but no risk, no reward. Stay tuned!