Roasted Tomato Soup was a Father's Day Success
As I mentioned in my earlier Father's Day post, my husband loves tomato soup. I've always been a little so-so on it because it just looks so unappealing coming out of a can. This time, I decided I'd try to make it from scratch using the Vitamix Pro 740 which has the soup setting. Two things I never thought I'd do: 1) make tomato soup 2) cook soup in my blender.
The tomatoes at our local grocery store looked good which gave me some confidence that this was going to work out ok.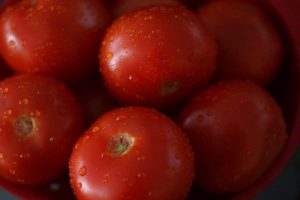 In all seriousness, I wasn't exactly sure how I was going to give some depth of flavour to this soup since my husband isn't a fan of onions or peppers which is why they are often not included in any of my recipes.
The tomatoes were halved and placed cut side up, sprinkled with olive oil, salt, pepper and a mixture of rosemary, thyme and oregano and placed in a preheated 400 degree celsius oven. Side rant: I have the worst double wall oven set up I've ever seen. While the appliances are AEG they are also only 24 inches wide making it very difficult to cook a big batch of just about anything. In fact, I couldn't even get all the tomatoes I had bought into a shallow glass casserole dish so had to stick with 7. [rant ends]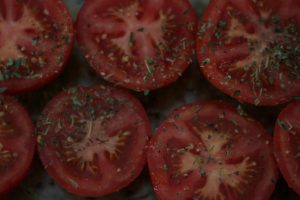 After approximately 15 minutes I added 2 slices of bacon in between the cut tomatoes. I hadn't originally planned to include but after seeing a pack of bacon in the fridge decided this might give the soup some added flavour. At the 45 minute mark I added 3 cloves of garlic.
At the 6o minute mark I couldn't believe the good smells filling the kitchen. I could smell the tomatoes, bacon and garlic. Yummy. The contents also looked amazing but I'm not so sure a picture will do it justice.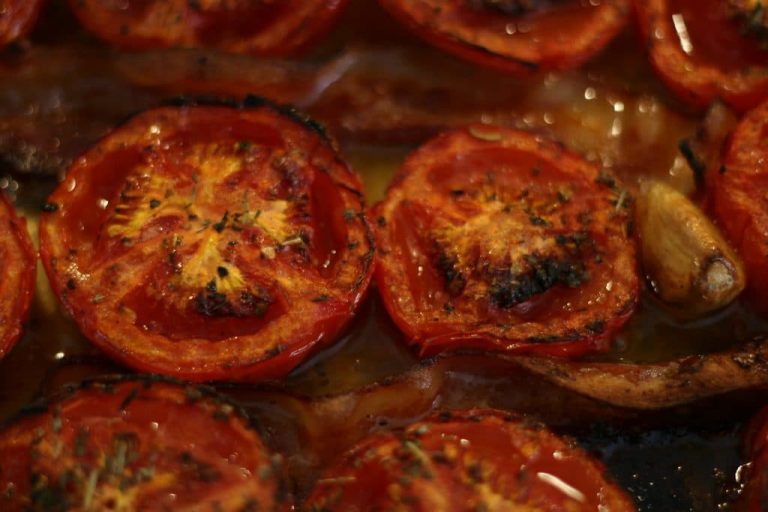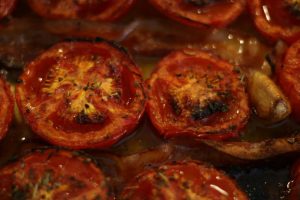 I left the tomatoes to cool just long enough that I could peel the the skins from them and discard. The remaining tomatoes, garlic, bacon and oils in the pan were put in the blender. Using the soup setting I let my Vitamix do its thing…and wow did it ever do good things. The resulting soup was thick and steaming but perhaps just a bit too thick so I chose to add 1/2 cup vegetable broth and 1/2 cup of half and half cream. Back to the soup setting and minutes later we were sitting down to two bowls of roasted tomato (and bacon) soup. We sprinkled croutons and crispy bacon bits on top – I didn't even have time to get a good picture of the finished product…so sorry.