Okay, that headline might have been just a little wee dramatic. I am totally onside with using canned pumpkin as it is just so handy but now that I know how easy it is to make your own homemade pumpkin puree I may be a little less likely to reach for the can.
Plus, these cute little pie or "sugar" pumpkins were basically calling my name from across the aisle at the grocery store.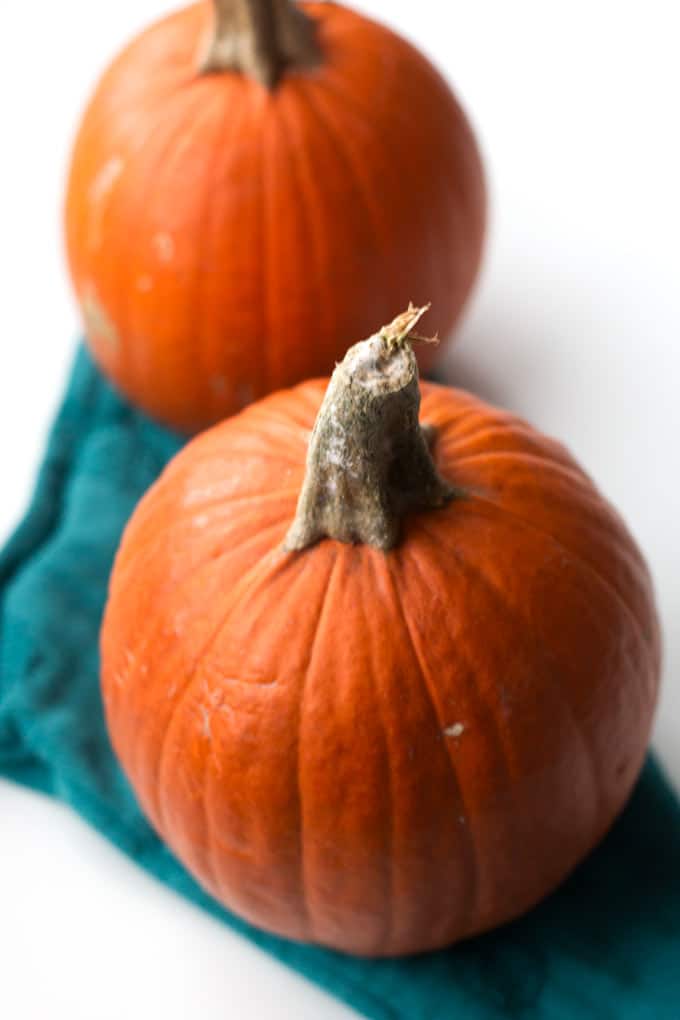 The best part? I've got seeds for roasting later. Maybe if they gave you the seeds with the can of pumpkin puree I'd be less excited but I can almost taste the roasted, seasoned seeds that I'm going to be eating later today. Better yet, you could use it to make Pumpkin Seed Brittle.
How easy is it to make homemade pumpkin puree? Let's just say that if I can do it then it must be easy peasy.  Just lop the tops off, cut in quarters, and get your hands dirty removing the seeds and strings. Using a spoon helps but it will still get messy!  This can be fun to do with the kids.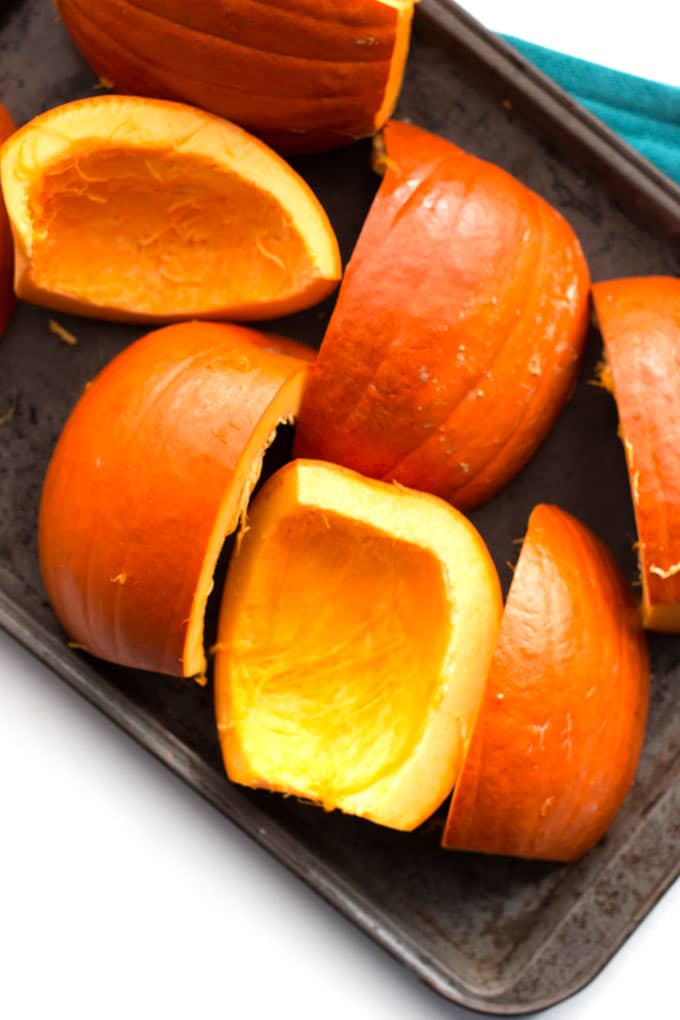 Now it is time for roasting. The roasting will make the pumpkin flesh nice and soft and allow you to simply pull the skin off in one piece.  It also helps to bring out the real flavor from the pumpkin. Some people like to coat the pumpkin in oil or dust it with a bit of kosher salt but it really isn't required so it is up to you.
You want the pumpkin to look like the picture above. Let it cool until it is easy to work with and you can peel off the skin. Then just throw it in the blender (or food processor if you prefer).  In my Vitamix Pro 750, I like to use the puree preset which makes this step simple.
Now all you have to figure out is what amazing things you are going to make with your newly made puree. The list is almost endless. You could make maple pumpkin puree which is a great ice cream topper or maple ice cream...or you could try a Pumpkin Iced Latte that is so much better than anything you can get from a coffee shop.  I'm about to try to make some pumpkin apple cider. Fingers crossed - the worst-case scenario is that my house is about to smell A-maz-ing!
[clickToTweet tweet="You may never open another can of pumpkin puree again." quote="You may never open another can of pumpkin puree again."]
Store your puree in the fridge or you can freeze it and enjoy it for months to come.