Pumpkin Iced Latte – An easy transition from Summer to Fall
I've been trying to avoid the reality that it is officially Fall now. I love warm weather, days at the beach, and summery drinks and the thought of the winter ahead always makes Fall a hard time for me. All that being said, I'm finally and firmly on the pumpkin bandwagon and it started with the Pumpkin Iced Latte that I'm going to share with you all today. Iced because I still have one foot hanging onto Summer and Pumpkin because I have to acknowledge that Canadian Thanksgiving is only two weeks away.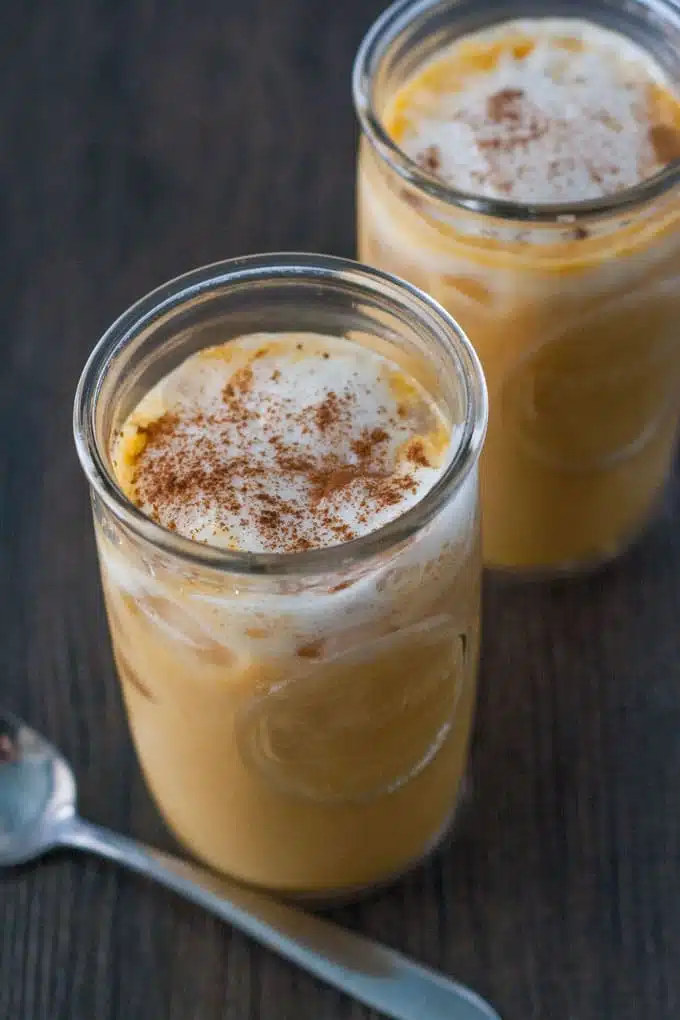 I like simple, delicious, and guilt-free drinks.  This Pumpkin Iced Latte fits that bill perfectly and will be putting a big old smile on your face in minutes even if you have to put on a sweater to go outside.  The other great part about this recipe? Very inexpensive and you can be making these for days on end with a very small investment in a can of pumpkin puree (not pumpkin pie filling!).  You can also personalize this drink even more by adding a little milk froth to the top and a little extra cinnamon and nutmeg or pumpkin pie spice.
Three easy methods for frothing milk at home
If you want to add frothed milk there are a few different ways to do this at home without an expensive espresso machine:
One, you can use an old school metal milk frother and froth by hand just like this one here. (affiliate link) I originally purchased mine through an Epicure Selections home party 10+ years ago and I'm still using it regularly.   I'm also the proud owner of a Breville automatic milk frother that my husband tends to use as he doesn't want the work out of the manual frother. 
Another trick I learned many, many years ago when I was using a magic bullet was to put a small amount of milk in the magic bullet and blend it for 10-20 seconds and then remove the blade and place the small plastic jar in the microwave for approx 30 seconds. You have to keep an eye on it because the milk will start to rise and foam.  Voila! Frothed milk in seconds and you will wow your guests who will be amazed and delighted that you were able to produce wonderful lattes and cappuccinos without having a $1000+ machine in your kitchen. I suspect that you could do this with any blender that has smaller jars that are deemed microwave safe. Be sure to check first!
If you have the Aer Disc Container for your Vitamix it also works extremely well for frothing cold skim milk. I love this versatile container.
The Best Milk for Frothing
It totally depends. Not a great answer – I know. A word of warning and expectation setting…from my own experience, cow's milk froths the best, and whole milk provides the creamiest and thickest foam while non-fat or low fat provides an airier, lighter foam. My new favorite coconut/almond milk blend is what I used for the above recipe and while I was able to get the frothy texture the froth was not quite as stable or satisfying as cow's milk. Almond milk and soy milk will froth but the results just won't be as thick as whole milk in my experience.
All that being said, frothing at home tends to be most successful when using skim (aka non-fat) milk. Especially if frothing cold. I recommend ensuring your milk is really cold.
This recipe, like most, was made in my Vitamix Pro 750. It always does the job – if you are a Vitamix-user, you know what I'm talking about! If you haven't tried a Vitamix, it has never been easier to find a blender to meet your daily needs with their extensive product line and their Blender Recommender tool.