Cilantro makes this restaurant-style salsa taste so fresh!
If you love snacking on chips and salsa at your local Mexican or tex-mex restaurant then you'll enjoy this easy-to-make restaurant-style salsa. In just minutes you can be dipping your chip into this salsa that balances added heat with the brightness of fresh cilantro. Now, I've learned that up to 15% of the population thinks that cilantro tastes like soap. Yuck!
If you are afflicted with this very real phenomenon then try our roasted salsa as an alternative - no cilantro required.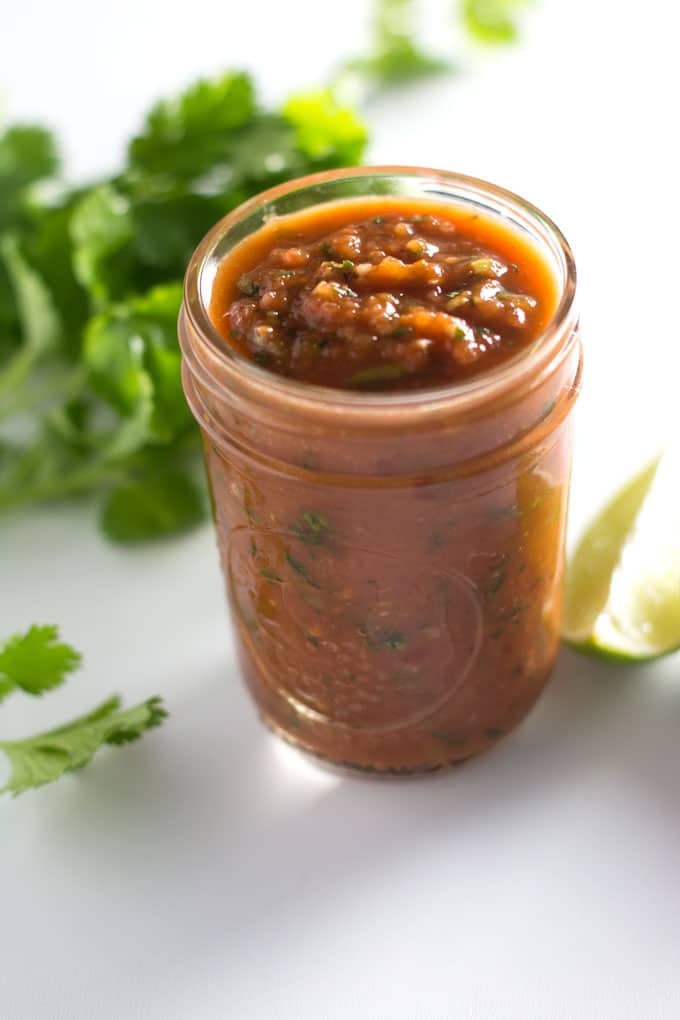 I'm guilty of eating a whole bowl of fresh chips and salsa without even realizing what I'm doing - it is one of my absolute favorite snacks and maybe one of my biggest food weaknesses. I often make salsa at home - sometimes tomatillo salsa and sometimes this roasted tomato version but this is my absolute top go-to recipe.
Chipotle and Jalapeno give this salsa heat but it is kicked up a notch with fresh cilantro and lime juice. Even my oh-so picky husband declares this his favorite and since it is so easy says we should never buy a jar of salsa again.
How easy is it to make this restaurant-style salsa?
So easy! Check out our video or our web story for the step by step visual guide. Simply add all your ingredients to the blender and blend until you reach your desired consistency. Give it a taste and you can always tweak it a bit to your personal taste. Need a little extra heat? Add some more chipotle and jalapeno. Too hot? Offset with a bit more fresh cilantro and lime juice. Voila! The easiest and tastiest salsa made in just a couple of minutes.
To make sure my salsa isn't too watery, I like to strain the canned tomatoes. I also prefer it to be well blended, however, you can also choose to simply pulse the salsa in your blender and maintain a more rustic feel for your salsa. No matter how you like it, you will be pleased with just how scoopable it is!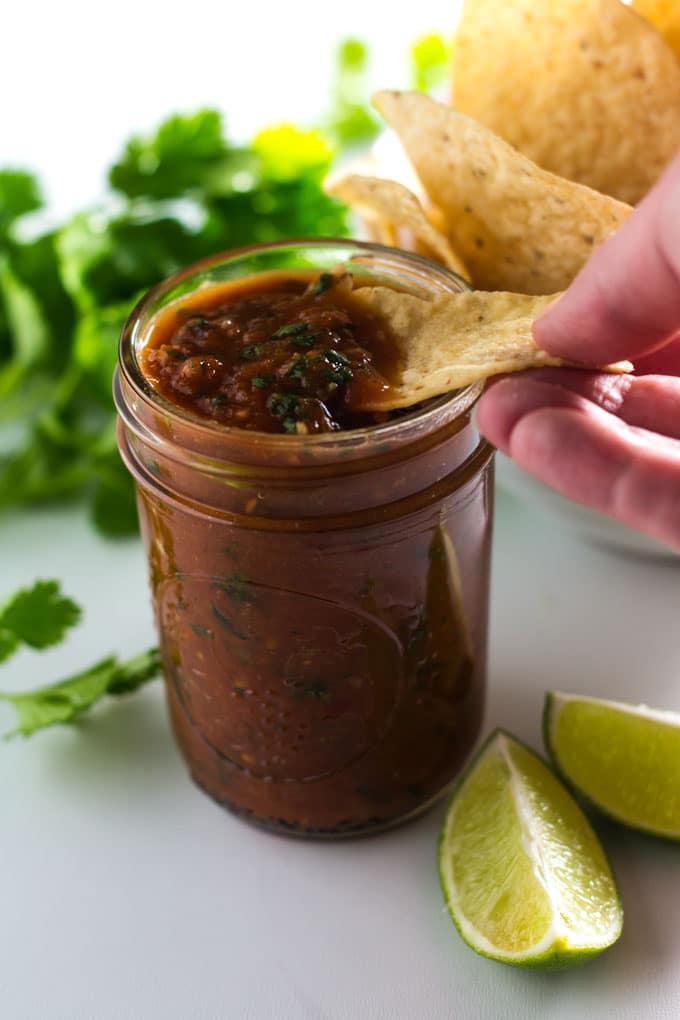 The toughest part? Deciding how you'll use this salsa first. Perfect for dipping chips, topping nachos, tacos, and baked potatoes. I dare you not to finish it in one sitting.
Best drinks to enjoy with your Salsa
Looking for the perfect beverage to accompany your chips and salsa? I recommend a Whole Lime Margarita or a Frozen Paloma which are my two favorite tequila-based cocktails.