The Best Frozen Paloma – A Twist on Classic Tequila Cocktail
Have I got a treat for you – Frozen Palomas to celebrate Tequila Tuesday (aka Taco Tuesday). Yep, we may have made that up but we think it might catch on. Tequila and grapefruit are a great flavor combination whether we are talking about Palomas or Grapefruit Margaritas.
So what is this Paloma drink, other than the best tequila cocktail?
Paloma is the Spanish word for dove. A traditional Paloma is a simple cocktail made with just three ingredients: Tequila, lime juice, and grapefruit soda. Examples of grapefruit soda include Wink, Fresca, and Squirt Soda. These ingredients are mixed with ice in a cocktail shaker and served on the rocks in a highball glass or a collins glass.
You can also swap the grapefruit soda for fresh grapefruit juice and club soda. A little salt around the rim of the glass is purely optional but highly recommended. An even simpler version of this favorite drink is just Tequila and grapefruit soda.
I read somewhere recently that the Paloma is the most popular tequila drink – not the Margarita. In fact, the Paloma is the National Drink of Mexico. There is your fun fact for the day. I love both Palomas and Margaritas – not going to pick between these two popular cocktails.
Agave spirits, like Tequila, are very popular worldwide. Tequila is made from blue agave and can only be made in Mexico's Jalisco state and select other Mexican municipalities.
The best tequila for Palomas
Now, what kind of Tequila should you use in a Paloma cocktail? You want to use the right tequila to get the best flavor. Blanco Tequila, also known as White, Silver, or Reposado Tequila are the two most popular for this traditional Paloma cocktail. Wondering what the difference is between the various types of Tequila? Blanco Tequila is unaged and therefore is never put into oak barrels. Reposado, on the other hand, is aged in an oak barrel for somewhere between 2 months and a year.
Find out more about the different types of tequila in this article by Thrillist. We don't recommend using Anejo Tequila, an aged tequila, as these tequilas are better for sipping. Use your favorite tequila brand, a good Blanco, or try Pasote Tequila Blanco or Don Julio Blanco. Don Julio Blanco has an agave and black pepper flavor profile while Pasote has a fruity profile.
Tequila comes at all price points so you don't necessarily have to spend a fortune to have a good tequila. Good things come in many different packages or flavor profiles.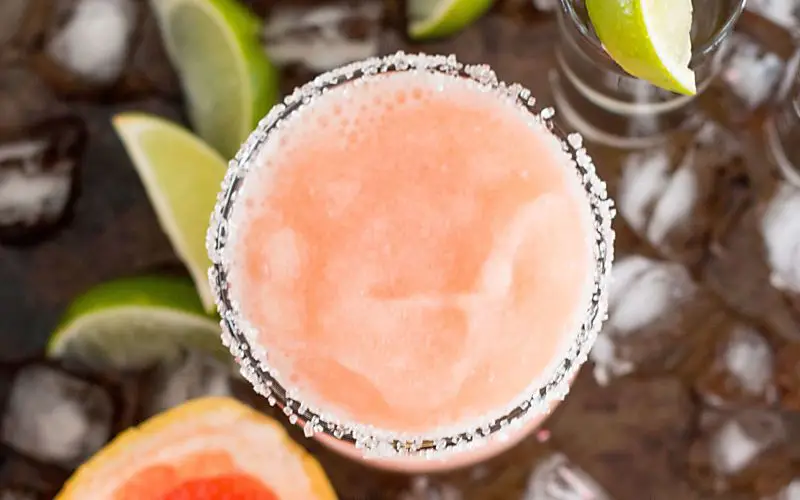 Our Signature Cocktail – The Frozen Paloma
So what do I like about these Frozen Palomas? Everything! If you like Tequila and Grapefruit then you are sure to enjoy this simple, blended twist on a classic Paloma cocktail.
I love that this frozen drink takes little prep. You don't need to make this in advance and freeze it.
Don't let the grapefruit fool you into thinking this is going to taste like a health drink. I promise it won't taste like a juice or smoothie.
We use the fresh grapefruit and Sprite Zero to make our own grapefruit soda and ensure that this is a sweeter cocktail that still packs a punch.
Here's what you need:
One big Ruby Red Grapefruit
One fresh lime
Blanco Tequila (or you can use Reposado).
Simple Syrup
Sprite or Sprite Zero (or Club Soda)
Ice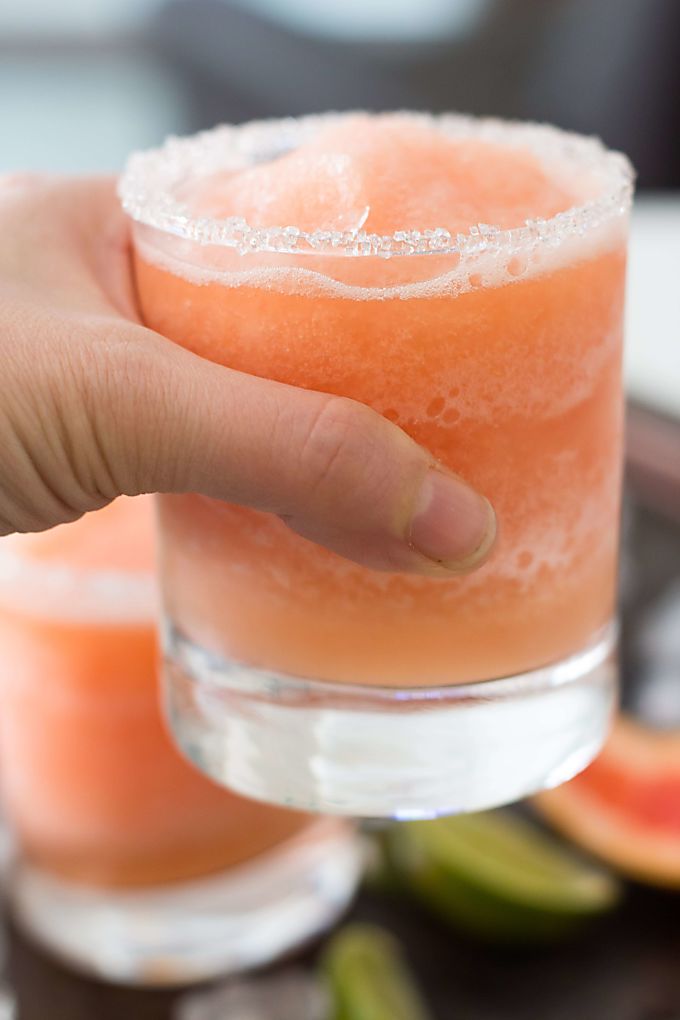 Add the grapefruit, freshly squeezed lime juice, tequila, simple syrup, Sprite (or soda water), and top with ice in the blender. Blend until smooth in consistency and then pour in two glasses. It is that easy.
If you want to be fancy you may also want to rim your glass with kosher salt or some coarse sugar. Try adding a little lime zest to your salt rim or sugar rim and garnish with a lime wedge or a grapefruit wedge. Totally optional and absolutely delicious.
We hope you love the grapefruit flavor and simple ingredients of our signature drink. In recent years, tequila drinks have become our preferred happy hour cocktails.
You can also easily turn this into a margarita recipe. Swap out the sprite, club soda, or sparkling water for triple sec. You can use a whole grapefruit or use grapefruit juice, lime juice and combine with simple syrup (or agave nectar), triple sec, tequila, and ice. RIm that glass with salt and you are off to the races.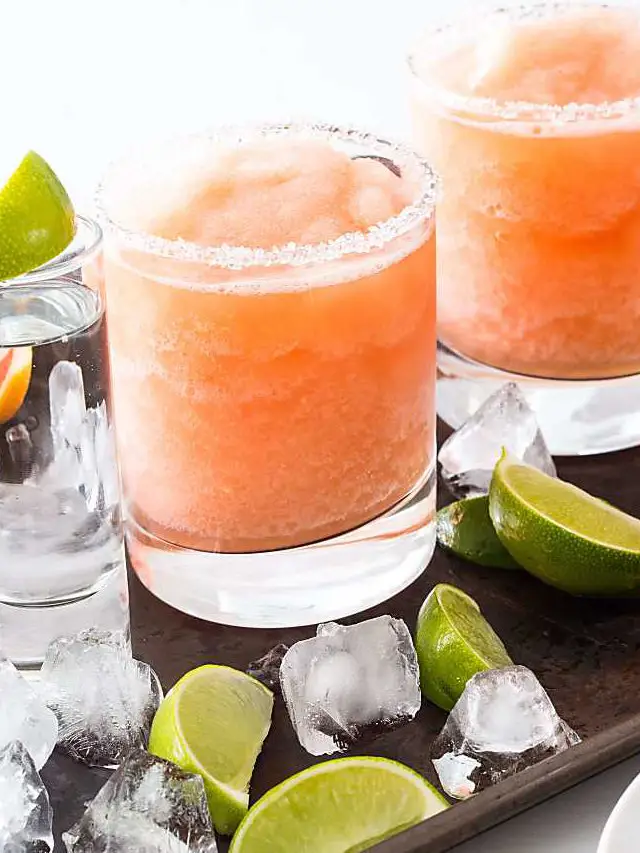 If Tequila isn't your thing, then try our Frozen Negroni which is a twist on the classic Negroni cocktail.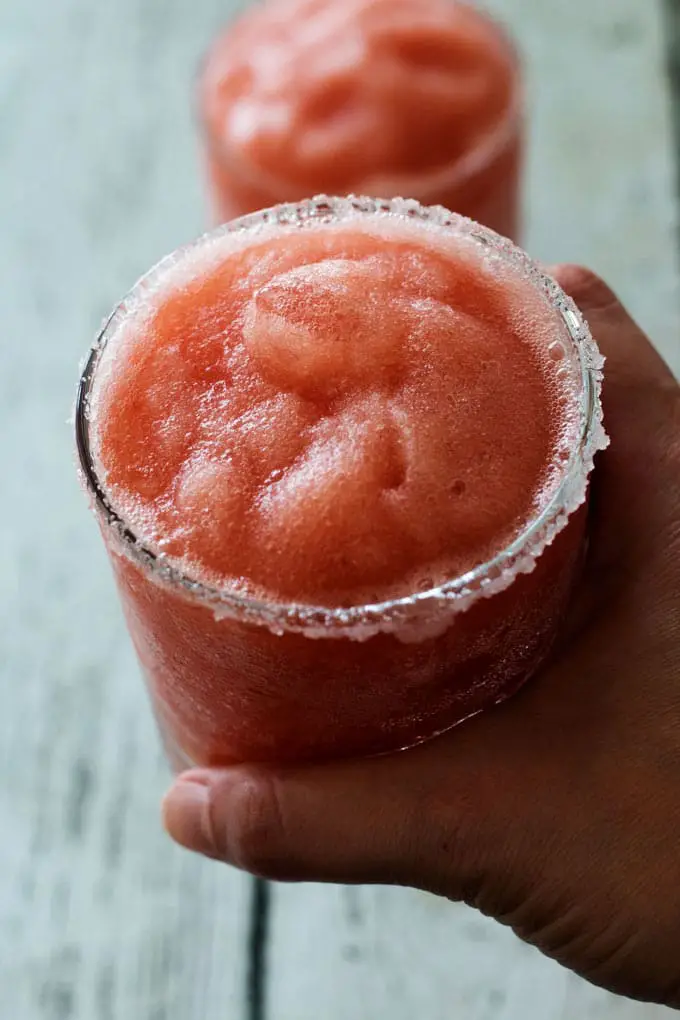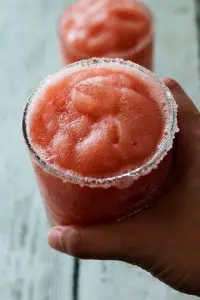 We love grapefruit cocktails, and grapefruit recipes in general, but maybe grapefruit isn't your thing. I highly recommend trying our fan favorite Raspberry Lemonade Moscato Slush. This is a quick, simple wine slush that doesn't require any prep or freezer time.