Vanilla Strawberry Beet Smoothie
I've made a New Year's Resolution and it involves eating more beets…like a lot of them and I'm only kind of kidding. Seriously, I just don't eat enough of the yummy beets so I've taken some serious steps to rectify with this tasty Vanilla Strawberry Beet Smoothie recipe. I can hear your inner voice going "strawberry beet smoothie, say what?" right about now. You have to trust me.

This post contains affiliate links which means if you make a purchase after following the link I may make a commission at no cost to you
Beets were like Nutella growing up – I didn't even know they existed and only discovered my absolute love for them later in life.
What's to like about beets?
They are just a little bit earthy and they are packed with dietary and nutrient goodness. They are a great source of fiber, folate, potassium, and iron. In my early twenties, I had very low hemoglobin and doctors recommended an iron and folate-rich diet during my recovery – this included beets. I was hesitant at first but quickly learned that beets in a salad or roasted with a little balsamic were absolutely delicious.
I like the earthy taste of beets in a salad or as a side dish but it isn't as appealing in a smoothie. This smoothie dials down the earthiness with Meyer lemon juice and the sweetness of strawberries and apple.  A little vanilla almond milk provides the creaminess and a hint of vanilla. It may sound like a really strange combination but oh does it work. Plus look how delicious it looks – I don't know about you but drinking a pretty smoothy is a lot easier than drinking a murky looking one.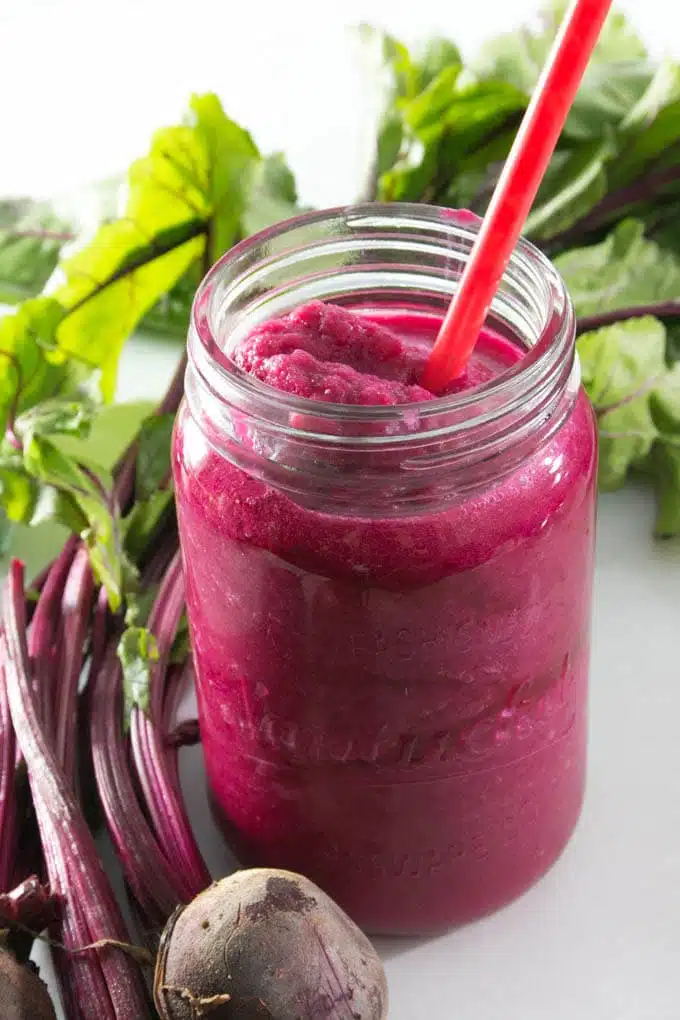 Want to try this beet smoothie?
Pick a small-medium sized beet, clean, and chop it up.  Be careful or you'll have pink hands when you are finished. Add the beet to the blender with the almond milk, strawberries, and juice of a lemon (I used a Meyer because they are a bit sweeter).  Clean your apple and remove the core and seeds. I like to leave the skin on so I used my trusty little apple wedger – I love this tool and this is how I always eat my apples. Throw this into the blender and you are ready to go.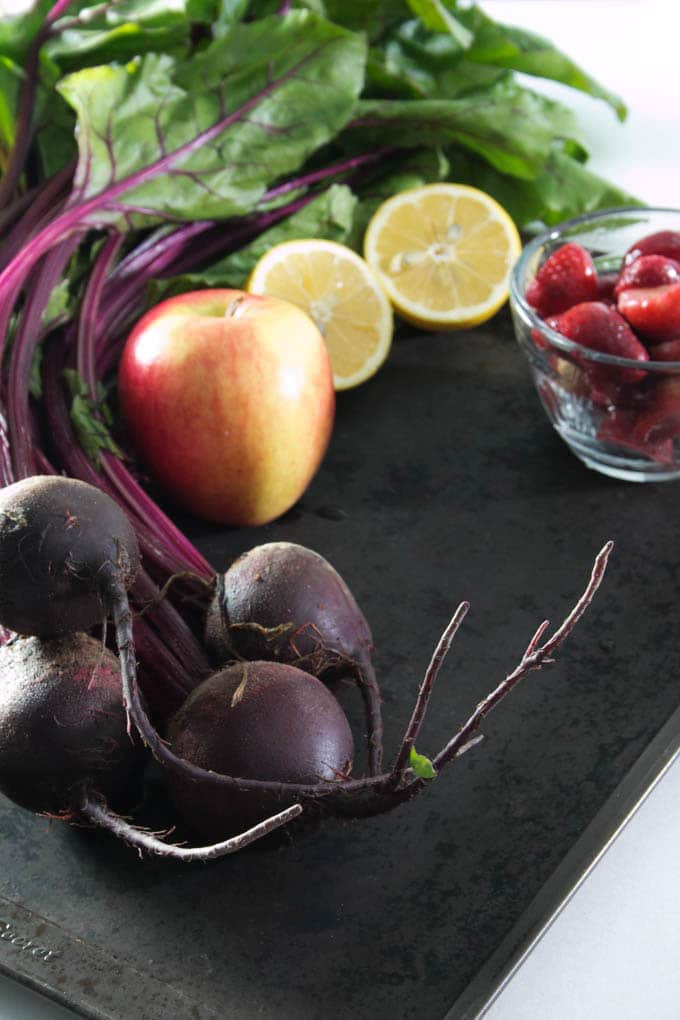 A Vitamix or Blendtec blender will have no problem blending the raw beet. You may have some difficulty with a less powerful blender and you can always try to steam your beet a bit to soften it up. Don't be afraid to use your trusty tamper to get the right blend.  
After blending the mixture try adding some ice and blending again to get a really nice thick, cold smoothie. This makes a good-sized smoothie that will keep you going all morning long.  The first time I made it, I didn't drink it right away (besides a couple of sips) and stored it in the fridge for 3-4 hours. When I did drink it later it was just as delicious and the consistency held up which isn't always the case with smoothies.
This smoothie is most definitely in my Top 3 Favourite Smoothies of all time. If you don't like overly sweet smoothies then this vanilla strawberry beet smoothie may just be the one for you. Give it a try – in just a few minutes you could be slurping away.
Is it safe to eat raw beets?
Yes, it is. In addition, raw beets retain more vitamins, minerals, and antioxidants than cooked beets – this means you can get more of the great benefits by eating them raw.

How do I blend beets?
Beets can be very tough. I recommend cleaning, peeling, and chopping beets before adding them to your blender along with the desired liquid. Some less powerful blenders may not be able to adequately blend beets and I always use my Vitamix blender which can easily blend beets into any smoothie. The tamper also helps push the beets into the blades.

What fruits go well with beets?
Berries are a good accompaniment to beets in a smoothie. Frozen (or fresh) strawberries and blueberries are great but beets are quite versatile. You may also want to try frozen bananas, raspberries, and apples. We love this easy Spinach Berry Beet Smoothie.