Strawberry Coconut Kale Protein Smoothie
Busy day? Eating on the run? This vegan Strawberry Coconut Kale Protein Smoothie will help keep you going all morning long.
I don't know about you but I like to be excited about the food I'm eating. And if I'm being honest, I've never really found Kale to be all that interesting or exciting. I keep seeing recipes for Kale protein smoothie this and Kale salad that…Yuck.
Whenever someone at work would go on a salad run for lunch and ask me or my co-worker what we wanted we'd both say anything as long as there is no kale. We'd wrinkle up our noses as we used the k-word like it had a bad smell. I'm not one to jump on a superfood bandwagon but I do like to try new things and I can totally appreciate all the health benefits that kale brings…protein, fiber, vitamins, low calories…etc. etc.
Believe me I've tried to love Kale…I've baked that Kale up and topped it with red pepper flakes in a so-so attempt and I've blended that green stuff more times than I can count. But now, I think I've finally found a kale smoothie that I can get behind – a delicious and nutritious smoothie that let's my gag reflex take a day off.
This is a smoothie that I could drink day after day and it keeps me energized all morning long. And seriously, it tastes good. Maybe I psychologically just needed the kale smoothie to not be green and for Kale not to be the first word in this recipe title. Doesn't Strawberry Coconut Kale Protein Smoothie sound so much better than if I said Kale Green Smoothie?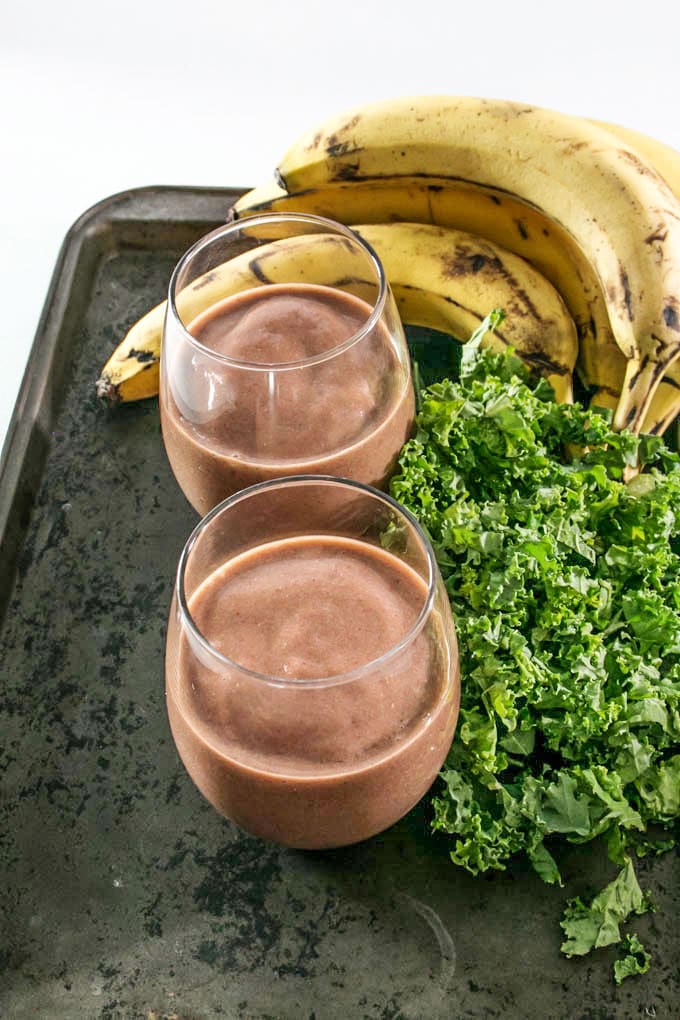 Why does this smoothie work? In my opinion, adding lime juice to a green smoothie adds a bit of tartness that can counteract that "green" taste. Plus, adding a banana provides a nice neutral base and some creaminess. I like to add a banana or yogurt to most smoothies to get that nice texture. The strawberries give the smoothie that sweet punch to really balance it out.
The protein powder is optional but if you are considering this smoothie as a meal replacement I highly recommend in order to keep you feeling full and fueled. I like to use Vega Protein as I find it compliments a smoothie without giving it that chalky taste…plus it is vegetable protein which almost anyone can get behind. To make this smoothie, just through the ingredients into the blender and let it do its thing. It doesn't get any easier than this!
Kale has been given a new lease on life in my house. I'm always willing to give an ingredient another chance (unless of course I'm deathly allergic) because you just never know when you might uncover something wonderful.