Frozen Lime Margarita Recipe (Made in our Vitamix with Whole Limes)
Any Frozen Margarita Lovers out there?
I don't know about you but there is just something about a margarita that lifts my spirits. EVERY TIME. I like margaritas in all shapes and sizes. Traditional margaritas, fruit-flavored, spicy cucumber margaritas but in the summer there is nothing better than a batch of frozen whole lime margaritas made with fresh limes. It is cold and refreshing yet it will make your lips pucker. In my opinion, this is the best margarita out there and it uses simple ingredients.
***This post includes affiliate links which means if you click on one of the product links I may receive compensation from the seller, at no additional cost to you.
What is a Margarita?
So what is the classic margarita recipe? Typically, the main ingredients for a margarita are tequila, orange liqueur, and lime juice. Can be served on the rocks from a cocktail shaker or blended in a high-speed blender. When you order a margarita at a bar or restaurant you might get a blended margarita made with sour mix and lots of sugar; sometimes a splash of orange juice is used instead of orange liqueur.
The quality of the margarita can vary significantly from place to place. Instead of using pre-bottled margarita mix, juice, or frozen limeade, we like to make a whole fruit margarita. For these types of spins on the classic margarita recipe, we blend fresh fruit with tequila and orange liqueur, and ice at a high speed in the blender to get the classic frozen margarita consistency that evokes sipping a blended drink, relaxing on a lounge chair overlooking the crashing waves.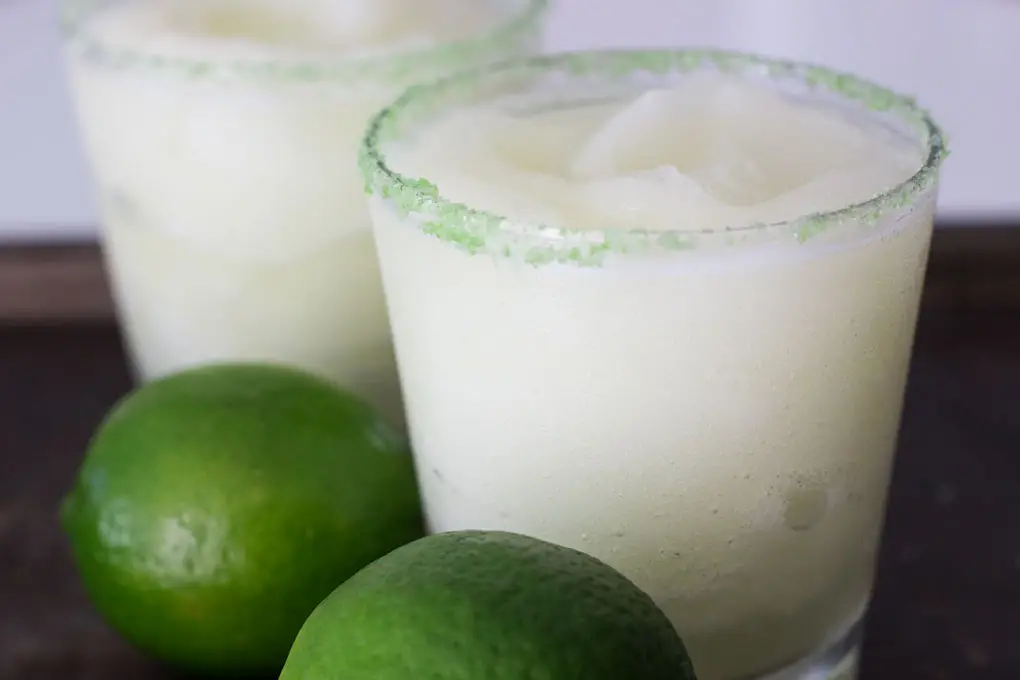 How to Make a Margarita at Home with Whole Limes
You can absolutely make a great margarita with fresh lime juice but I prefer making them with whole limes peeled. The great part about making them in the blender is that you can blend down the whole lime and get all the flavor out of them plus you can make a big batch of margarita to serve up for your friends.
Now, the real secret to the perfect frozen lime margarita recipe is the blender – you really do need a high-powered blender to ensure that it can break down the ice consistently. As a Vitamix Owner, my go-to is the Vitamix Pro 750 but there are lots of good blenders (across price ranges) that have sufficient power to make the margarita of your dream. I've used a ninja blender and also have used a Blendtec blender but the Vitamix is so popular that you often see Vitamix-specific recipes. Try it for yourself. Search for Vitamix Margaritas or Vitamix Blender Margaritas on google – you will find pages and pages of various Vitamix margarita recipes. Vitamix recipes will typically work really well in any blender with a powerful motor.
Besides a high-speed, high-powered blender, I also recommend adding your liquids and limes first and the topping with ice to help the blend get started. Also, don't be afraid to use your tamper to help push the ingredients into the blades for best results.
Here is the easiest way to make my favorite cocktail:
Peel the limes, combine with one of your favorite blanco Tequilas (such as Don Julio Blanco or Casa Noble) and Triple Sec (or Cointreau, Grand Marnier, or other orange liqueur) and a little bit of simple syrup, and a whole lot of ice cubes to your Vitamix Container, secure lid, turn the machine on and blend away.
If you don't have simple syrup handy then try this easy trick that will do in a pinch. Add equal parts water and white granulated sugar in a mason jar, screw on the lid and shake away. Shake, shake, shake until the sugar dissolves. This is way easier than going down the boiling recipe path. If you have a bit more time you can do this in the blender on the heat setting and then allow it to cool. Or, you can easily find simple syrup in most grocery stores or on amazon.
I have always been a sucker for a glass rimmed in sugar or salt. Simply take a lime wedge and run it around the rim of the glass, then dip in the salt rim or sugar rim. I'm currently enjoying this Margarita Lime Salt. It makes my lips pucker just the way I like it. Little tip: You can make your own lime salt at home with lime zest and kosher salt. You can use margarita glasses but I prefer low ball glasses for both frozen margaritas and an on-the rocks margarita.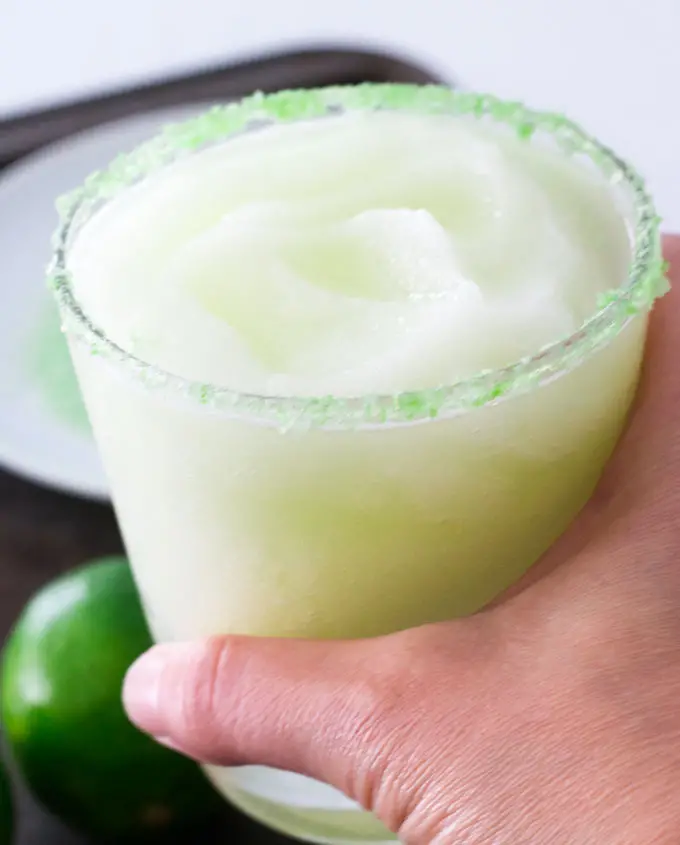 Cheers to you!
Some recipe ideas to pair with your Frozen Whole Lime Margaritas
So now that you have your blended margarita in hand, what do you pair with it? For me, it's Chips + Salsa + Guacamole!
My current favorite salsa is this restaurant-style salsa made with fresh cilantro – so easy to make and customizable to your preferred level of heat.
We love a good frozen drink and twisting an original recipe to make it fresh or frozen. You can swap the limes for fresh or frozen strawberries if you want to mix it up.
Alternatives to Traditional Lime Margaritas
There are many alternatives to traditional margaritas. Here are some ideas if you are looking for a twist:
Fruit-flavored margaritas: You don't have to stick to just strawberries. Add other fruit flavors such as raspberry, mango, grapefruit, or pineapple, to your margarita.
Beer margaritas: Add beer to your margarita for a refreshing twist. Try a pale lager like Corona for this beerita!
Spicy margaritas: Add jalapenos or other spicy ingredients for a spicy kick. You can also add some kick to your salt rim.
Wine margaritas: Swap white wine for tequila and enjoy.
Paloma: We might be biased, but we highly recommend our frozen paloma recipe for this tasty grapefruit cocktail.