Sweet Potato Dip: Grip the Chip
Sweet Potato Dip is the new Guacamole
It was just a few days ago that I was sharing how I felt like my single focus was smoothies and that I hadn't [gasp] made even guacamole recently. Well, I've rectified that a bit and found something I love at least equally with guacamole. I know, this must be serious stuff.
Guacamole is amazing for a number of reasons: first, it can be made quickly and easily yet you still get lots of cred when you make it from scratch; two, it can be adjusted to your individual tastes with various ingredients and spices and three, its main ingredient is that super awesome and creamy avocado. But the most important thing about it is it grips the chip. It is a bit like a mantra, say it with me "grip the chip"…I like a dip that grips the chip and doesn't drip off. So it needs to have substance and heft. I don't know how else to describe it. This might be why I also really like the Philadelphia Cream Cheese Chip Dips over the sour cream dips – taste-wise I like both but the Philly version grips the chip. Sorry, I can't stop saying it now.
So no guacamole today but I'd like to introduce you to Sweet Potato Dip. Say hi! Yeah, I'm not very creative with the naming but like Guacamole you can really put your own spin on this depending on whether you prefer sweet or spicy. I like both which is another reason why sweet potato dip rocks – you can serve it both ways (at the same time) because this is simple to make and I love a recipe that can scale up and down easily with little to no fuss.
I also loved that my awful ovens couldn't even mess this up. Yes, I was a bit nervous when I pulled the first batch out because they looked a bit burnt right out of the oven but omg…I'm without words. Heck, I didn't even know if I really liked sweet potatoes since I'd only ever eaten them in fry form, and as good as they taste that really doesn't count.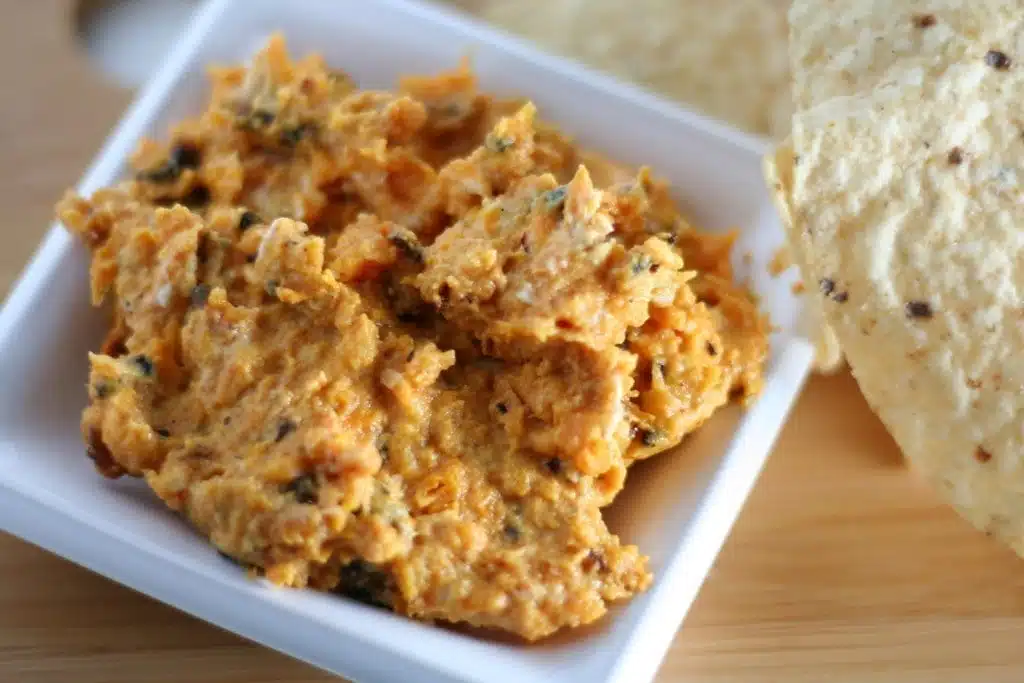 Peel, cut, and toss those beautiful pieces of sweet potato in olive oil and spices and bake 'em up until tender.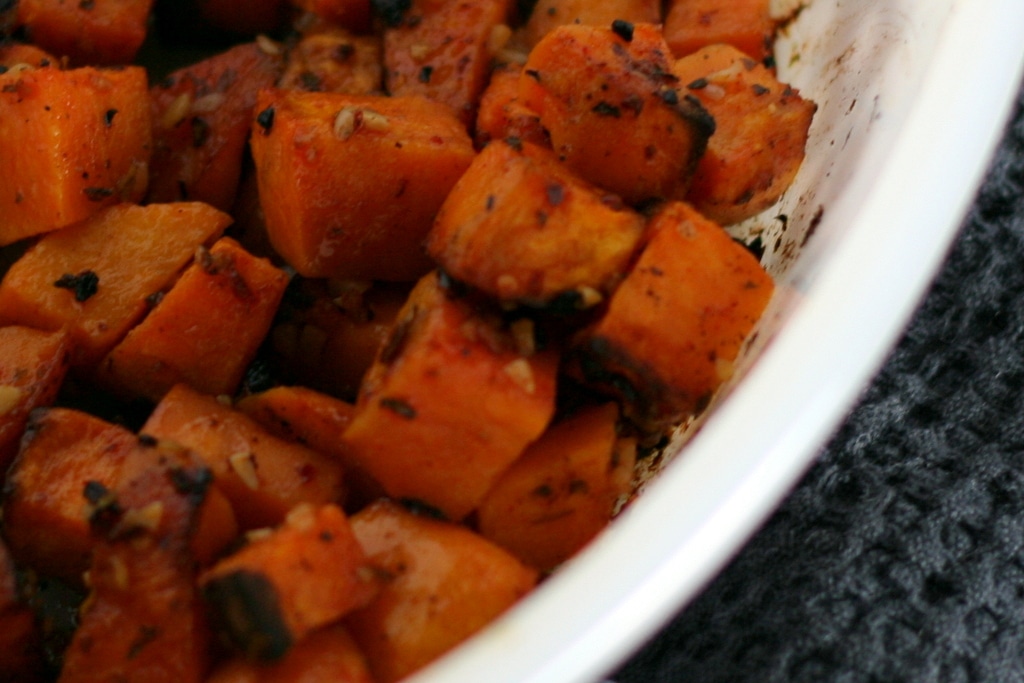 Then toss in the blender (if you are me) with some extra garlic, chipotle puree, and goat cheese, and pulse. You can also use a fork to mash the potatoes but I like any excuse to use the blender.
Serve with some chips and you've got a great snack or who am I kidding, a great meal. One potato is a nice-sized snack for two.  And, you can serve sweet potato dip hot or cold – I've eaten it both ways and equally delicious!  
Look at how the Sweet Potato dip grips the chip