Salted Caramel Coffee Ice Cream
Not My First Time
Certainly not my first time making ice cream…but is my first time making it with Eagle Brand Milk. I've read about using this product in no-churn ice cream all summer long so felt like I had to try it before we say good-bye to Summer and hello to Fall. When my mom would bake with Eagle Brand as a kid I'd always be there to dip a spoon in. That is some sweet sweet condensed milk.
I had another one of those situations today where I think I have all the ingredients I need for a great treat only to find my memory failed me too late. The can of condensed milk was already open when I realized that I had half & half cream and not whipping cream. Ugh…too late! I'm totally committed.
Ice Cream Flavour Back Up Plans
Sometimes the hardest part about ice cream is deciding what flavour to make. I had planned to make a peanut brittle ice cream but I have to admit that I ate the peanut brittle I made. I feel a little guilt but not enough to hide it – sweets are my weakness and peanut brittle not only hits the sweet button but it also hits the salty one. A perfect 2 for 1 punch. As a back up, I'm making coffee flavoured ice cream using instant Starbucks Via Italian Roast with a bit of Salted Caramel Liqueur to keep the ice cream from freezing too much. Plus the Salted Caramel makes the ice cream taste like a speciality coffee. Yum and Yum.
My Error Turned Out Perfectly
Since I didn't have whipping cream and I confirmed that half & half would not whip I combined half the Via Instant Coffee pack with the Eagle Brand.
Then combined this with the non-whipped cream and Salted Caramel Liqueur in the blender. A quick blend and a pour into the loaf pan. Then add the remaining instant coffee sprinkled across the top and then what do you have? Salted Caramel Coffee Ice Cream in the making.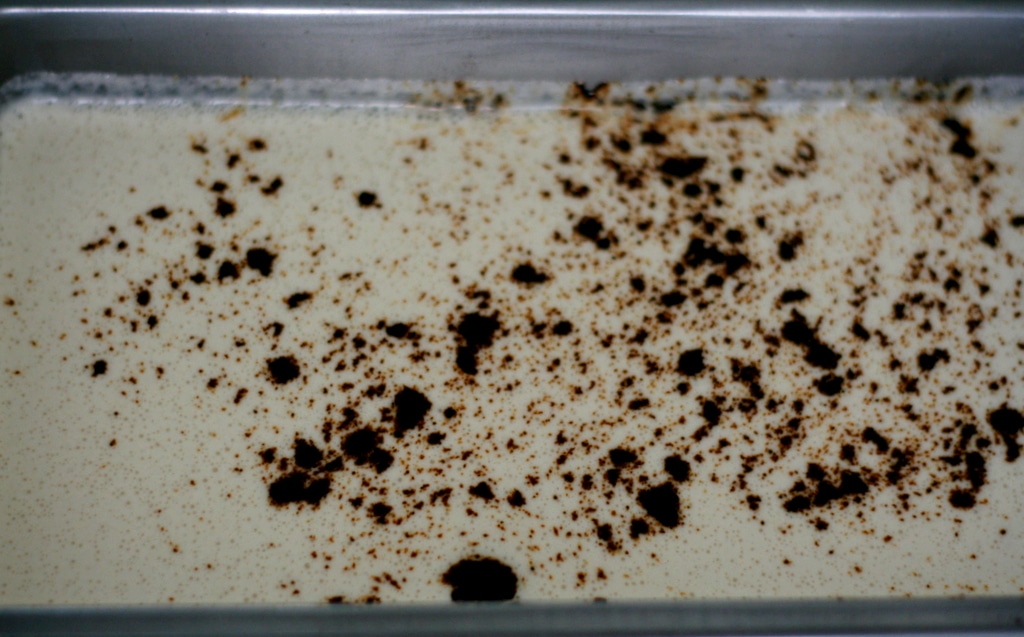 Now For the Hard Part
Seriously, this is the easiest ice cream to make ever. And I promise that it exceeded every expectation I had even though I had to use half & half cream instead of whipping cream. It was creamy, easy to scoop and packed a flavourful punch with the mix of caramel and coffee. The instant coffee sprinkled on top added some additional texture and pop of flavour.
The hardest part? Waiting overnight so I could eat this Salted Caramel Coffee Ice Cream the next day. And then stopping at just one bowl.