Easter Ice Cream Cake Made at Home
Easter Ice Cream Cake is a great way to use up your leftover Easter candy or a great excuse to go buy some!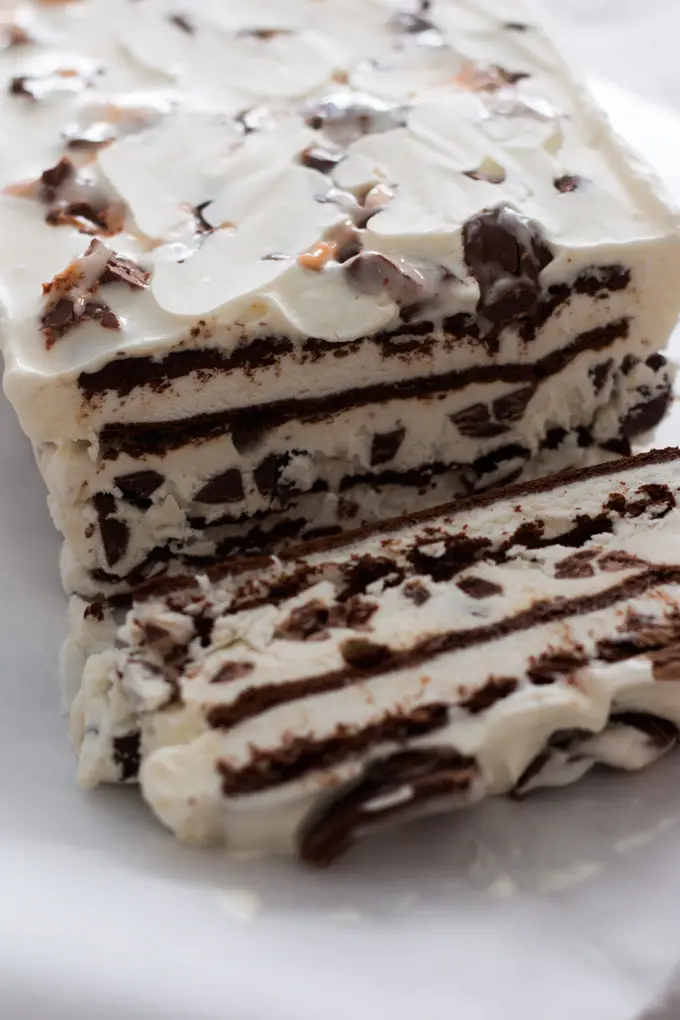 My inspiration for this Easter Ice Cream Cake is from my childhood. I was a spoiled kid and no matter the holiday, I always received gifts from my mom and dad and both sets of grandparents. At Easter, this meant a whole whack of chocolate including multiple chocolate Easter bunnies and a pile of eggs, often those ooey gooey Cadbury Creme Eggs.  Usually a day or two after the holiday some of my Easter bunnies would go missing only to show up in chocolate chip muffins or other baked goods in the future.
And given how spoiled my own daughter is, I totally get it now. I use to try to ration the candy and give Kailyn a piece or two at a time but she gets so obsessed with it just knowing it is hidden away in a cupboard that no one gets any peace.
If you know what I'm talking about then give this Easter Ice Cream Cake a try and share the chocolate overload with friends and family. This is really easy to make yet it still looks impressive when you slice and serve.
So what to you need?  Those plain old, 12 to a box, ice cream sandwiches…you know the ones that come in the white wrapper…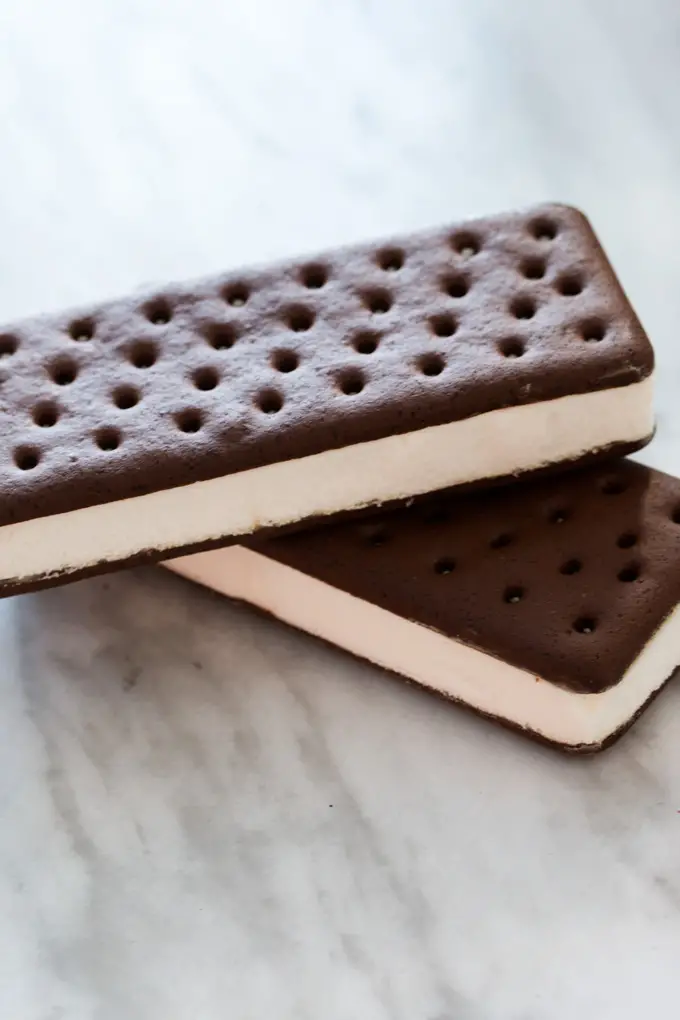 Plus some vanilla or chocolate ice cream (or make your own using the easy recipe below), 3 or more full sized Cadbury creme eggs and ~20 solid chocolate mini eggs.  Get creative – got peanut butter eggs or caramel eggs why not add those in too! Think of this recipe as the simple building blocks to making your own ice cream cake. Don't feel constrained by addins below.
I like to make my own ice cream using the ever so-popular 2 ingredient recipe: 2 cups whipping cream + 1 can sweetened condensed milk.  It doesn't get much easier than this but of course, feel free to use your fave store bought brand as well. Just let it soften up a bit so you can layer it appropriately.
We start by layering ~4-5 ice-cream sandwiches in the bottom of a loaf pan. I lined mine with plastic wrap to make it easy to serve later. You may need to cut a small portion off one end of the ice cream sandwich in order to fit depending on your pan. My pan fits 4 and 1/2 ice cream bars.
Follow this up with a nice thick layer of ice cream (I used about 1/3 of my homemade ice cream recipe) with roughly chopped easter eggs or other milk chocolate mixed in.
Then cover with plastic wrap and place in the freezer for an hour or so until the ice cream sets – it doesn't have to be frozen solid. Follow up with another layer of ice cream bars and then top off your loaf pan with another thick layer of ice cream.
Here is where the magic comes in. I chopped three full size Cadbury Creme Eggs then dropped bits of the gooey mixture across the top of the ice cream.  Now wrap tightly and place back in the freezer for 4-6 hours.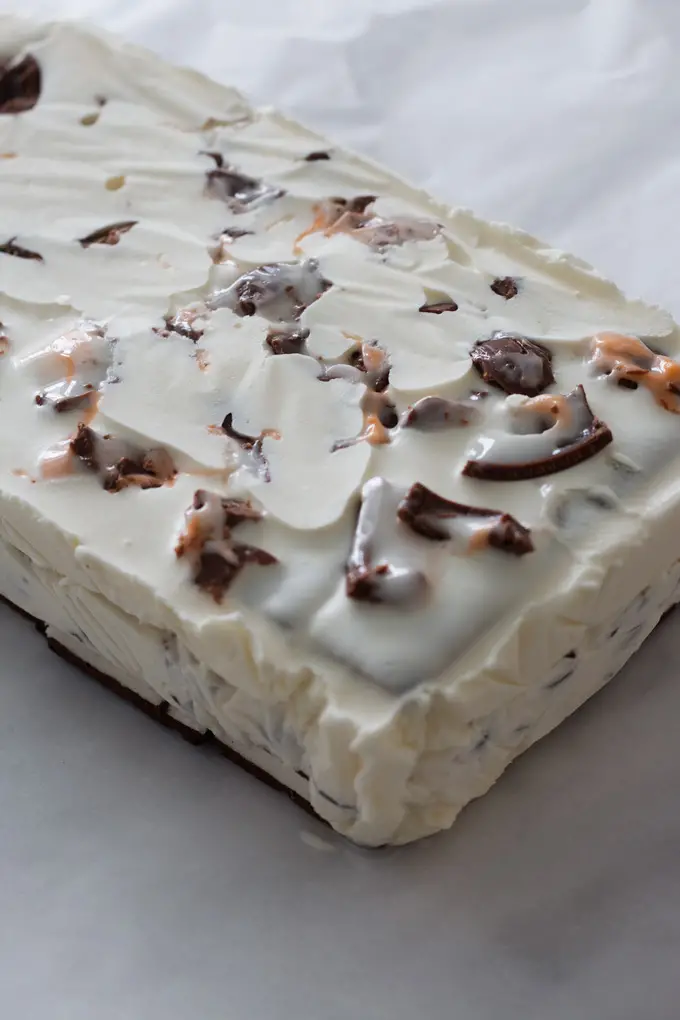 When its time to serve just gently pull up on the plastic wrap and place on cutting board. Use a sharp knife to cut and serve slices. A warm knife helps make a nice cut.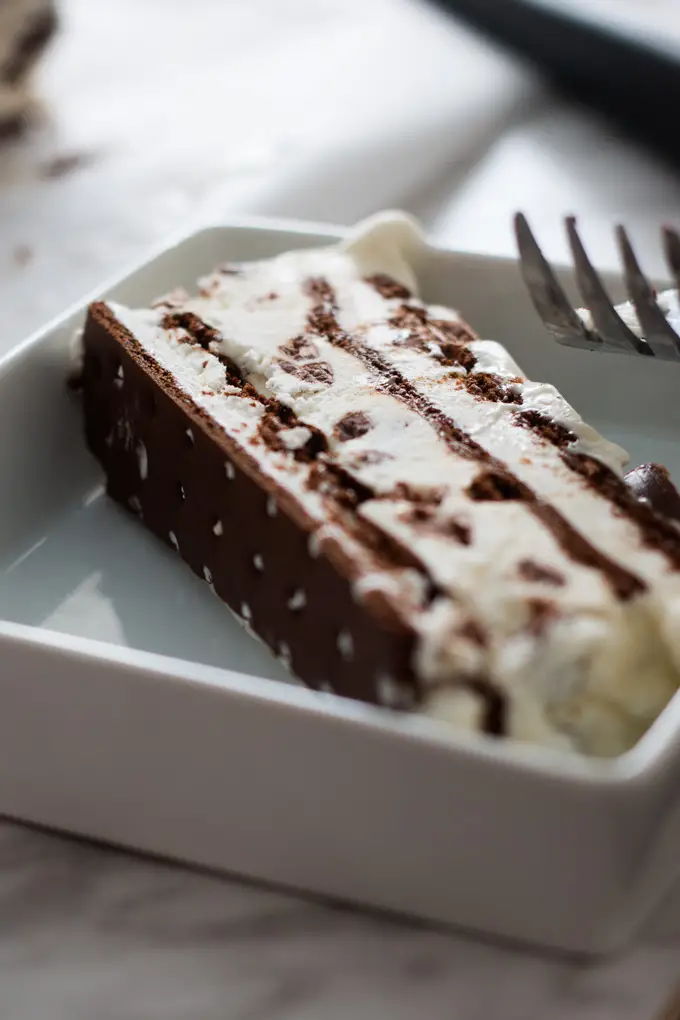 Any leftover Easter ice cream cake can be gently placed back in the loaf pan and stored in the freezer. I doubt it will last long unless you can hide it from your family and sneak a piece when they aren't looking.  If you like Creme Eggs as much as I do, why not pair this dessert with a Cream Egg Cafe au Lait?