Does this sound familiar?
My husband Mike and I have a routine and it goes something like this:
Mike: What do you want to have for lunch (or dinner)?
Me: I don't know, what do you feel like?
Mike: Not sure.
Me: Not really craving anything specifically but I am hungry.
Mike: That's helpful
Me: What do we have in the pantry (or fridge)?
Mike: uh, nothing.
Me: huh. looks like we are at a standstill.
This happens all the time. Many nights my husband picks me up at the train station so I don't have to walk the mile home after a long day at work. Especially grateful in the winter when we have a cold spell with temps around -30 degrees Celsius. What I don't like so much is when it is 6 or 6:30pm and he is picking me up and we don't have anything solved for dinner.
The same thing usually happens on the weekend as well – except we go through it for lunch AND dinner. When all else fails, we drive to one of the local markets and basically do laps. Not efficient but can be good for meeting your daily step objective.
Saturday Indecision
Well, after making no lunch decision last Saturday, we drove to the market. Wasn't feeling overly excited by the produce except for some really good looking red cherry tomatoes. Had to resist popping them in my mouth before we got home. Had no real plan for them but picked them up any way. The second thing to catch my eye were these mini-size naan. Again, no idea how I was going to use them but wasn't too worried. By this time my husband has picked up cheese, crackers and salami for his lunch – super fancy.
I left having no clue what i was going to make for lunch but i got a bit inspired when we finally arrived home…by this time it is 1:30 and I'm starving. after rummaging through the pantry and fridge I add goat cheese and avocado to my naan and tomato pile on the counter.
In the end, I made the simplest lunch that was delicious, easy to prepare, and had almost no cleanup. Spiced goat cheese spread on naan, topped with chunky avocado and roasted cherry tomatoes – kind of like a naan avocado toast. Roasted cherry tomatoes lightly tossed with olive oil and spices is one of my favourite things in the whole world (aside from my lovely family) so I have to question why I don't make these more often.
The beauty of this is lunch is that I can easily see it as part of a brunch or family-style lunch spread along these lines: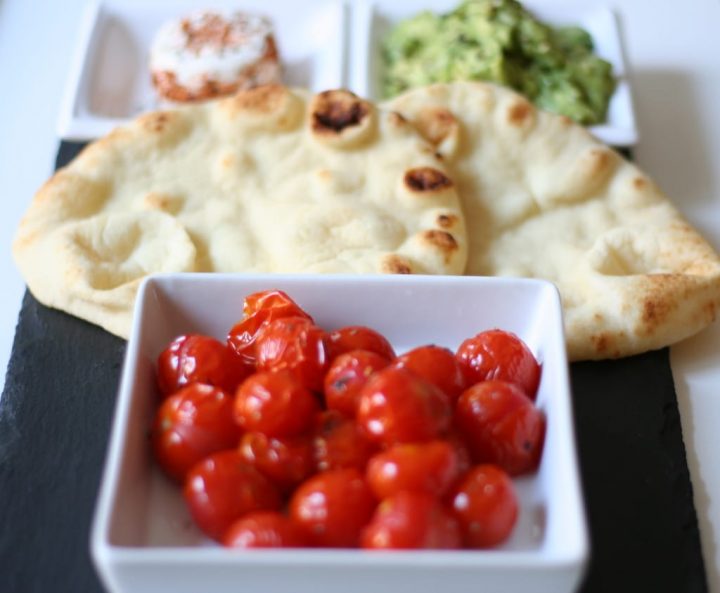 Putting it all together individually allows each person to arrange and make to their own personal taste. I can even see adding more options to the platter next time around if my husband decides to forgo his crackers, cheese, and salami gourmet lunch.
My personal preference is to lightly bake the naan to warm it up. Follow that with a nice slather of goat cheese (I like Woolwich Dairy goat cheese) and a generous spoonful of chunky avocado. The final touch is to spoon on the warm roasted tomatoes. I'm getting hungry again just thinking about it.