Banana Oatmeal Chocolate & PB Smoothie
Long Weekends are the Best
There really is nothing I like better than a long weekend. Lazy mornings spent with coffee and extra time spent with family and friends – really doesn't get much better. I have to admit I get a little extra lazy on holiday Mondays. This morning, my daughter wanted to make banana muffins but it is nearly 40 degrees Celsius out and the last thing I want to do is turn the oven. Besides, I think we can accomplish almost the same thing with the blender.
Banana Muffin Smoothie
I've made oatmeal smoothies before so I know just how good they could be. But today I need it to be even better to hit all the notes that a banana muffin (with chocolate chips) might hit for a 7 year old. The secret weapon for today's smoothie: Reese's Peanut Butter Spread – I finally relented and bought a jar last week. Now it is time to put it into action.
Making Oatmeal Flour
To ensure an Oatmeal based smoothie isn't too chunky I like to break down the oatmeal on its own in the blender before adding any other ingredients to the mix. Tip: Make sure your blender jar is dry or the oatmeal flour may clump and stick to the lid and jar of the blender.
Making a thick tasty Smoothie
To make this Smoothie nice and thick – almost treat like – use frozen bananas and a bit of ice in addition to the chocolate almond milk. This combination makes the smoothie look like a chocolate milkshake and that is something that any kid will enjoy.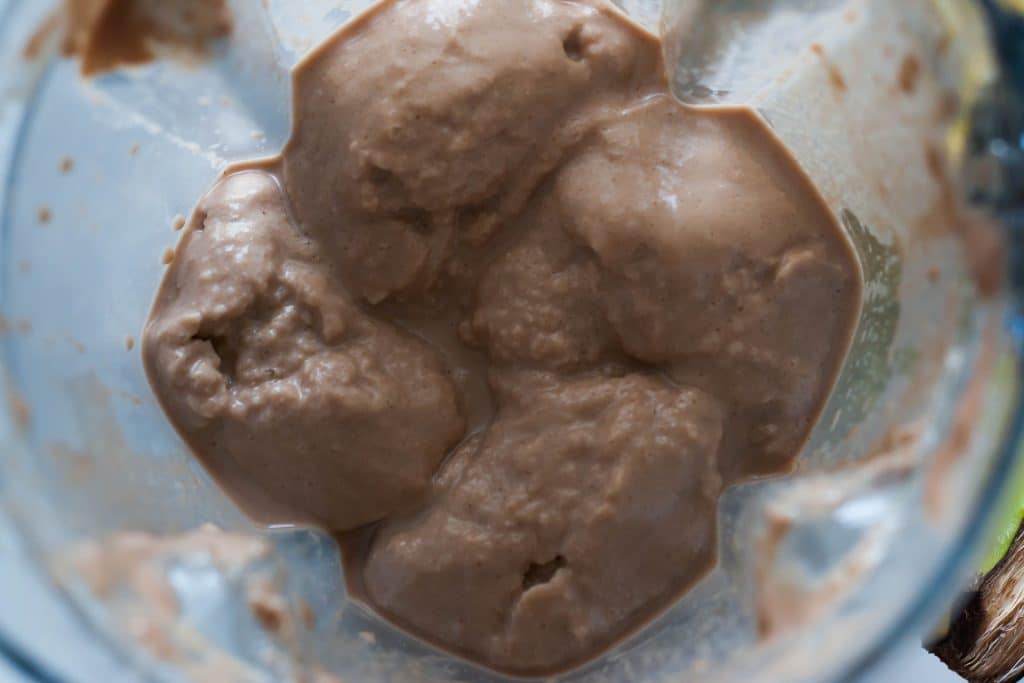 The Final Product
Sprinkle this Banana Oatmeal Chocolate & PB smoothie with coconut, chocolate chips or even try crumbled walnuts…think of the amazing toppings or ingredients that you might add to banana muffins.