Oatmeal Banana Protein Smoothie
The answer for picky eaters
Don't you just love it when you make a discovery that totally changes everything? After 7 years, I feel like I've finally found the secret. Yep, the secret to getting my very, very picky eater (aka 7 year old K) to eat something other than melted cheese, granola bars and ice cream. Actually I've figured out two things this week: first, K has always enjoyed smoothies but I've discovered she likes to drink the same smoothie for days on end and then suddenly becomes completely sick of them. Second, I've discovered that if I provide her with some choice on what to add to the blender, and actually get her involved, that she will drink anything we make together. I put two and two together after another trip to the grocery store when I realized that every times we let K loose and tell her she can pick anything and no matter what she picks, as long as it is her idea, she will try when we get home. Obviously we don't let her go wild in the ice cream aisle but occasionally we do this in the cereal aisle, produce or dairy sections. So my tip of the day for picky eaters: Let them guide you by giving them choices and getting them involved.
Upping the protein game
Protein has always been the toughest food group for us to get right with Kailyn. She will not eat meat aside from the occasional slice of bacon (we call it candy) or prosciutto and we have to limit her yogurt intake as too much seems to be related to behavioural issues. Protein powder, such as Vega Protein Smoothie, has been an absolute lifesaver. A scoop of either the Vanilla or Chocolate added to a smoothie helps ensure that we get the protein needed in her diet. Plus the taste is great so no need to worry that your smoothie will taste more like chalk than yummy chocolate. We've tried a few other brands with less success.
Today's Pick
I've been loving oatmeal added to smoothies as of late. I added oats and a banana to the blender and then let K pick the rest – she chose chocolate almond milk, vanilla protein powder and instant coffee. Okay, here's where I start to hear from everyone about what a terrible parent I am…in my defence, the coffee is decaf and K loves the taste of coffee. Plus, if a small amount of coffee is going to get her to eat a nutritious shake I'm all in. I can't deny that on one or two occasions a certain child has had her own decaf Americano with soy at Starbucks. Oh the looks we get.
If you haven't tried adding Oats to your smoothie you totally need to try this like now. You have been missing out – start with this Oatmeal Banana Protein Smoothie.
As always, try breaking down the oats before adding the rest of the ingredients if you don't want a super chunky smoothie.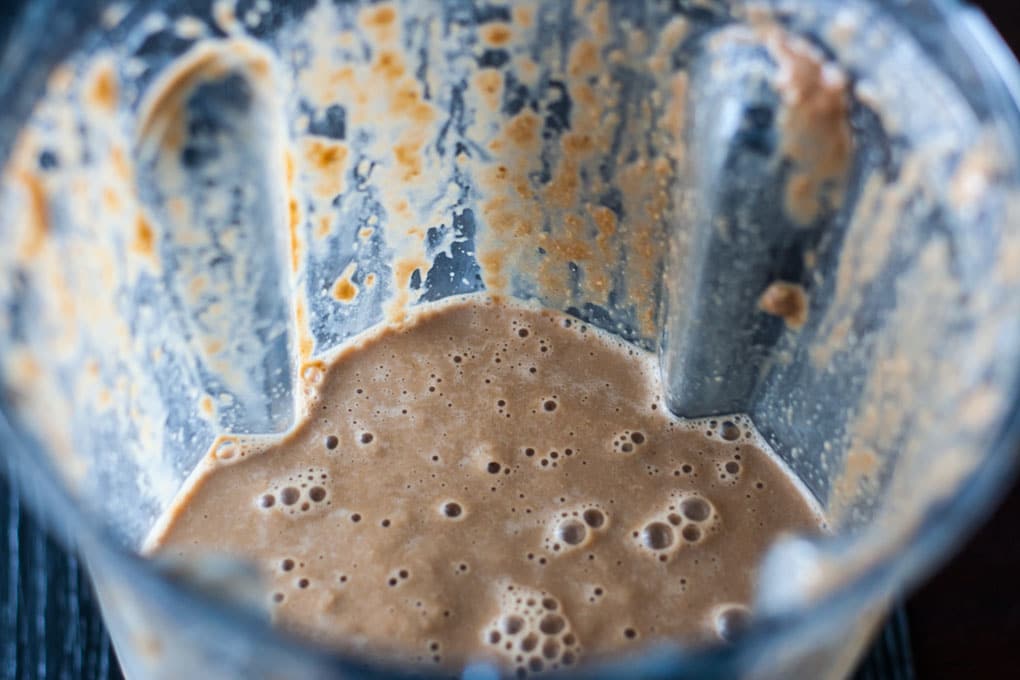 Ice is optional but I do like to add as I prefer my smoothies cold as there is nothing better than a good brain freeze once in a while. Serve it with a little extra banana that can be dipped and enjoyed with a tiny bit of chocolate drizzle and its like having dessert for dinner.