Chipotle Hummus (The best blender hummus recipe; no food processor required)
What is Hummus?
Traditional hummus is a middle eastern dip or spread made with chickpeas, garlic, tahini, and lemon juice. It can be made at home without a lot of time spent in the kitchen. If you haven't tried hummus, it is a delicious dip with a creamy texture that pairs perfectly with warm pita bread or pita chips.
I love that the basic hummus recipe can be tweaked to your own tastes and there are so many great options that you are sure to find your own perfect recipe. I've made many different variations of hummus over the years and one of my favorites is a simple hummus recipe with just a little twist – chipotle – for some heat.
Homemade Hummus Recipe
My homemade hummus recipe starts with the basic ingredients found in most hummus recipes: a can of chickpeas (also known as garbanzo beans), a couple of garlic cloves, tahini (sesame seed paste), fresh lemon juice, and extra virgin olive oil. For the best results and the creamiest hummus make sure you reserve some of the liquid from the can of chickpeas; this is often referred to as aquafaba. While we love traditional or plain hummus, we also love a little heat. The kind that builds bite after bite. Our secret ingredient in this recipe is chipotle puree or paste. You can make your own chipotle paste or you can pick it up at your local grocery store.
There are many different ways that you can make your own hummus at home. The easiest methods are to use a food processor, stick blender or a high-speed blender like a Vitamix or Blendtec. If you don't have any of those small kitchen appliances, a potato masher and a little elbow grease can give you similar results with just a little time.
For the full recipe, see the recipe card below.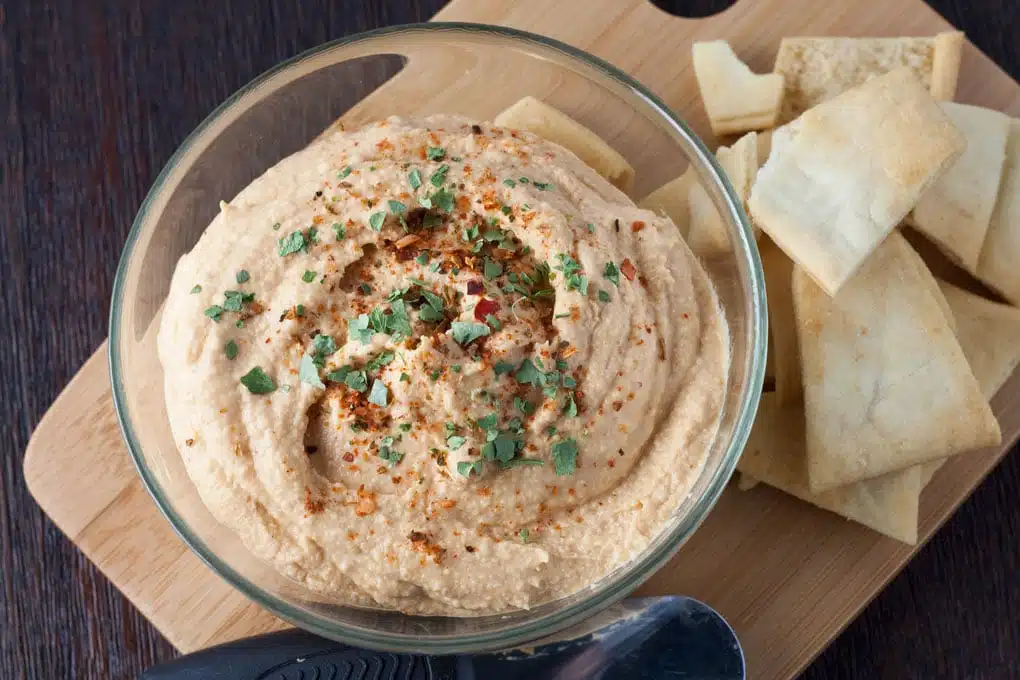 Hummus Recipe Variations
Now that you have this easy hummus recipe down, with its creamy chickpea base, next time you can try other add-in ingredients to kick up the flavor. Roasted red pepper, pine nuts, kalamata olives, avocado, and many other simple ingredients can turn anyone into a mega fan of hummus. You won't be going back to the packaged stuff when you can make such delicious hummus at home that the whole family will enjoy.
Hummus Tips & Tricks
To get the best outcome every time, we highly recommend that you always start with fresh lemon juice. We always have fresh lemons on hand; whether making homemade salad dressing, lemonade, lemon garlic potatoes, or a number of other favorite recipes, fresh lemon juice is always one hundred times better than the kind that comes in a bottle or a lemon-shaped container.
We prefer canned chickpeas to keep this simple and to ensure we have chickpea liquid. If you have dry chickpeas on hand you can simmer them, for about 35-40 minutes, remove the chickpea skins (for creamier hummus) and add the cooked chickpeas to your recipe. You can swap a bit of water for the aquafaba. Canned chickpeas, on the other hand, are already cooked so perfect for saving time and keeping this recipe easy to whip up in just minutes. Hey, you never know when you might have guests that show up unannounced.
Our preferred method for blending is to use our Vitamix Pro 750. To start, we juice our lemon and add the lemon juice, tahini, garlic, chickpeas, and chipotle puree to the blender jar, secure the lid and start blending. We slowly add the reserved aquafaba as the blender is running after removing the plug from the top of the lid. Quick tip, the first time you make this recipe, add a little bit of liquid at a time. You don't want your hummus to get too thin. Blend until you get the desired consistency – the aquafaba will help ensure fluffy hummus.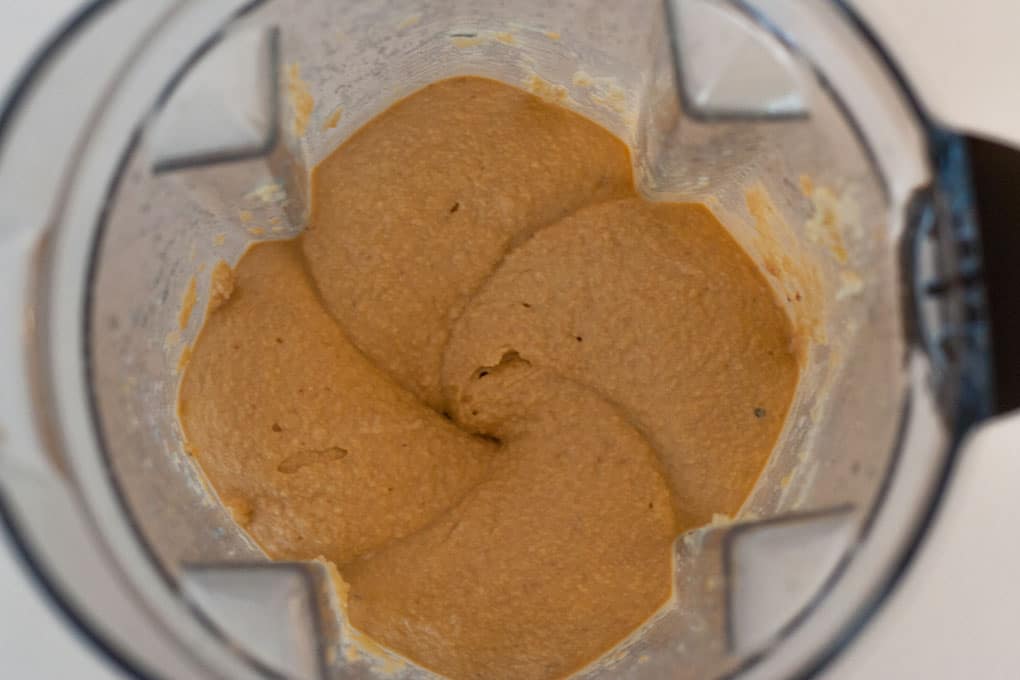 The absolute best part of this dip? It is versatile. Serve it with pitas, tortilla chips, crudites or just eat it with a spoon. If you have any left, store it in an airtight container in the refrigerator but let's be honest, there won't be any left.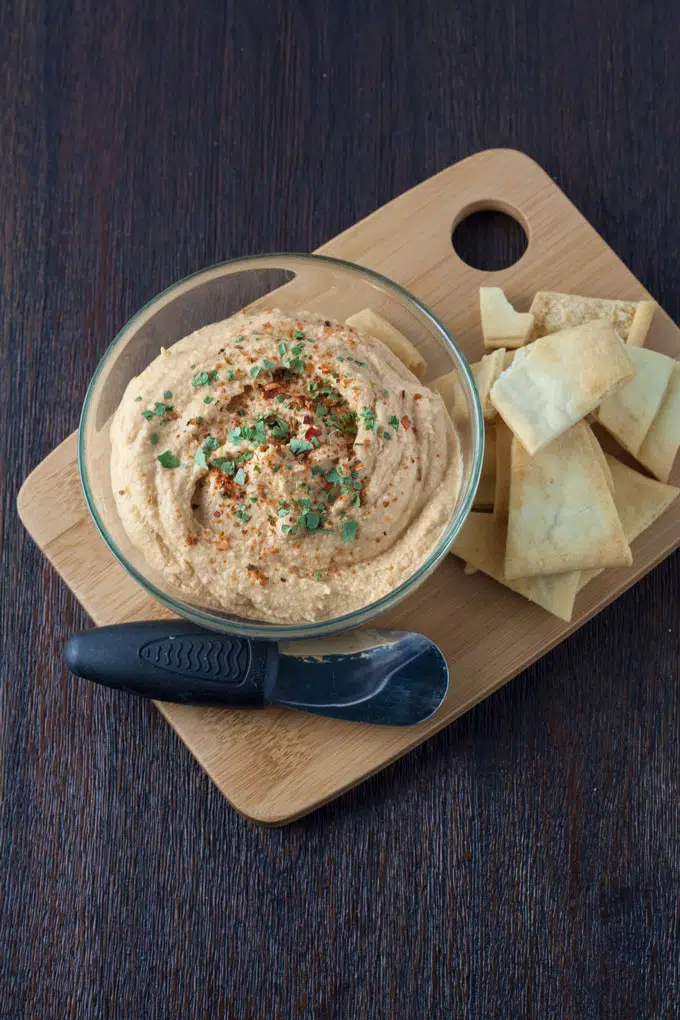 What is Tahini?
Tahini is a sesame seed paste that you often find in grocery stores in the nut butter section. Tahini is a relatively simple recipe made with just 3 ingredients: toasted, hulled sesame seeds, oil, and salt (optional). These ingredients are ground or blended into a smooth paste. Tahini can be used as an alternative to peanut butter and is a key ingredient in hummus and baba ganoush. You can make your own Tahini at home. The tangy flavor of tahini is also a great addition to salad dressings.
What is aquafaba and how does it make hummus fluffier?
Aquafaba is a starchy liquid that you find in a can of chickpeas or after cooking chickpeas on your stovetop. In fact, aquafaba can be made with most legumes but chickpea aquafaba is most common. It can be used as an egg alternative in many vegan recipes with approximately 1/2 cup aquafaba equalling 2 eggs. Whipping aquafaba can make an eggless meringue which is why adding aquafaba to your hummus can make it oh so creamy and just a little bit fluffy.
Any tips for serving Hummus?
Hummus is always great served with warm pita bread or pita chips but you shouldn't feel limited. We also like serving our Chipotle Hummus with tortilla chips and topped with diced tomatoes and avocado. Hummus can also be a great spread on a sandwich – I'm thinking a little heat from the chipotle pairing well with chicken, arugula, sliced tomato or roasted red peppers grilled on a panini press. Yummy! You can also never go wrong with carrots and celery sticks.