Chocolate Coconut Date Protein Bites: The Perfect Snack
Chocolate Coconut Date Protein Bites – how many times can you say that fast? It is a bit of a tongue twister but I promise you your taste buds will enjoy these little bite sized snacks. This recipe is for all you chocolate loving, snack eating people out there.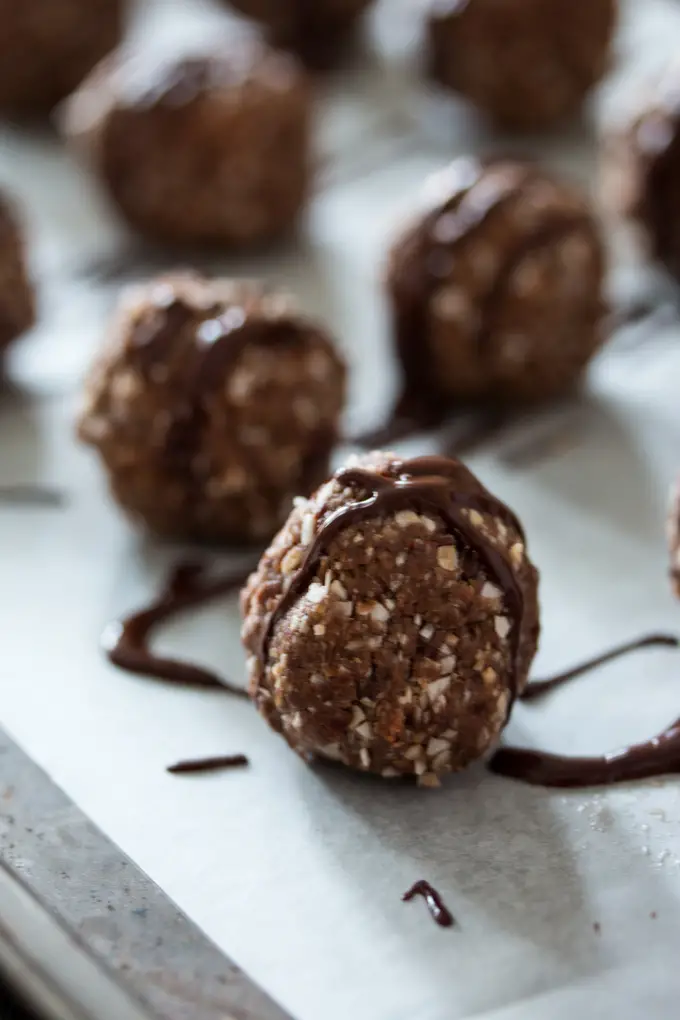 How would you define the perfect snack? For me, it has to be:
easy to make ahead
chocolatey (yep)
nutritionally beneficial and not just empty calories
a little bit sweet
easy to eat on the go
And really, #1 is the absolute most important. I believe in easy, in fact, I can't handle complicated recipes or instructions.
While I don't need extravagant treats or snacks but I do appreciate a little protein and kick in the butt in the middle of the afternoon. I also have little will power so need to have snacks, like these chocolate coconut date protein bites, handy so that no one finds me banging on the vending machine in the lunch room….or worse, yet sneaking back to my office so that no one sees me carrying that chocolate bar or chocolate chip cookie.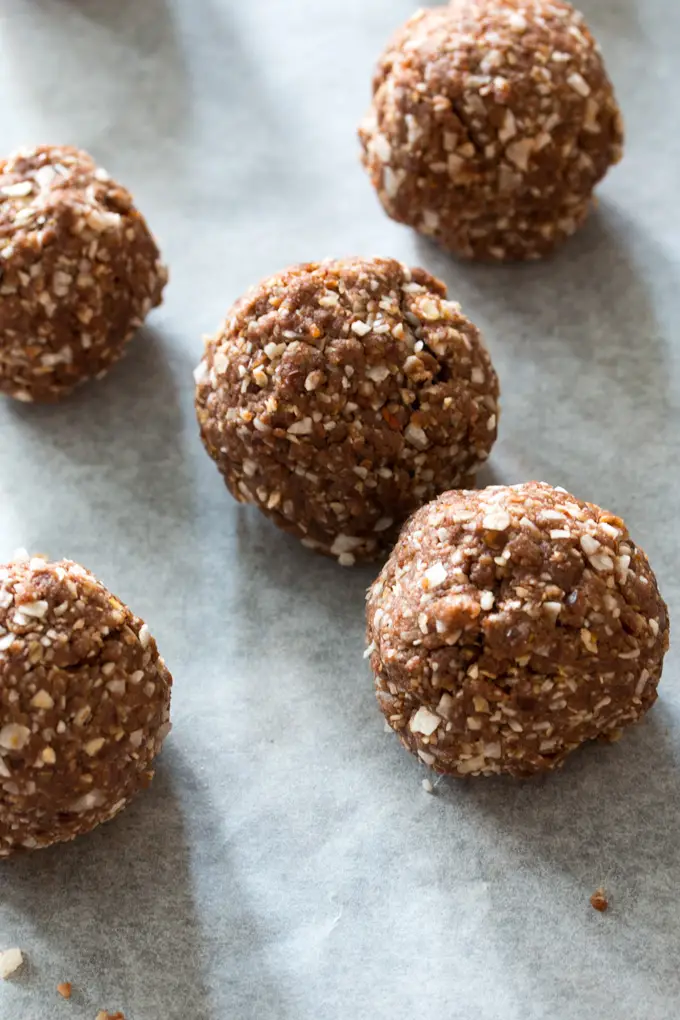 No hiding with these tasty little treats. Protein bites are so easy to make ahead and store for the week ahead and the variety is nearly limitless so you'll never get bored. I tuck a couple in my purse every day so that I don't get caught without a snack.
I'm not sure if this is even possible, but if you aren't a big chocolate fan then check out these Apple Cashew Coconut Bites that I made recently while still doing Whole30. Delicious.
So what is the secret to a good snack bite? You need some "glue" and dates are the perfect glue to bring all the ingredients together while adding sweetness. To make this recipe, pop your pitted dates and oats in the blender or food processor and process until the mixture is broken down and a crumbly. Then add the remaining ingredients, including protein powder, and pulse until blended. You don't need it to be perfectly mixed and uniform. When you grab a spoonful and roll it in your hand it should be able to hold its form. If not, you may need to add a bit more coconut oil to the mixture.
After rolling, I like to place these in the fridge away from little hands. If you want a little more indulgence you can dip in chocolate or do a simple chocolate drizzle. Just melt some chocolate chips (Use the Enjoy Life Foods chocolate chips if you are gluten and dairy free) with a little bit of coconut oil and Voila!