The Best Berry Beet Juice Recipe (aka the Best Red Juice)
Make Berry Beet Juice in a blender!
I was provided with a Personal Cup Adaptor by Vitamix for review and recipe development purposes. All thoughts and opinions expressed are my own.
Berry Beet Juice is an accurate name for today's recipe but in our house, we just refer to it as the "best red juice" ever. I am a beet lover as many of you know and love that I can blend them raw in my Vitamix. For real – You can make beetroot juice in a blender! When you have picky eaters in the family, the blender can help you sneak more healthy recipes into the rotation.
While it has always been easy to make juice at home in your blender it is now even easier with the Personal Cup Adaptor. Making personalized recipes to meet the individual preferences of any family member is downright simple. In the past, I would have made a big batch of juice, and everyone better like it the way I like. Now, it is so easy to substitute a little apple juice for the water in my daughter's blend to make a sweet juice while still sneaking in more nutritional value. Win/Win. I've always wanted the benefits of the personal cup size with the power of my Vitamix Pro and this nifty adaptor didn't let me down.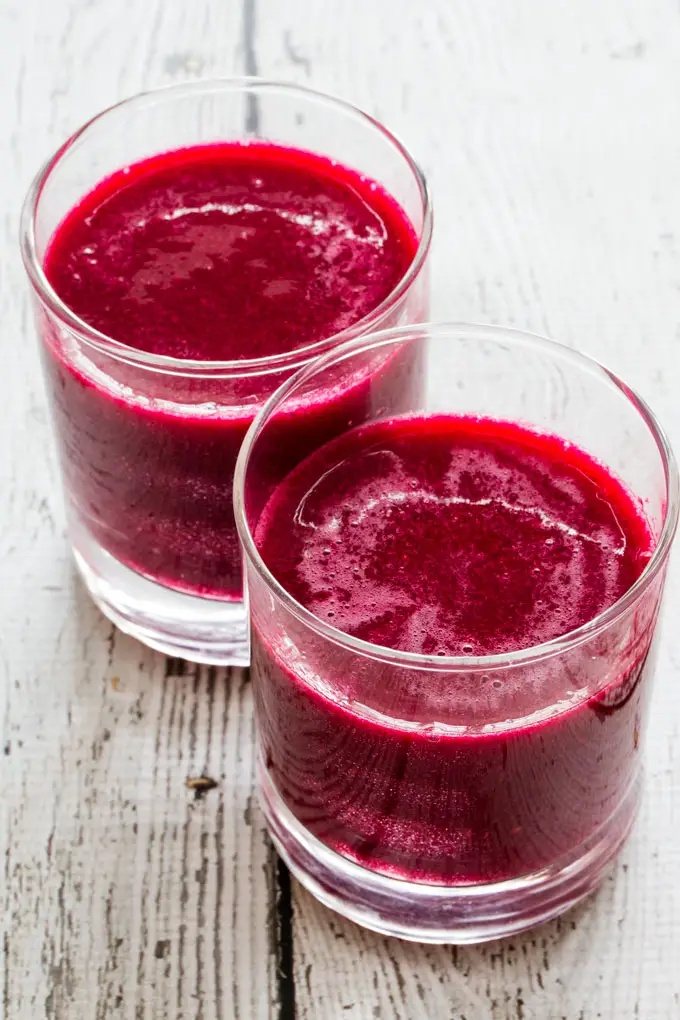 Making Juice in a Blender vs Juicer
There are so many benefits of Whole Food Juicing and one of the main ones often cited is that you retain the fiber of the fruit and veggies. While this is important, I really appreciate how little prep and cleanup there is when I use my blender to make juice. If I had to take apart a juicer and clean it I would never, ever use it and the juicer would collect dust. Let's be honest. I really like the versatility of a high-powered blender like the Vitamix. I love that I can make my favorite red juice recipe at home and get the health benefits without spending tons of money on additional kitchen gadgets.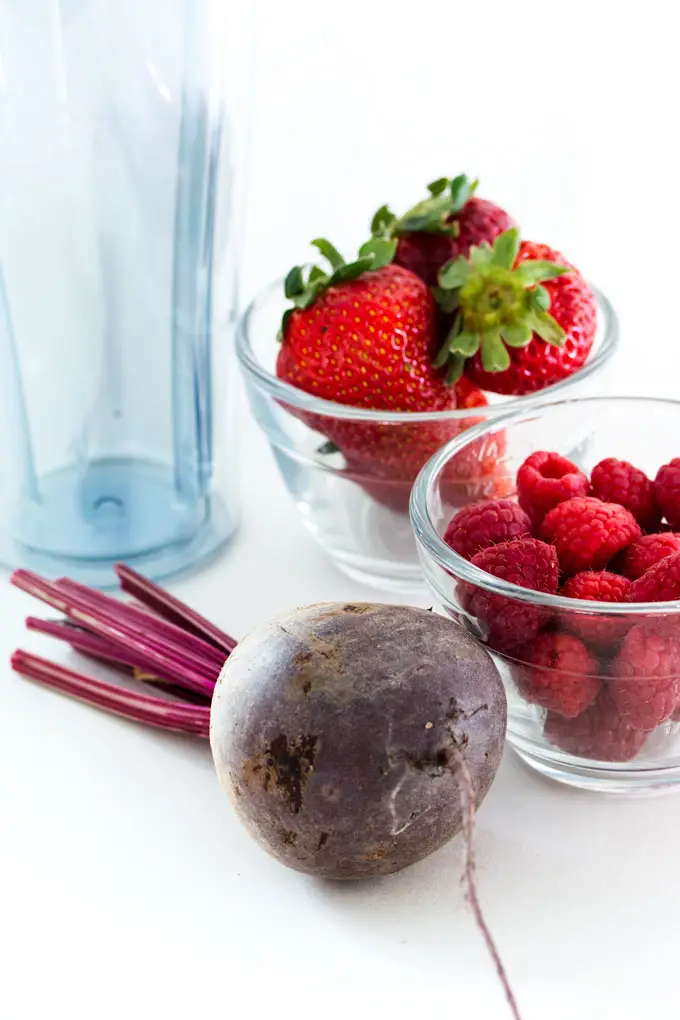 Getting the Perfect Blend
The 20-ounce blending cup is the perfect size for both blending and drinking your juice. To ensure a great blend, make sure to reverse the order you normally put things into your blender jar. Normally, I put ice in last but since we are inverting this blender cup you need to put ice in first, followed by the beets and berries and liquid. Once you get this down you will not be disappointed in how easily this blends. If you are making big batches in your normal blender don't be afraid to use your tamper to get the perfect juice. The tamper is your friend! The first time I made juice using the personal cup adaptor I was afraid that it wouldn't blend properly because there was no tamper but the only thing missing was the Vitamix vortex.
For a personal-sized juice, you'll need a medium beet. but if you want to scale this up, use a large beet and double to berries in your full-sized blender jar.
What is your favorite juice blend?
I would love to hear from you. I'm always looking for new flavor combinations to add to my list of favorites. If you want to try another beet juice recipe, why not try adding red apples or red pears which are a great combo with beets and provide a little bit of sweetness that pairs so well with beets. If you prefer tartness then swap for a green apple. Either way, you'll have a delicious drink. Homemade juice can be delicious even when made with simple ingredients.
If you haven't already, you should also give this Cucumber Grapefruit Juice or this Cucumber Orange Pineapple Sunshine Juice a try!
Interested in more blender recipes with raw beets?
Red beets are available year-round so they are easy to include in your recipes. Beets are a great source of betalains that contain anti-oxidants and provide anti-inflammatory benefits. Read more about the benefits of beets from the Cleveland Clinic.
Another great way to add beets to your diet is with two of our favorite smoothies: Vanilla Strawberry Beet Smoothie and the Spinach Berry Beet smoothie which is a nice way to add some extra greens into your diet.