Easy & Delicious Tortilla Blender Soup (Vitamix)
Fresh Tortilla Blender Soup in under 10 minutes
This Tortilla Blender Soup is one of our most popular recipes. It was featured in a Buzzfeed review of the Vitamix Blender. This post includes affiliate links, which means if you purchase after following the link, we may receive a small commission. If you are looking for your own Vitamix Blender, we recommend the Vitamix Pro 750. (<-Affiliate Link)
You can truly make soup in a blender!
Who would have thought you could make fresh tortilla blender soup with everyday ingredients in under ten minutes without turning on your stovetop? I wouldn't mislead you, and I can vouch that this is my go-to soup this winter (but it is also very appropriate to enjoy this year-round). I like it because it is quick and easily adapted based on the ingredients and requires no prep time. I still remember the first time I made this soup as I was so surprised at how much flavour it delivered with so little effort.
You can top your soup with so many different and wonderful things like cheese, sour cream, fresh cilantro, tortilla chips, etc, all to your personal preference. It can also be made purely vegan by using vegetable broth and substituting cheese and sour cream for vegan options.
To make the base soup, add your fresh Roma tomato, carrots, celery, broth, garlic, and my secret ingredient: chipotle puree with your spices of choice and set the blender on the soup/hot setting. While it is cooking, get the red bell pepper and green bell pepper, black beans, and canned corn (or fresh sweet corn kernels) ready to go. You can add some shredded chicken breasts, rotisserie chicken or turkey, but you won't miss the meat as this is a hearty soup. The work effort is minimal, yet everyone who tries this will think that you spent time at the stove.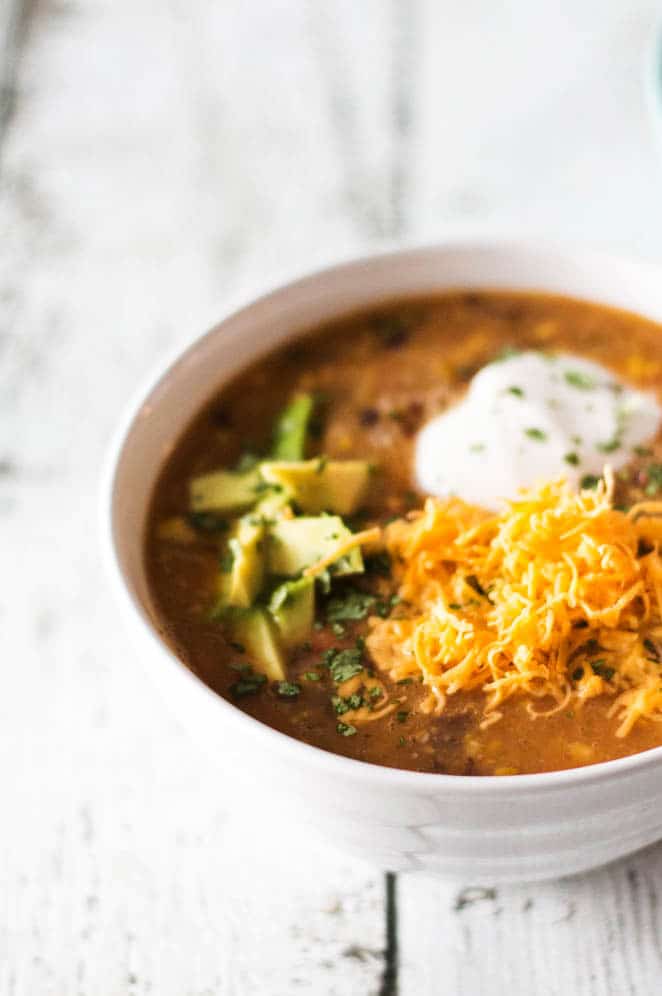 When the soup is finished blending, pour it into two individual bowls and then top with your favourite toppings.  This is great when you have two individuals with different tastes.  One person may want to top it with corn tortillas and black pepper, while another may want to top it with jalapeno pepper or a squeeze of lime juice for freshness.  The versatility and the variety of potential toppings help keep this soup interesting if it is part of your rotation.  This is one of my favourite soups to make when I'm working from home.
This recipe was inspired by the Vitamix tortilla soup original recipe that Vitamix demonstrators often use. In fact, I know personally a couple of people who purchased their Vitamix after seeing this recipe made.  Being able to enjoy fresh soup to your own specific tastes is a huge selling feature. This recipe, like all of our blender recipes, is made in our Vitamix Pro 750. (<-Affiliate link)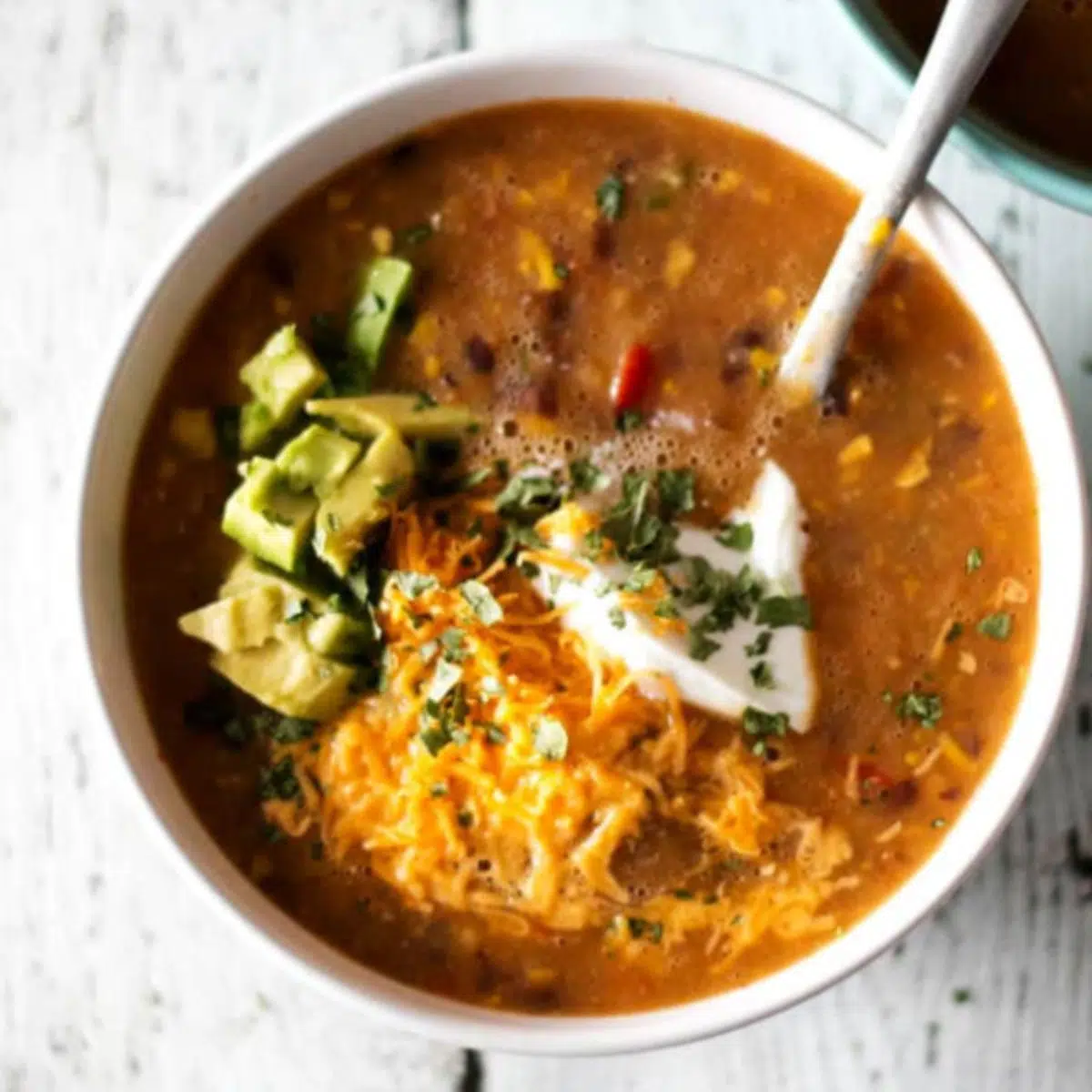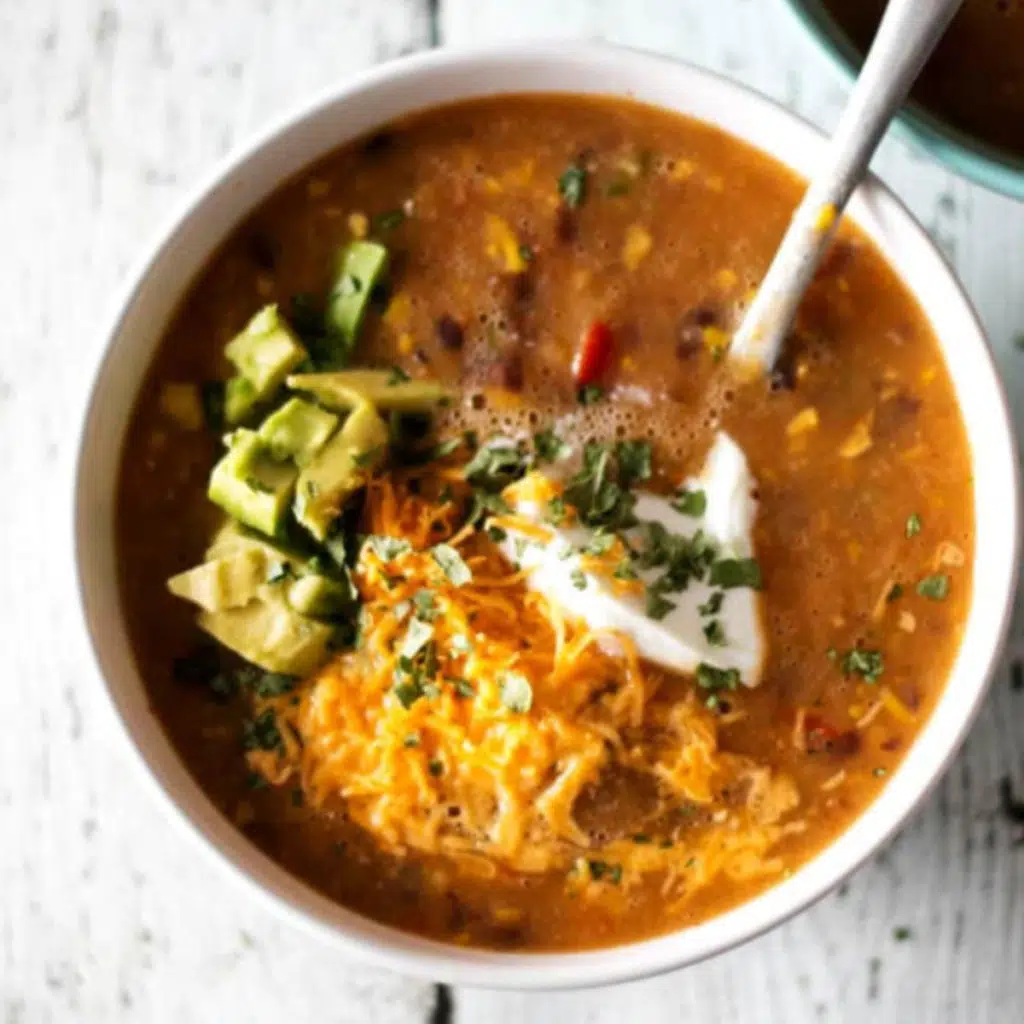 Clean-up is also a breeze with this recipe. There is no Dutch oven or saucepan to clean. The recipe could easily become one of your favourite soup recipes due to the flavours and the use of simple ingredients
How can I add more heat to this Tortilla Soup?
There are a plethora of options. We like to up the chipotle puree, add a bit of our favourite Adobo sauce or add Chipotle Tobasco sauce. You could also try Jalapenos or add a bit of chili powder.

What other vegetables could I add to this Soup?
You could easily add onions to this tortilla soup. I can't add those when I'm sharing a batch with my husband, but if making for myself, I add them just like I add red and green peppers. Another great option is to add a bit of fresh spinach in the last step.
Can this recipe make a Vegan soup?
Yes, it can.  While the recipe is for a vegetarian tortilla soup, the base of the soup, when using vegetable broth, is vegan and vegetarian-friendly. To make vegan tortilla soup, you must swap out the optional toppings, like sour cream and cheese, for something vegan-friendly. Slices of avocado are always a good topping.

What other toppings can I add to the Tortilla Soup?
In addition to cheese, sour cream, avocado, and tortilla chips, crispy tortilla strips, you could also try avocado crema, green onions, and fresh cilantro.  

How does the Vitamix blender heat the soup as it blends?
The friction of the blades causes the heat. Hear more from Vitamix and get more recipes.
Can I make this soup without a Vitamix?
Yes, you can.  The benefit of the Vitamix container and blender is that it will heat the soup simultaneously as blending, so there is no need to heat it separately.  If you don't have a Vitamix or another high-speed, high-powered blender that will heat the soup while blending, you can follow the instructions, but instead of running the soup cycle, blender for 30 seconds and then continue with the next steps. Once you have added the peppers, black beans and corn, pulse as directed and pour the entire mixture into a saucepan and heat on your stovetop over medium heat.

I'm getting hungry for some more blender tortilla soup just thinking about it. I'm sure eating this a couple of times daily isn't wrong.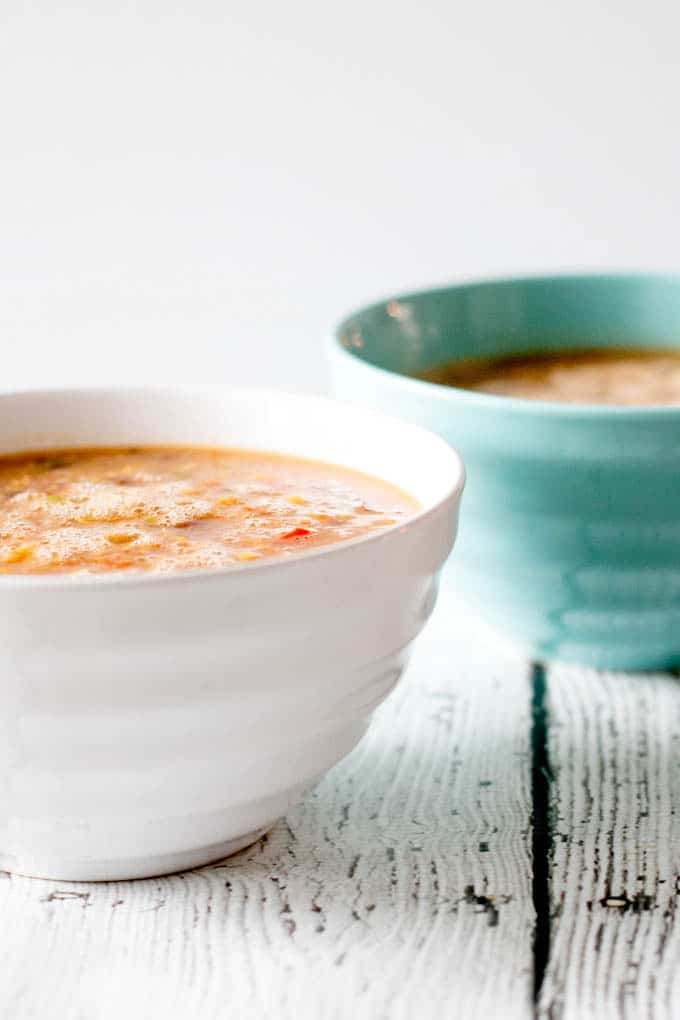 Get the most out of your Vitamix blender
Whether you are just getting started with blending or you are looking to get more out of your blender, then check out these resources: