Oatmeal Banana Berry Smoothie
I love Oats
I've been eating up overnight Oats like you wouldn't believe…unless of course you witnessed it first hand at 7 am every day last week. I've always really liked oatmeal and have some really good memories of waking up to the smell of cinnamon and finding oatmeal with cinnamon and raisins waiting for me in the kitchen. I've always resorted to the instant kind – the kind that you can shove a box in your desk at work for emergencies or the kind that you get at Starbucks when you are picking up your latte in the morning.
If I had ever stopped to think how easy it would be to pour some oats, milk, yogurt and fruit into a jar and put it in the fridge overnight I could have been saving myself a fortune in breakfast costs on those mornings that I haven't pre-made my smoothie. Seriously, compare the cost of oatmeal from Starbucks or a smoothie from Jugo Juice and you quickly realize just how much money you've been throwing away. If I compare to the less costly options of a bagel or muffin I start to get even more depressed about what I've been feeding my body.
Turn forgetfulness into Yumminess
Well, I forgot to make my oats last night. Grr. And boy was I craving that yummy, creamy mixture this morning. So what did I do? I poured all the same ingredients into the blender, turned it to the smoothie setting and let it go. I used bananas, berries, chocolate almond milk and greek vanilla yogurt. I have to admit that I was a bit concerned that it might turn into a thick blob with glue-like consistency. The result? A thick, creamy, tasty and satisfying smoothie. Key word is satisfying…so often a smoothie can feel a bit more snack-like and this Oatmeal Banana Berry Smoothie left me feeling full all morning long.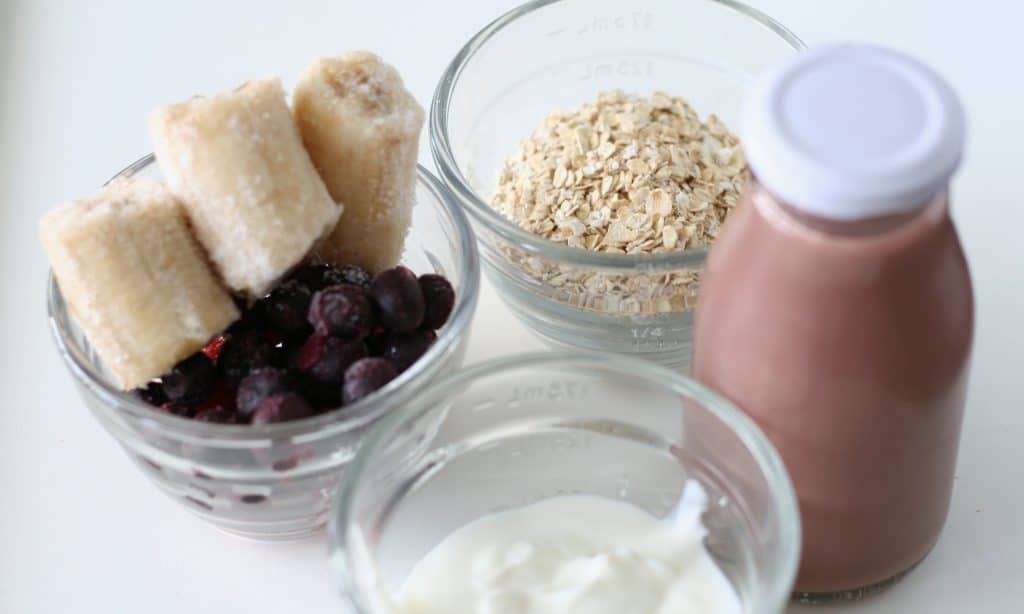 Tip: If your blender isn't super powered, I would try blending the oats on their own for a bit to break them down before adding the other ingredients.
The great thing about this smoothie is you can mix it up – change out the fruit, mix up the milk and it will be like a whole new smoothie each and every time.