Peppermint White Hot Chocolate
First day of holidays! This should be a happy day but a really bad cold has hit me right on time. My husband even predicted it because this ALWAYS happens to me – I never take a sick day from work but every time I start my holidays I end up ill. Hopefully this will pass quickly.
The silver lining? When I don't feel my best I like to make myself a treat to raise my spirits and today I'm making peppermint white hot chocolate in my Vitamix. It is such a simple drink to make and yet beats anything you'd find at the local coffee shop.
Have I mentioned that I like easy to make recipes? I rarely make anything that takes more than 5-10 minutes of effort…crockpot cooking doesn't count. This recipe takes about 5 minutes in your Vitamix or Blendtec blender but you could also make it on your stove top.
Simply add your chocolate, milk and peppermint extract to your blender jar. In my Vitamix Pro 750 I use the soup function and let it do its magic. While I'm waiting I like to crush a peppermint or candy cane to sprinkle on top of the finished product for a little extra peppermint kick.
When your blender finishes, pour the peppermint white hot chocolate into your mug of choice. It will have a nice layer of milk froth on the top and can be served just like this: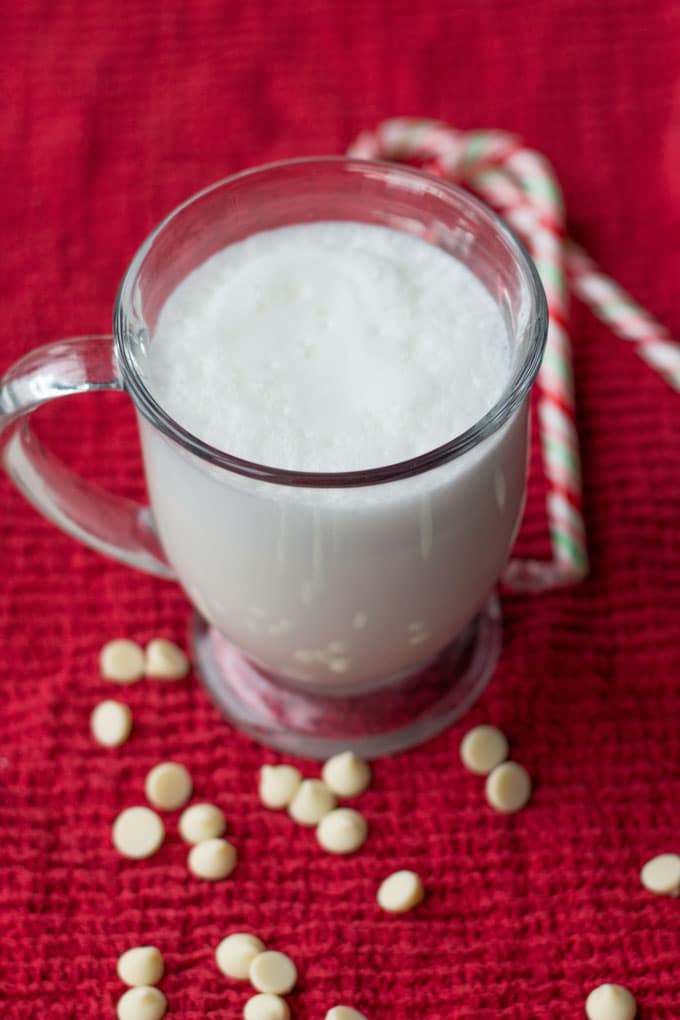 Or if you prefer to really do it up you can add whipped cream, a sprinkle of cocoa and crushed candy canes. This drink is perfect after a day on the slopes or rink, a day shopping at the mall or even after an afternoon spent on the couch…basically if you did something today, you deserve this delicious peppermint white hot chocolate.