Whole30 Condiments, Dips and Dressings
I know what you are thinking, yes,  another Whole30 themed post. I can't help it! I'm 3 weeks in and it sometimes feels like every minute of my day is spent thinking about Whole30, eating Whole30 compliant meals and figuring out Whole30 compliant swaps for some of my favourite condiments, dips, dressings and sauces. Whole30 condiments can be found online at amazon (affiliate link) but they often don't ship to Canada and abroad.
So, I asked fellow bloggers to share their favourite Whole30 recipes for all those great things that dress up a meal. For me, I can't get through the day without this Spicy No-Sugar Ketchup that my husband and I came up with as we were really,really missing ketchup. I'm also going to keep making my own horseradish and adobo sauce.
These delicious Whole30 condiments, dips and dressings will help you get through the toughest parts of your 30 day journey.  Better yet, enjoy these even after you complete your Whole30 – there is no reason to go back to sugar and additive laden condiments when there are so many tasty ones that you can easily make fresh at home.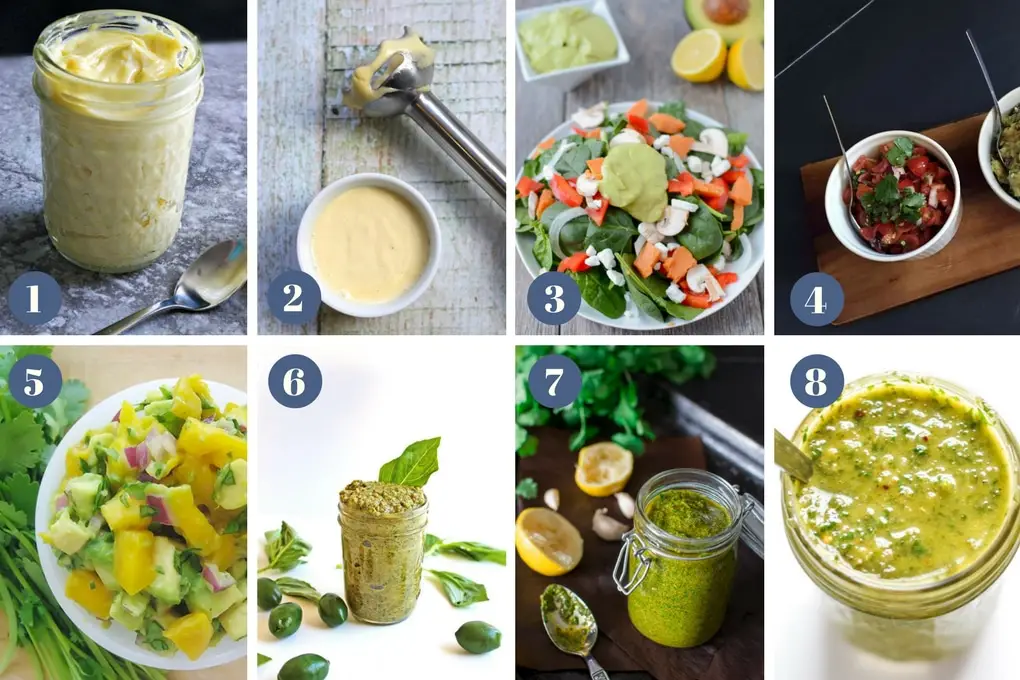 Missing Mayo? Try one of these easy to make recipes:
1. Fool-proof Mayo from The Kitcheneer  (egg yolk only method)
2. Perfect Mayo in a minute from The Organic Kitchen (whole egg method)
Sick of just oil and vinegar on your salad?
3. Ginger Citrus Avocado Dressing from The Lean Green Bean (Leave out the optional sweetener to keep this Whole30 friendly)
Salsa makes a great flavour addition to your Whole30 meal. Get creative with the use of various fruits and vegetables.
4. An Easy Salsa Recipe from Emma Eats & Explores.
5. Mango Salsa with Avocado, Cilantro and Lime from The Rising Spoon.
Olives are a Whole30 staple and this beautiful (& tasty) Olive Pesto is a must have.
6. Simple Vegan Green Olive Pesto from Rhubarbarians. 
Spruce up your meat, fish and vegetable dishes with unique flavours.
7. Moroccan Chermoulah Sauce from Cooktoria.
I'm a huge fan of fresh cilantro so this recipe is right up my alley.
8. Cilantro Parsley Chimichurri Sauce from Isable Eats.
Good Luck in the home stretch of #JanuaryWhole30. You can do this!
*Please note: This post contains affiliate links which means if you make a purchase after following the link I may receive compensation, at no cost to you, from the retailer.