Cherry Peach Sangria Slush
We may have a problem and I apologize in advance for working your blender hard. This Cherry Peach Sangria Slush is so tasty and so pretty that you won't be able to help yourself. Your blender will be putting in some overtime so I hope you have a good one. (If you are in the market, check out my favourite blender). With Mother's Day just around the corner, this may be a great addition to your brunch menu. Cherries & peaches scream BRUNCH! Why not surprise your mom or the special ladies in your life by showing up with a bottle of wine and some frozen fruit and whipping up a big batch of Cherry Peach Sangria Slush.


So what makes this beautiful beverage so amazing? Well, it could be:
the number of ingredients (only 3-4 depending on your preference)
how quickly you can make this and/or get a refill (we are talking just minutes here) so you won't miss any part of the party, conversation or TV show
the perfect balance of sweet and refreshing
we are talking about wine + slush. What's not to love?
For this recipe, I like to use my new favourite wine Albarino (or Alvarinho) which is a white grape grown in Spain or Portugal. I'm a big fan of pinot grigio and I find Albarino to be very similar. You will often pick up notes of citrus or peach in Albarino which is what inspired this flavour combination – cherry + peach.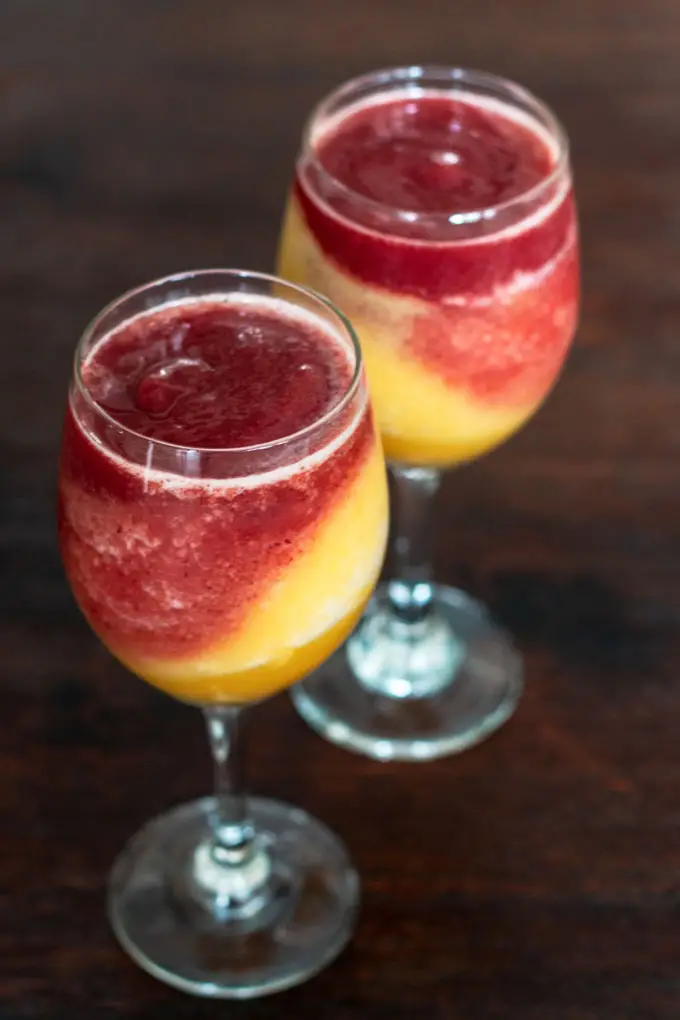 When you sit back to enjoy your creation, try not to slurp. I dare you! I love whipping up big batches of slush in the blender when entertaining so that I can minimize the time playing bartender and spend more time catching up with friends and family. I've made batches and batches of slush over the years and my number one learning is to use frozen fruit instead of ice to ensure that each sip has the maximum amount of flavour – it also prevents your drink from getting watered down as the ice melts. You can buy frozen fruit or freeze fresh fruit in advance.
If you like slush as much as I do, you may also want to check out our most popular recipe – Raspberry Lemonade Moscato Slush.