Cranberry Orange Margarita
Sometimes the best ideas are the simplest. This past week we had to stock up on popsicles and freezies for K as they seemed to make her happy while she wasn't feeling her best and since I have the world's smallest freezer I had to find some quick ways to free up space without putting everything to waste. Look what I made: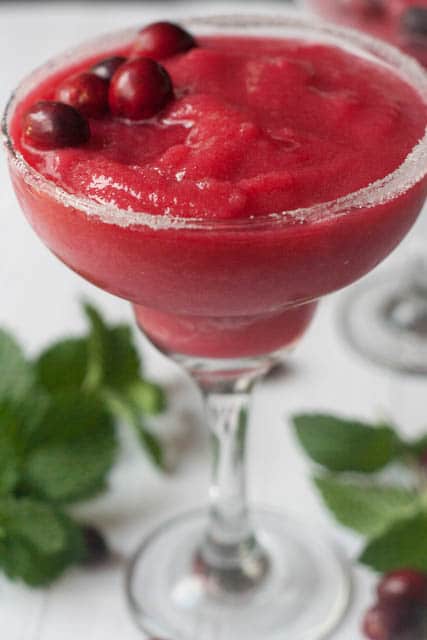 Isn't it pretty? It was a bit of a cheat and totally luck that it works. So, you might recall I recently shared my super easy recipe for cranberry orange sorbet and I may have made it a time or two (or three) this month. Sitting in my freezer was half a batch and I definitely didn't want it to go to waste but I also very desperately needed the space. So what's a girl to do? I remembered reading somewhere that there is almost always a way to salvage an ice cream or sorbet gone bad and that was to put it in the blender and add alcohol. Well, there was nothing wrong with this batch of sorbet but adding some tequila didn't seem like a bad idea and thus, the cranberry orange margarita came to life
Looking at the pretty colour I can't help but think I'll be making up a super batch of this over the Christmas holidays and making cranberry orange margaritas for my entire family in my Vitamix. I'm always looking for drinks that look great and taste even better – bonus when I get to use my blender. I have to wonder if I'll ever outgrow my love of icy drinks. Then again, after 18 years of legal drinking age in Canada I have to think my tastes are pretty set.
I chose Tequila because I'm not a big fan of Rum but I do believe the cranberry orange sorbet would pair well with Rum or Triple Sec if you want to carry the orange flavour even further.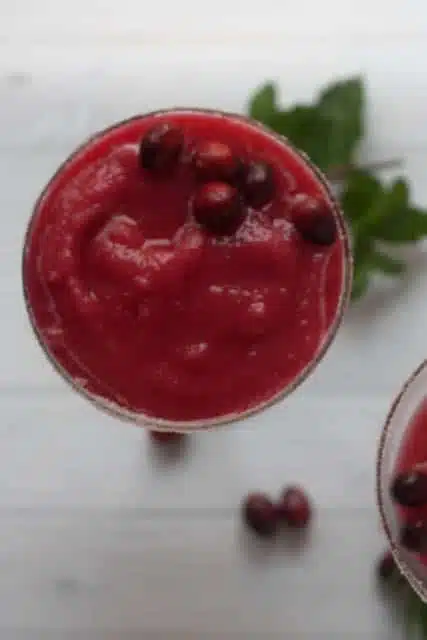 I'm so in love with cranberries right now. Could never have guessed just how versatile they are – from Crockpot Cranberry Apple Cider to Cranberry Orange Margaritas (and even a really tasty cranberry apple spinach smoothie ). Cranberries are on the top of the grocery list I leave for my husband. Didn't see that one coming!