Alcoholic Raspberry Lemonade Moscato Slush
I've hit the jackpot. I've finally discovered a drink that is a hit with wine lovers & non-wine lovers alike. Which camp are you in? While I enjoy a glass of white wine from time to time, I wouldn't say that wine is my go-to adult beverage. However, that might be starting to change with this delicious alcoholic Raspberry Lemonade Moscato Slush. Basically, we are talking about wine slushies which is the perfect refreshing cocktail for summer!
Recipe Inspiration
I was inspired to try Moscato when I picked up a copy of the Summer 2016 edition of Food & Drink magazine published by the LCBO in Ontario. Each time the latest edition comes out, we pick 1 or 2 recipes or drinks to try. Page 136 introduced me to Banrock Station's Pink Moscato and inspired this drink. It is pretty to look at it and it has incredible flavor. As an added bonus: It won't break the bank. It is only $10.95 Canadian which means you can easily stock up just waiting for the right opportunity. A great bottle of Moscato wine as is, or part of a perfect drink when the key ingredient in our favourite summer cocktail recipe.
So, raspberry lemonade Moscato slush has become a new favourite in our house during the summer months.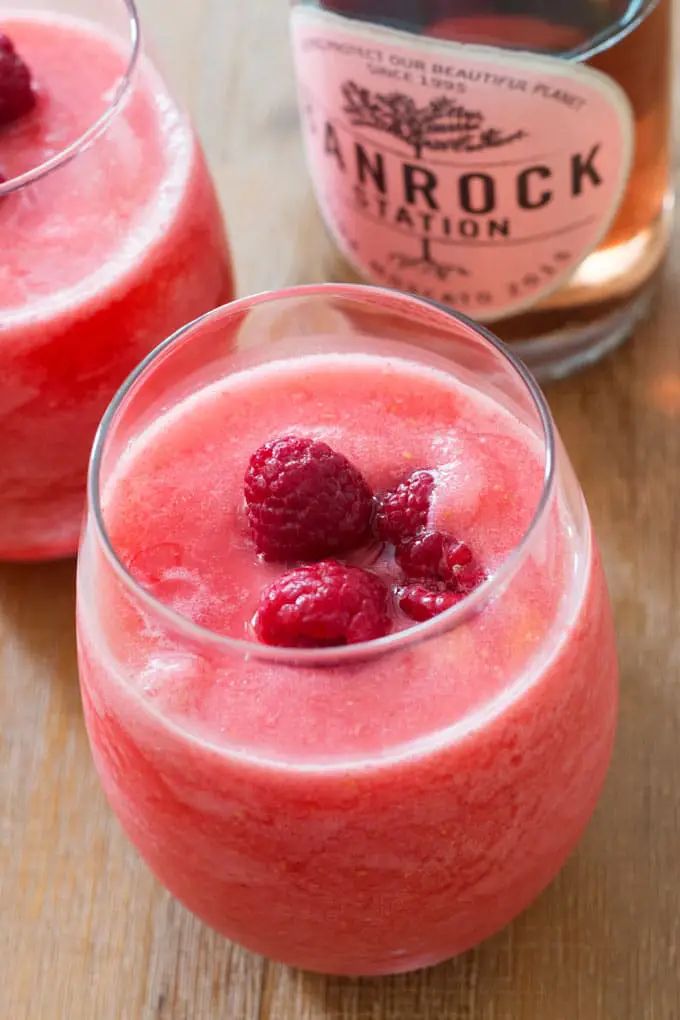 What is Moscato?
Moscato is a delicious sweet wine with a slight fizz made from muscat grapes. Some people consider Moscato to be a dessert wine because of its sweet nature while others think it is a bubbly champagne-style beverage; truthfully, from what I can tell, Moscato is simply determined by the type of grape – muscat – and come in different styles such as still, sparkling and dessert. If you like sweet wines, then you will likely enjoy Moscato. It can also be a great introduction to wine because of its low alcohol content and sweetness.
Moscato Slush Ingredients
There are so many possible flavor combinations that will make great wine slushies but our go has only 4 simple ingredients: Sweet Moscato wine, lemonade concentrate and frozen fruit. We love raspberries, our favorite fruit, but you could swap for strawberries and make a strawberry lemonade Moscato slushie. Add a couple of cups of ice and blend.
If you don't have frozen fruit you can also use fresh raspberries or fresh strawberries and add more ice. We like frozen fruit as you get the great fruit flavour and added slushy effect with less ice and less opportunity for a watered-down beverage.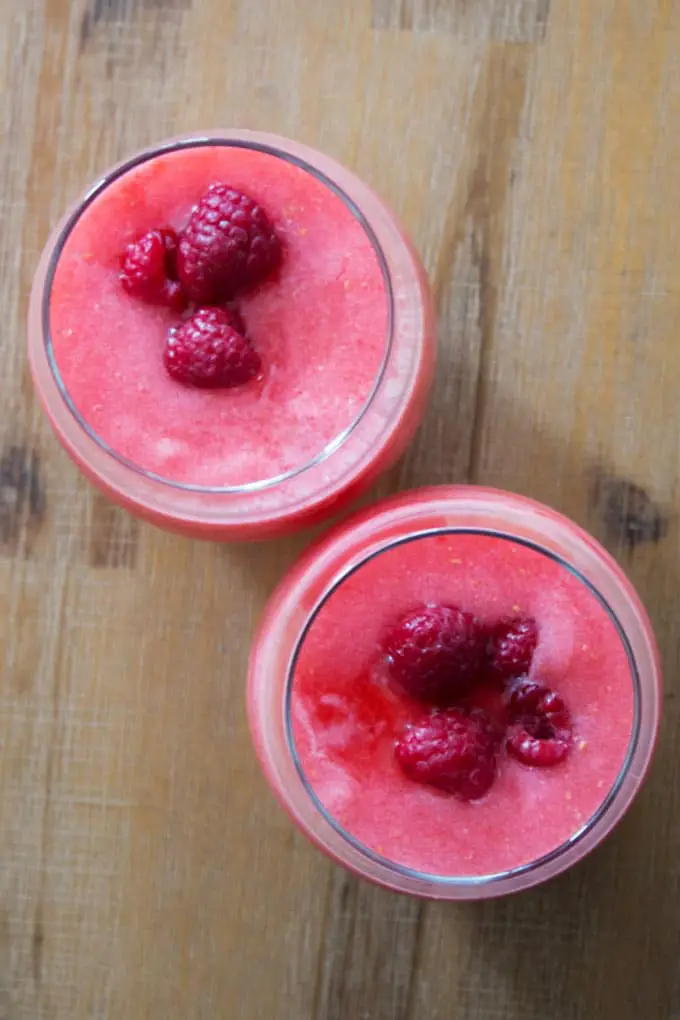 Perfect Blend of Sweet & Tart
No fancy tools are required here. All you need aside from the ingredients are your blender, some wine glasses, and someone to share this tasty bev with (or not). You can make a big batch making this a great cocktail for entertaining. Prep time is minimal meaning you don't have to miss any of the party even if you are in charge of blending.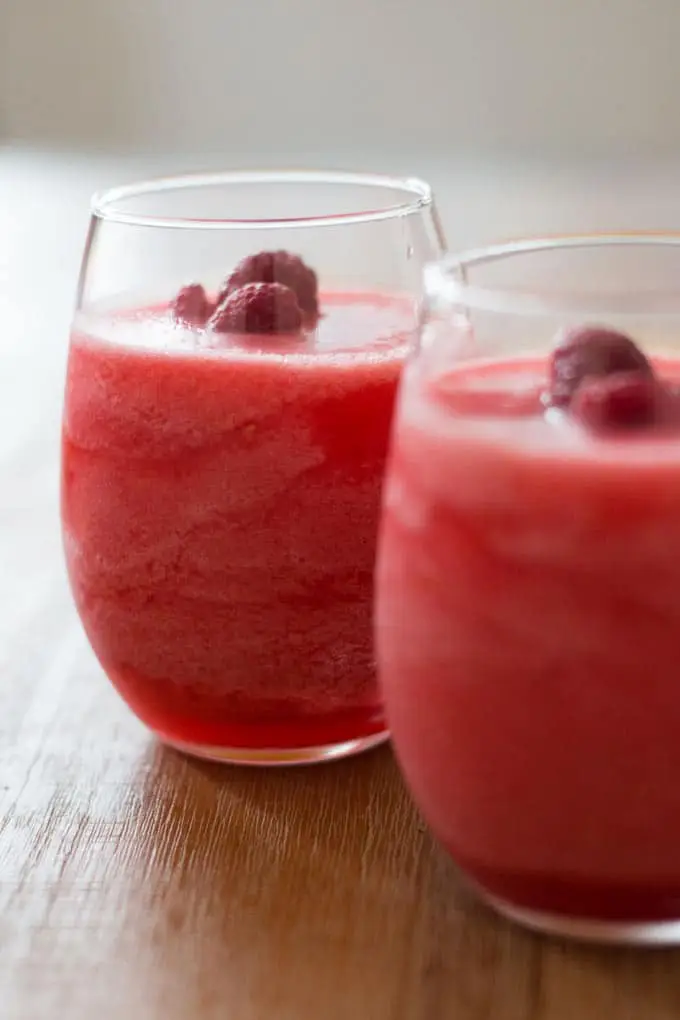 Other Flavor Combinations
Moscato often has peach flavors making it a perfect base for making peach moscato slushies. Why not use your favorite summer fruits or take advantage of cherry season? Not interested in Moscato? Try our Cherry Peach Sangria Slush made with peaches, cherries, lemon-lime soda and Albarino wine.
Print recipe below or save / pin for later.
Looking for more blended drinks: Why not try this list of
perfect drinks for summer
or one of our favorite beverages:
[fsri category="beverage"]