I've hit the jackpot. I've finally discovered a drink that is a hit with wine lovers & non-wine lovers alike.  Which camp are you in? I've personally always enjoyed a glass of wine but have never really considered myself to be part of the wine lovers club.  However, that is all starting to change with this delicious Raspberry Lemonade Moscato Slush.
Inspiration
I was inspired to try Moscato by the Summer 2016 edition of Food & Drink magazine published by the LCBO in Ontario.  Each time the latest edition comes out, we pick 1 or 2 recipes or drinks to try. Page 136 introduced me to Banrock Station's Pink Moscato and inspired this drink.   It is pretty to look at it and it tastes amazing.   Plus, added bonus: It won't break the bank. It is only $10.95 Canadian which means you can easily stock up just waiting for the right opportunity.  Great enjoyed as is and just as enjoyable as part of a Raspberry Lemonade Moscato Slush.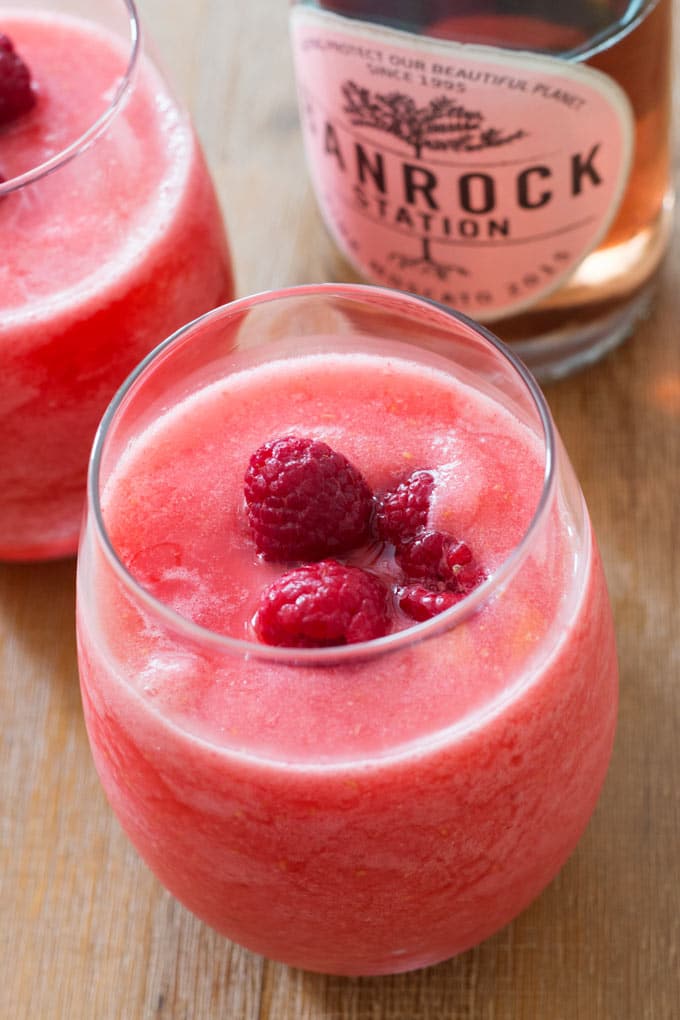 So, raspberry lemonade Moscato slush has become a new favourite in our house. I now have a wine cabinet full of pink Moscato and a freezer full of raspberries and lemonade concentrate in the not so distant future.
Perfect Blend of Sweet & Tart
No fancy tools required here. All you need aside from the ingredients are your blender, some wine glasses, and someone to share this tasty bev with (or not).
I highly recommend trying this drink...like now, or if you must wait, this weekend - why not add this to your Mother's Day brunch menu? It has just the right balance of sweet and tart and totally hits the spot.   One bottle makes 4 really good-sized servings or 2 Slurpee sized.   Cheers, make a toast!
Looking for more blended drinks: Why not try this list of
perfect drinks for summer
or one of our favorite beverages: