In winter months I tend to stick to more traditional comfort foods and beverages. However, come summer, warm weather and sunshine and I'm all for mixing and matching fruits and veggies to try new flavour combinations for cocktails, mocktails and smoothies. Today, I've totally fallen head over heels for this cucumber melon gin spritzer. I'm a huge G&T fan and this hits some of the same buttons for me.
I keep a long list of "ideas" for drinks to try but it still usually comes down to whatever jumps out at me as I walk the produce aisle at the grocery store. For some reason, cucumbers and honeydew melon were calling my name. I intended to buy a watermelon (or two or three) to make one of these wonderful watermelon drinks but unfortunately they were picked through pretty well and there was only a very sad looking watermelon remaining.
The show must go on. With just 4 ingredients, this spritzer is perfect and is just the right balance between light and flavourful. Cucumber provides crispness while the honeydew provides just a touch of sweetness that is offset by the herbal notes of the gin. I like to add a splash or two of sparkling water or club soda to top it off and add some carbonation.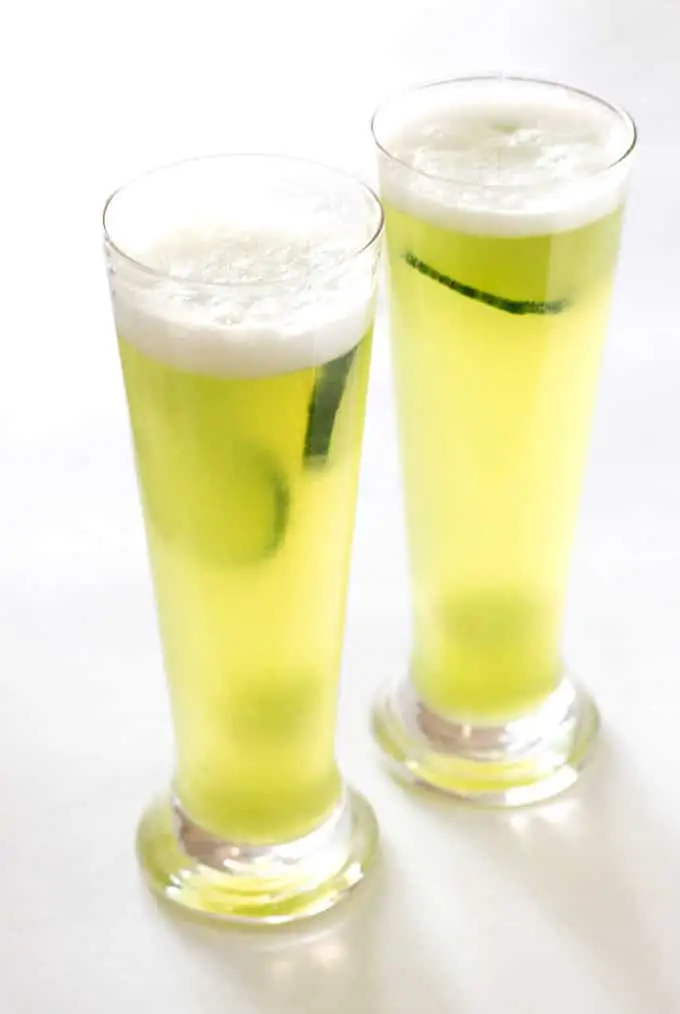 To make this drink you will blend the cucumber and the melon (I do it separately) and then strain the remaining pulp. I use a fine mesh sieve to strain. To garnish your drink freeze some slices of cucumber and melon balls. No need to add ice that will dilute your drink.
Can't you just imagine yourself sitting on the deck in a comfy lounge chair sipping on a cucumber melon gin spritzer without a care in the world? That is what I'm doing right now and I can vouch for just how good it feels!