Beet Ice Cream…yep, for real
Better late than never
I think I had mentioned that I was attempting to make beet ice cream a week or two ago as I really wanted to have a "red" hued ice cream for Canada Day. I love beets and only wish that I had discovered them earlier as my only early memory of beets consisted of those that came out of a can. I always had a bit of an aversion to anything coming out of a can.  Fast forward many years later and I was served a beet and goat cheese appetizer while travelling on Via 1 between London, Ontario and Toronto.  I know, many of you are thinking how good could beets served on a train really  be? Wow, got to tell you – they blew my mind and I've loved them ever since.
Well, I owe you an update on the ice cream. I've had some really good luck with Cucumber Mint Ice Cream and Strawberry Mint Ice Cream so figured I really had nothing to lose. Once again, my husband was looking at me like I was crazy – who would ever think of making beets into a dessert? Well, I know I'm not the first person to try this but so many of the recipes I was finding on the internet seemed too complex and I hate making ice cream on the stove top. I like super simple recipes and as far as beets go, I wanted the most difficult part to be removing the skins.
Having read a great tip from BlendTec on making milk cubes by freezing milk in ice cube trays I decided to give this a try for my ice cream. Now, I'm using these milk cubes in everything….so handy, just wish I had a bigger freezer so I could make more cubes and more ice cream!
I used a bunch of beets (approx 5 small-medium sized) for this recipe, washed, peeled and cut up into small pieces.  I blended them with just a few tbsp of water to make sure the blender would be able to work its magic and the outcome was beautiful.
I did strain to separate the beet juice from the pulp as I really didn't want to have gritty or pulpy texture. See the full recipe below.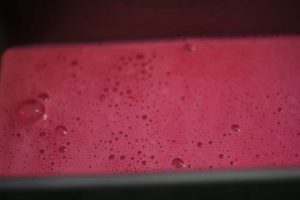 The Results
So I made the ice cream but didn't get it into the freezer early enough to enjoy on July 1st. Then my husband and I were off for a trip to Vegas and I totally forgot about my creation until we returned. I would say the texture was a lot less creamy than my strawberry mint ice cream and bit more like granita without the added work of breaking up the ice regularly.  I really liked the taste…I ate half of it right out of the loaf pan and the other half I was a bit more civilized adding it to a bowl and topping with a bit of balsamic glaze…I figured it would be a good combo since that is how I eat my non-ice cream beets 🙂  And, oh was it ever.
Will definitely make this beet ice cream again and will also probably try to get a creamier version down. All in all, in my opinion, I'm 3 for 3 in the easy to make ice cream department.