5 Frozen Cocktail Recipes to try this Summer
Today the sun is shining and we finally have a nice day to be outside on our deck. The day didn't start off so promising with grey skies and cool temperature but we are now at almost 25 degrees Celsius and a nice clear sky with just a small sprinkling of clouds. Really can't get much better than this.
That being said, on a day like today, I'm always tempted by frozen cocktails. Usually, with lime…have I told you recently how much I love lime? Could be in a mojito or margarita. I'm not that picky. So I'm searching for a truly great recipe so I don't have to resort to my old standby Bacardi frozen mix.
After searching high and low, here are 5 very promising drinks from around the web:
The Frozen Bellini, brought to you by Cosmopolitan. Oh my…looks so good. I wish I had peaches on hand to make a peach puree. Guess I'm adding that to my grocery list.
Blueberry Limeade (also from Cosmopolitan) I have all the ingredients…I'm off to make this one. Be right back! Okay, I'm back. The first ingredient was blueberry puree. I had no idea what this really was but I made it by combining ¼ cup of fresh blueberries, tbsp of lemon juice, 2 tbsp of water, and a drop of Stevia. Looks close enough to me. After two glasses, I have to say I will definitely be having this again. See the picture below– this has a really nice color and texture. Kind of reminds me of a fresh fruit daiquiri sans rum.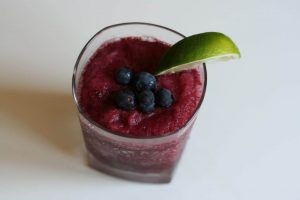 Mint Margarita Slushie from My Recipes. Ok, I may not make it to number 5 if I keep feeling compelled to go make drinks and test taste. The nice part of this one is it is just as good without alcohol. I'm using fresh mint from my garden. I have no green thumb and this is literally the only thing I seem to be able to "grow" and by grow I mean I let it live in my garden free of charge and it takes care of the rest. Instead of trying to extract 2 ounces of fresh lime juice, I just throw an entire peeled lime in the blender.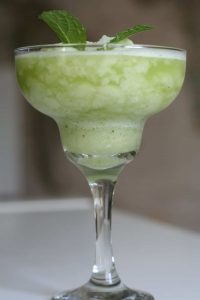 Beer'garita from My Recipes. Another great option. I recently saw Beer'garitas on the menu at a popular restaurant in Niagara Falls. This could even be made with near-beer or non-alcoholic beer with the same effect. My hubby will love this one. Perhaps I'll add it to our Father's day list.
Cucumber Mint Margarita – A recipe by Tabasco shared on About Food. I like cucumber drinks, love Tequila and Mint so really, what's stopping me? Absolutely, nothing. Now, I only have Chipotle Tabasco on hand but I think that it could work. Maybe whip up some Guacamole to eat with some tortilla chips as a snack (or who am I kidding ? Likely a dinner replacement).
Cheers to all of you! I'll add more pictures as I finish taste-testing all the above recipes. Share your favorite frozen cocktail recipes…extra points if they call for mint or limes.