Chocolate Cranberry Walnut Blender Brownies
Sunday afternoons are the best. This is usually the one time each week that my daughter K and I spend some quality time together in the kitchen – usually it revolves around making "cake" which I swear is my daughter's favourite word and "chocolate" her second favourite word. Today is no different. From the minute I enter the house after running errands, she is rummaging through the bags looking for the ingredients for today's experiment. I love her predictability and her excitement.
We usually make fairly simple treats and today is really no different. We've landed on brownies but not just any old out of the box brownies (though we do like those too!) We are making blender brownies which I love because I'm always a bit nervous using the electric beaters with my daughter because she has an underdeveloped sense of danger, which is somewhat common with children diagnosed with ASD. She can control the buttons on the blender and I don't have to worry about fingers going in the bowl. That is what you call a win/win. While the final outcome may not be the prettiest iced brownies ever, they are tasty and we had a blast making them together.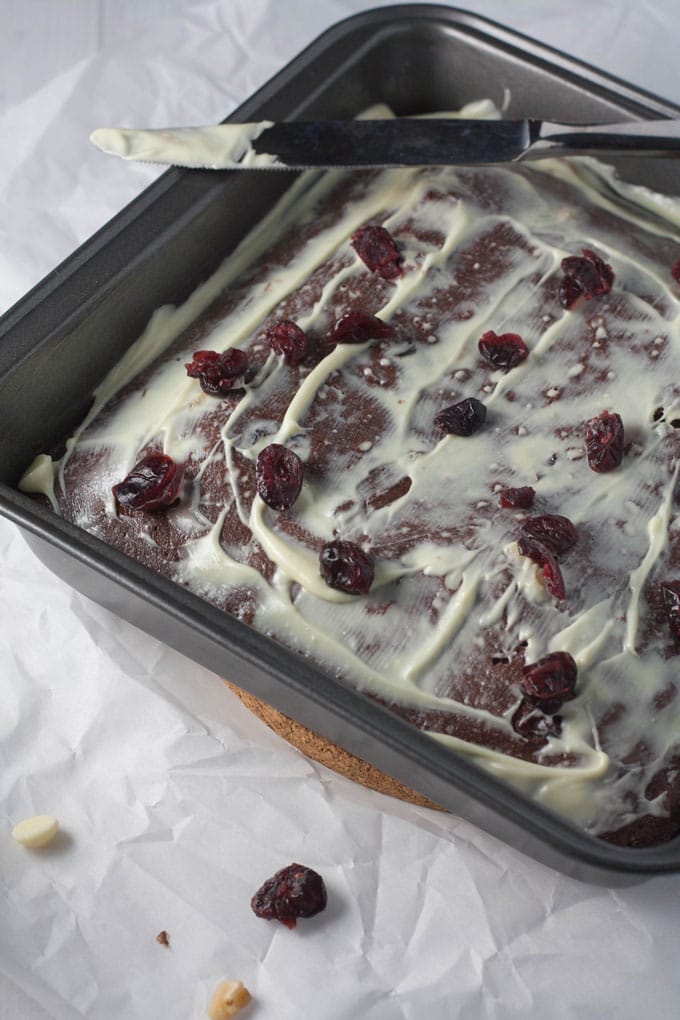 For the starting point for our blender brownies we adapted a recipe from Blendtec. We did makes some modifications which you'll find in the recipe below. For example, we cut down the amount of butter by substituting apple sauce and we swapped out the chocolate chips for cranberries and walnuts. These brownies were still nice and chocolatey and kid-approved.
The batter was mixed in the blender and the cranberries and walnuts stirred in so that we didn't end up with cranberry and walnut dust.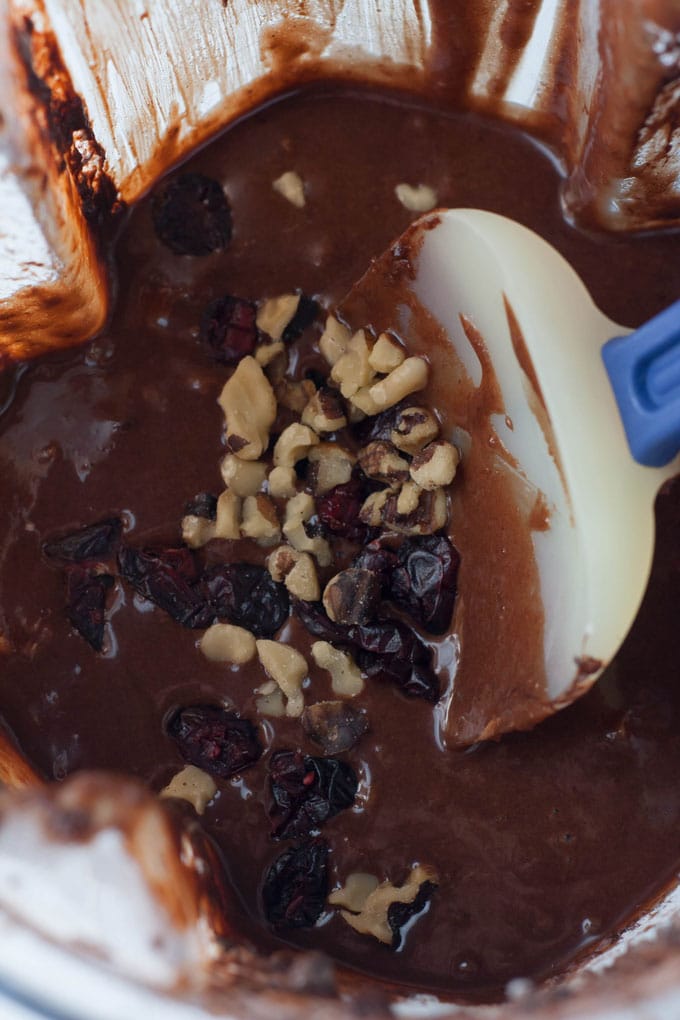 Then we poured into a greased 9×9 pan. A few more cranberries and walnuts sprinkled on top and we are ready for the oven.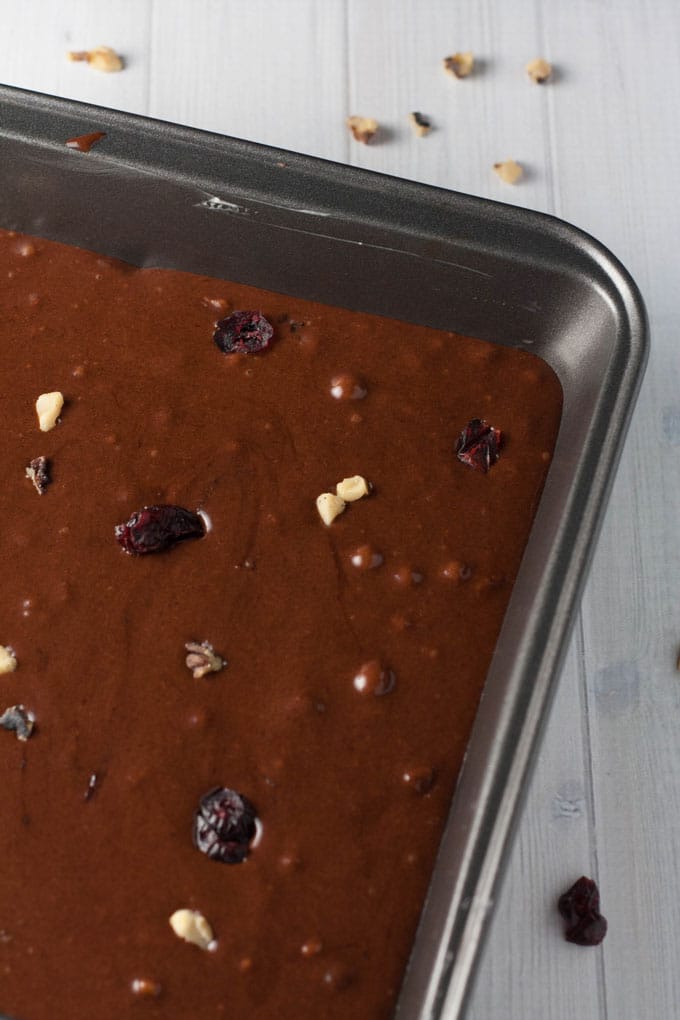 My oven is a bit wonky so these took approx 20 minutes at 350 degrees F. The Blendtec recipe suggests it should be closer to 30 minutes so keep a close eye as you near 20 minutes to ensure that you don't over bake. Would hate to have disappointed faces around the dinner table. Voila!
You are ready to serve, or you can add icing/frosting on top. My daughter is not a big fan of thick icing on her brownies so we opted to sprinkle some white chocolate chips on top for an easy topping after running a knife across the top to spread the melting chips. I let her do this step completely on her own. A few more cranberries and we better serve before she gets her fingers all over every piece.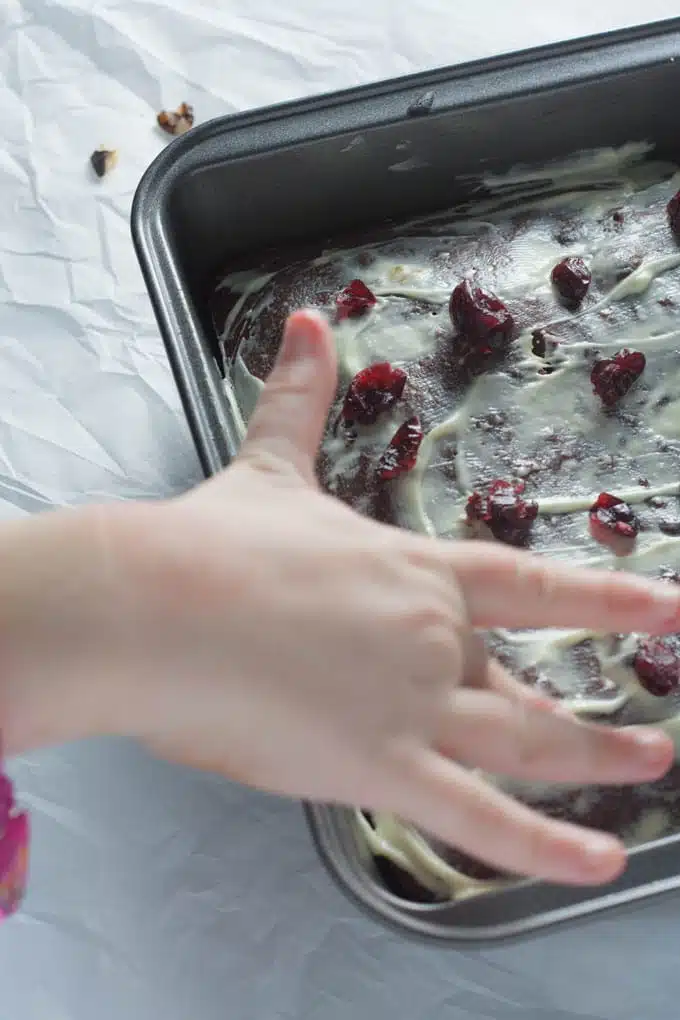 Grab a glass of milk and serve up a piece of these chocolate cranberry walnut blender brownies. Despite using less butter and less chocolate these delicious brownies still hit all the buttons for a decadent treat or dessert.