Using Leftover Wine
Seems so weird, maybe even wrong, to talk about leftover wine. I can honestly say it doesn't happen too often in my house but is occurring a little more as I experiment with various drinks. Always kind of wondered how long an open bottle "keeps" and how I should store it. Searching the internet provides some interesting results and opinions. One awesome idea I found on a post of 27 Genius Ways to Use Leftover Wine was to freeze it. Now this would be an even better way to do it if I had a freezer that was useful. I'm sure I've complained about this in the past but in our house we have a very small fridge and even smaller freezer. See here for a picture. The fridge looks great but is not all that useful on a daily basis – we often wonder why the previous owners designed a kitchen with smaller than needed appliances given the kitchen is quite large.
Sorry for going a bit off topic. I decided that instead of simply freezing the wine, I'd blend it with some other ingredients and then freeze in my ice cube trays. I included all the wonderful ingredients I'd normally consider adding to a sangria: Fruit, Triple Sec, Orange Juice, Carbonated Water or Sprite Zero. I basically threw this all in the blender and then poured into the ice cube trays and froze over night.
Now my sangria ice cubes don't necessarily look pretty but I've used them in multiple ways.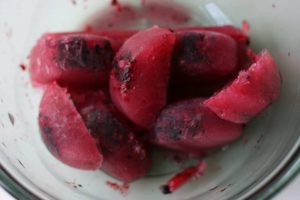 Using your Sangria Ice Cubes
First, I used them when I found myself with another half drunk bottle of wine :). I added a handful of my sangria cubes to a glass of white wine. These can make something that was previously not so drinkable into something very tasty.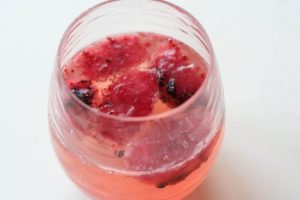 Second, I've blended them into a slush. The cubes are fairly soft so they don't require much liquid to get going in the blender but I did add my favourite Sprite Zero to help get it going and it was soooo good. I slurped a couple of those back. Great way to unwind after a long week at work.