Sweet Potato Peanut Butter Smoothie
OMG. I can't even begin to tell you how cold it is in our house. I woke up around 6 this morning and my husband was looking at me (over our sleeping daughter)…"it is really cold in here" we both say at the same time. I thought he may have opened our balcony door in the night because it can often get warm on the third floor of our house. Nope, that wasn't it. He looks at the handly little Nest app on his phone and it says our main floor is at 50 degrees Fahrenheit or 10 degrees Celsius. Brr. We normally keep it around 70 degrees and man is this cold. Each floor of the house is colder than the last and our furnace has completely stopped working. To make matters worse, it is a holiday in Canada so very little is open today.
Sweet Potato, what?
What's a girl to do? Bundle up, get the fireplace going, make some coffee, and roast some sweet potatoes. Huh? I had you until the sweet potato comment, right? Well, I've been dreaming of a sweet potato peanut butter smoothie for days and since I have to go back to work tomorrow I thought I'd better get these roasted up.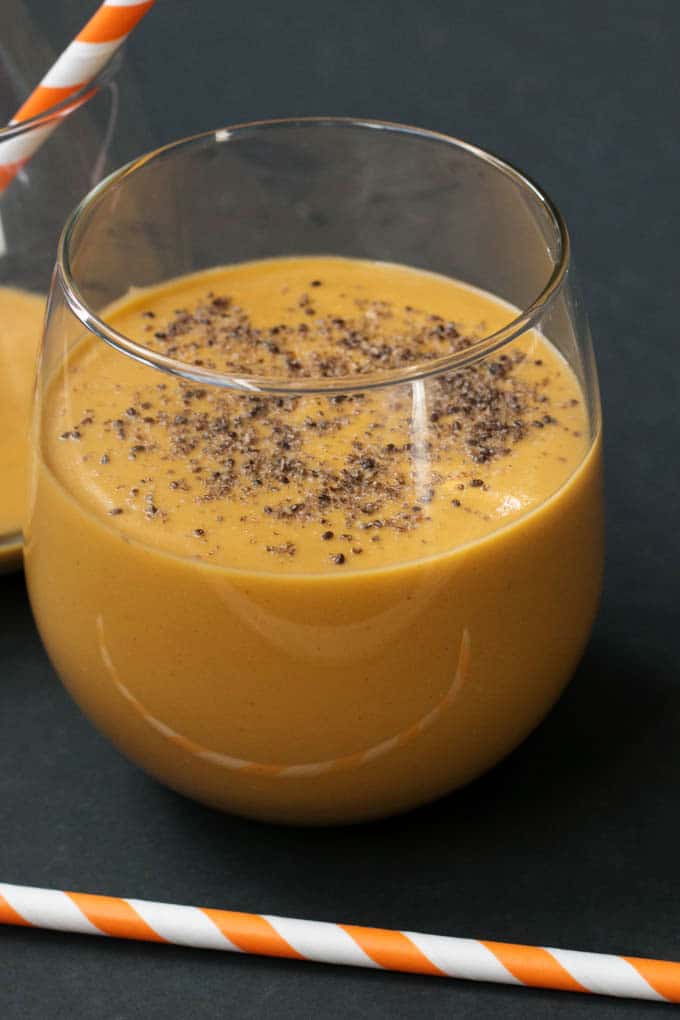 Sweet Potatoes have such a natural sweetness to them that you don't need to add any additional sweetener unless of course, you want to. In that case, I highly recommend maple syrup, mostly because maple syrup is one of my absolute favourite things in the whole world. I love it so much that I can't keep it in the house. When I was pregnant I lived on Eggo waffles and maple syrup because every other food made me nauseous.
Anyway, back to the sweet potato peanut butter smoothie. It doesn't get too much easier than this: cooked potato puree, a frozen banana, coconut milk beverage, and peanut butter blended to perfection.
Roast up a bunch of sweet potatoes and you can drink these smoothies for a few days. One good-sized sweet potato will give you approximately a cup of puree. I just wrap them up in a bit of tinfoil and bake them at 375 degrees F for 40-45 mins but you can cook these however you'd prefer.
I apologize for the photos. I had to take quick pictures today so that I could run back by the fireplace, under a blanket to keep warm. My hands and fingers are even colder than they normally are with my bad circulation. The good news is that we will be getting our furnace replaced tomorrow and thankfully, the outside temp has risen from -4 degrees Fahrenheit to 32 degrees today so I think we'll make it through the night with our newly procured space heater. Thank you Neighbour! After a disastrous trip to the one Walmart open in the Greater Toronto Area today we were about to look for a hotel tonight. This could be fun but then how do you get to work on time, get the little one to school, etc without added stress. So we'll be cuddling tonight on our third floor under lots and lots of blankets. Good thing the little one is a big fan of cuddling 🙂 Happy Monday folks – hope you are all snug and warm.