Starting the New Year off with Whole30
First off, Happy New Year! Hope you had a great holiday season.
I love the holidays. Nothing is better than being surrounded by friends, family, and great food. Too much food most of the time and too many yummy drinks and empty calories. I always have a little bit of remorse for all the overindulgence around January 2nd when I start feeling blah, and my pants don't fit quite as well as they did before the holidays. I know I'm not alone, as January is a month filled with resolutions to be healthier, eat better and work out. 
Please note: This post contains affiliate links, which means if you click on one of the product links, I may receive compensation from the seller at no additional cost to you.
A different start in 2017
This year, my husband and I are trying something a bit different and much harder than what we normally tackle in January.  We are doing the Whole30® which means for 30 days, we will not consume any:
sugar
grains
dairy
alcohol
legumes
carrageenan, MSG or sulfites
The program also forces you to put away your scale for the duration. You can weigh yourself before you start and 30 days later; this restriction alone can be hard to break. I've hidden the scale and removed the battery to help curb my desire to step on it every morning.  Out of sight, out of mind is my motto.  
Keeping on the out-of-sight, out-of-mind theme, we cleaned our fridge and pantry on boxing day. We cleared out an entire cabinet we now use to house our "compliant" non-perishable food items like spices, oils, vinegar, almond flour, etc.  We really, really had to look at every label before deciding if it was compliant and could be used during the 30 days. 
Melissa and Dallas Hartwig are the creators of Whole30, which consists of a very strict set of rules and guidelines. Whole30 is not for everyone, nor is it meant to be followed permanently. Many people use this program as a stepping stone to the Paleo diet, which is a bit more lax.
Health goals
For us, this isn't about losing weight but rather about getting back to basics and eating "real food".  Our main goal is to see if, by changing our diet, my husband can clear up some long-lasting health issues related to his sinuses and stomach. I'm also hoping that we'll have more energy and sleep better. Losing a few pounds in the process will simply be a bonus.
After just a few days, my husband is already saying that he can breathe better than normal despite having a head cold.  This is progress!
Six days in, 24 to go: What we've learned so far
We are nearing the end of our first week. We decided to start on December 27th because we would have nearly two weeks to get settled before I had to go back to work. Being able to cook and eat breakfast, lunch and dinner at home makes this diet so much easier since eating out is nearly impossible from what we've seen so far.
There will be ups and downs
While eating dinner on Day 2 (it was a delicious balsamic chicken, carrots and green bean dish made in the slow cooker), I was like, "I can totally do this!". Heck, I don't even like cooked carrots and green beans, and they were so tasty my husband and I were fighting over the leftovers.  However, just an hour later, I felt like my body was revolting. I had a terrible headache, and I felt nauseous. I felt like this for a few hours, and then I literally said to my husband, "If this is what it's going to feel like, I'm going to eat a big chocolate bar in the morning". Luckily I woke up feeling great and was able to keep things on track. There will be setbacks, and at times, you won't feel great, but I have to believe that this was my body saying goodbye to sugar and to the loads and loads of caffeine I normally consume every day.
Grocery shopping will be more challenging
Grocery shopping in and of itself is an interesting event. Everything, well, almost everything, seems to have added sugar.  There is no assuming in this program, and you'd be surprised just how much sugar we are consuming every day from the unexpected. For instance, most of our spice blends include sugar as one of the top ingredients. This was a complete shock to me.  Horseradish also typically has sugar, which led me to create my own for our New Year's Eve Prime Rib dinner. Don't worry; I'll share the simple three-ingredient recipe to make your own horseradish at home.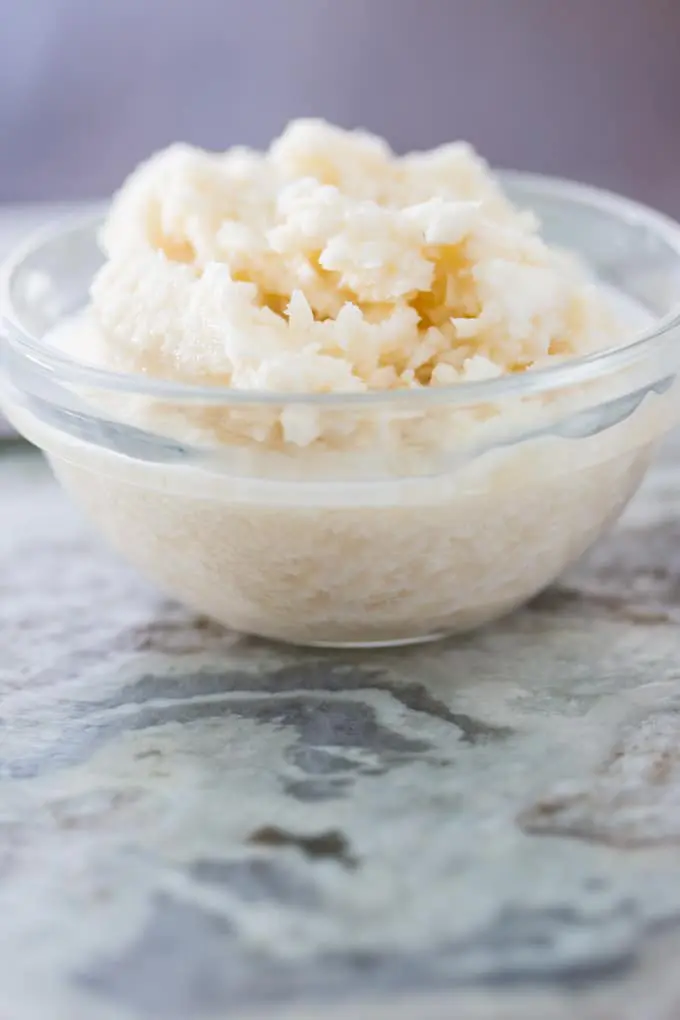 Even my husband loved it, and he doesn't usually like horseradish. If you live in the US, you will likely have a broader selection of Whole30-approved condiments like the line from Tessamae (includes Ketchup), which seems impossible to get in Canada. (Update 2023: A number of Whole30 approved condiments are now available in Canada via Well.ca and Amazon. Personal favorite is the Primal Kitchen Caesar Salad Dressing.)
Finding a good butcher is a must…especially if you want to continue to enjoy foods like bacon and sausage. For us, it is impossible to find these products in the grocery store without sugar and a whole whack of sulphites or gluten.  On the other hand, having bacon and eggs for breakfast daily (along with veggies) sounds like heaven, but even after only a week, I'm getting bored of scrambled eggs.  I would love a fried egg, but I'm terrible at making them and I'm just not sure I'd enjoy them as much without bread.
Water gets tiring
Drinking water all the time sucks – not going to sugarcoat this one.  Lemon and Lime slices can only do so much. Carbonated water is only exciting for about a minute, and that is being generous.  This is probably the hardest part of the diet for me but much easier for my husband, who loves ice-cold water.
We are already talking about what modifications we'd make to the Whole30 to create a plan to sustain longer term.
The Whole30 Program is not for everyone
I wholeheartedly believe that any dietary change is a very personal one. If the program sounds like one that would be interesting, then I would recommend checking out the Whole30 website and reading up more on the dos and don'ts.  You can download many handy PDFs to your smartphone and use them while shopping or while reviewing ingredients on your pantry staples. 
I will be sharing a number of Whole30-compliant recipes over the coming weeks, primarily in the dips, dressings, and condiments categories and only in the case where we've enjoyed them so much that we'll continue to make them after the 30 days are up.  So far, the homemade horseradish and spicy ketchup are tops on our list! We also love this Whole30-compliant adobo sauce.
Want to check out some other Whole30 recipes? Here are some of the great resources I've found to date. (disclaimer: even when something is listed as Whole30 you should double-check the ingredients).
 The Whole30: The 30-Day Guide to Total Health and Food Freedom by Melissa and Dallas Hartwig.  I read this book in December to better understand the program and the recipes that would help us get through the 30 days. (**Affiliate link)
30 Easy and Delicious Whole30 Breakfast Recipes from Greatist.com. There is so much more than eggs in this collection of recipes; if nothing else, these should inspire you to get creative and think differently about breakfast.
20 Easy and Tasty Whole30 Lunch Recipes from Greatist.com.  I want to try the plantain nachos so bad but I can't seem to locate plantains! Grr!
21 Easy and Delicious Whole30 Dinner Recipes from Greatist.com. The Roasted Lemon Chicken with Potatoes and Rosemary is perfection. I could eat it every day.
Whole 30 Friendly Recipes from The Real Food Dietitians. They have a great roundup featuring 30 eggless breakfasts. As an added bonus, you will receive 15 Whole30 slow cooker recipes if you sign up for their newsletter.
21 Fast and Fresh Whole 30 Recipes from Laughing Spatula. Funny enough, the same Roasted Lemon Chicken recipe is on this curated list…it is that good!
Disclaimer: The post above reflects personal experience with the Whole30 program and is intended to provide resources to learn more about the program. It should not be viewed as providing advice or a recommendation to follow the Program. Please consult with a Health professional if you are considering the program to ensure you are making the right personal choice for your situation.